These Cute Holiday Cakes For Dogs Look Perfect For Your Dinner Table – Your Dog Will Love Them!
We all love to indulge in special, yummy food at Christmas, and if you make these cakes for your dog, they can get in on it too. This beautiful snowman Christmas cake for dogs is easy to make (seriously!) but contains only super healthy, dog-safe ingredients.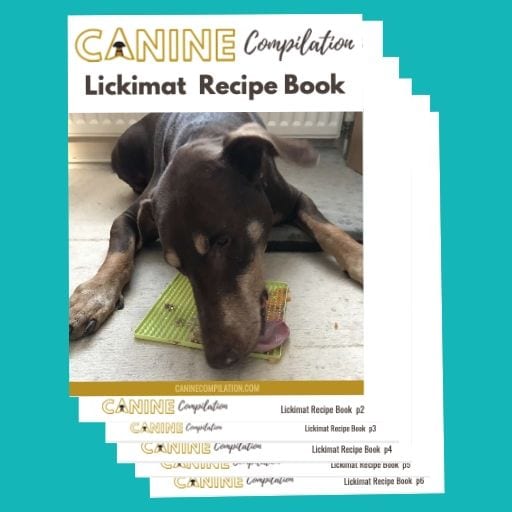 MINI SNOWMAN CHRISTMAS CAKE FOR DOGS
The cakes have a healthy carrot-cake style 'sponge' centre and are covered with a low fat cheese and coconut frosting. They also have some small decorations for the eyes, nose, arms, buttons and scarf.
HOW LONG DO PUPCAKES LAST?
These Holiday cakes will last around 4 to 5 days in your fridge, if your pup hasn't eaten them all before then.
RECIPE: SNOWMAN CHRISTMAS CAKE FOR DOGS
This recipe is enough to make 4 mini snowman Christmas cakes for dogs.
EQUIPMENT
Food processor
Baking tray
(Optional) cake mold
(Optional) grinder for oats and almonds if you're not using ready made oatmeal or almond flour
(Optional) dehydrator to make liver sticks
INGREDIENTS
Carrot cake sponge
225gr / 1/2 pound turkey mince
70gr / 2.5oz oatmeal
70gr / 2.5oz ground almond (almond flour)
70gr / 2.5oz coconut flour
100gr / 3.5oz grated or shredded carrots
50gr / 1.8oz cranberries
1 banana
4 eggs
Frosting (this frosting stays soft)
200gr / 7oz low fat cream cheese
30gr / 1oz coconut flour
Decorations
dessicated (shredded) coconut – you will need around 100gr
dehydrated liver sticks for the arms and eyes. If you don't want to dehydrate liver, alternatives could be to use a bit of beef jerky or dog safe 'chocolate'. Dog safe 'chocolate' isn't really chocolate as it contains no cocoa, but it looks and melts the same as chocolate. Melt it and pipe shapes for arms and eyes
carrot stick for nose
thin sliver of carrot for a scarf
dehydrated cranberry / liver for buttons
INSTRUCTIONS
MAKE THE DEHYDRATED LIVER
Dehydrated liver sticks are great for cake decoration. They can be ground down to make excellent 'not-chocolate' sprinkles. If left in wet frosting for too long though, they start to soften. Avoid this by not placing them in the cakes until necessary. The day before will be fine.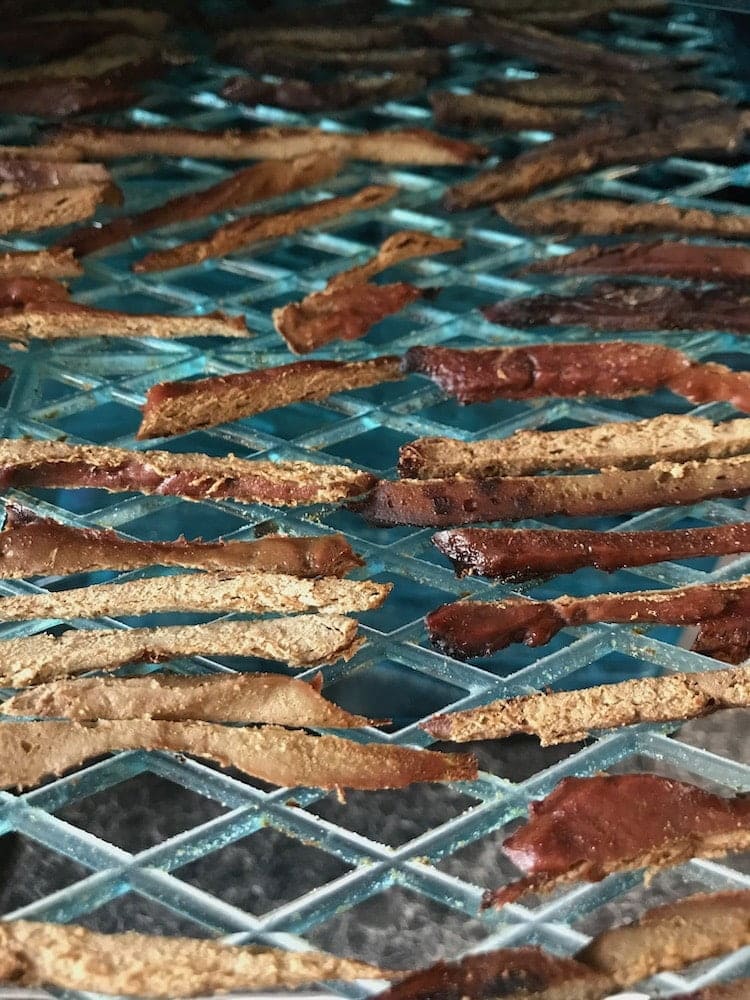 You need very little liver for this recipe. However, dehydrated liver makes for excellent training treats, so it's worth making a batch and using up a little bit of the leftovers each day as a small daily treat – don't overfeed dehydrated liver. When properly dehydrated, it keeps for ages.
Thinly slice liver into slices of around 10mm thick.
Lay them onto a baking tray lined with aluminium foil and pop them in the oven at 75degC / 170deg F until most of the liquid has seeped out of them. This takes around half an hour.
Remove them from the oven and cut them into thin sticks, julienne style, approx. 6-7mm wide. They will continue to shrink as they dehydrate, so don't try to cut them too thin.
If you have a dehydrator, transfer them to it and dehydrate at 70deg C / 160deg F for 2 hours – they might dehydrate faster than that given that they are so thin, so check them every now and again. If you don't have a dehydrator, pop them back in the oven and continue to dehydrate them for a few hours at 75deg C / 170deg F.
To check when they are ready, let a piece cool. Once cool, snap it – if it snaps easily and crisply, it's ready. It should be hard enough to use as arms.
For the eyes, just snap a couple of bits off a stick and use them as eyes.
MAKE THE CARROT CAKE SPONGE
Place all the ingredients into the food processor and mix them together
Fill the cake molds. If you're not using molds, pour the mix into a baking tray.
Bake at 160degC / 320degF (fan assisted) for 20-25 minutes. When it's ready it will spring back after pressing down lightly on the surface. Leave to cool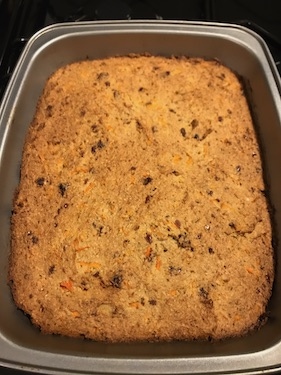 MAKE THE FROSTING
Mix the coconut flour and the cream cheese together and leave the mix in the fridge til you're ready to use it.
MAKE THE SNOWMEN!
If you baked the sponge in a baking tray, cut a piece out of the sponge and press it into a ball in your hands. This will be the snowman's body. Leave it a little flatter on the top and bottom so it won't wobble and so the head won't roll off it. Make another, smaller ball in the same way for the head. The sizes you make them depend on the dog you have – keep them small for wolfers or small breeds. I made mine around 6cm wide for the body and 3-4cm for the head.
Using a knife, cover the balls with a layer of cream cheese frosting. Don't worry too much about smoothing this out as you are about to roll it in desiccated (shredded) coconut
Sprinkle some desiccated coconut onto a plate and roll the balls into it – the coconut will stick to the frosting. Pat coconut into any bare patches of cream cheese. Don't worry if some of the cake sponge colour shows through in the odd place – when did you ever see a pristine snowman that didn't have at least a little muddy smudge in it?
Press the head down on the top of the body.
With a sharp knife, gouge a little hole into each side of the body. Push an 'arm' into each hole
Gouge a little hole into the front of the head. Push a pointy carrot piece into the hole to make a nose
Using a potato peeler, peel a thin slice of carrot – make it as long as possible. Wrap this round the snowman's neck as a scarf
Add details with small liver pieces or cranberries for eyes and mouth, buttons – or whatever else you wish to decorate your snowman with! Simply dab a bit of cream cheese on the decoration and press it onto the snowman
Sprinkle some more shredded coconut in a circle around the snowman, to give the effect of a pile of snow around it. Voila, you now have a Christmas cake for your dog!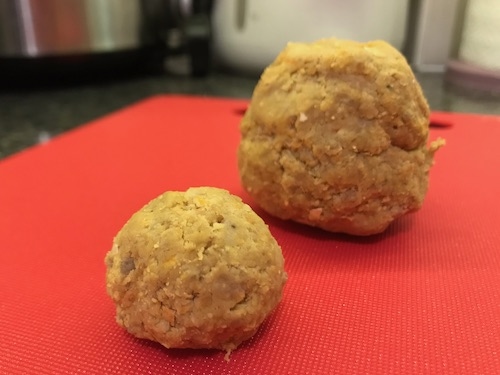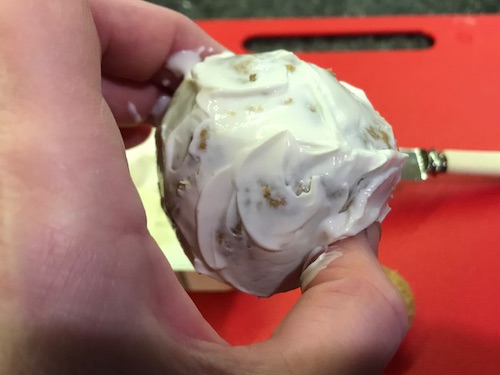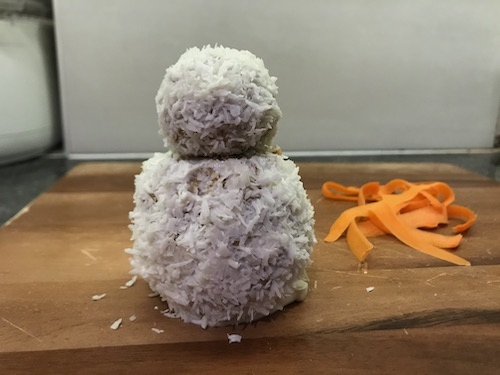 Keep the the snowmen cakes in the fridge until Christmas dinner!
CONCLUSION
This cute little snowman Christmas cake for dogs includes a dog-safe carrot cake sponge, covered in a super simple frosting. Your dog will be so happy to get her own special Christmas cake too!
What yummy Holiday food are you planning for your pup?
OTHER RECIPES THAT MIGHT INTEREST YOU, OR RATHER, YOUR DOG!
Spooky Spectre Halloween Cakes
Hedgehog Celebration Cakes for Dogs (does not contain real hedgehogs!)
Birthday Cakes For Raw Fed Dogs
Cheese and Tuna Tiny Training Treats