Perfect For Your Pooch: Easy Peasy, Homemade, Cheesy Tuna Dog Treats
Ooh, that's a mouthful to say quickly. It's a delicious mouthful of treats for your dog though! This is a super healthy, gluten-free, high-protein treat with no fillers or rubbish. Your dog will devour them! This DIY tuna cheese dog treat recipe makes hundreds of tiny treats that are perfect for training and playing games, or just plain 'treating' your pup!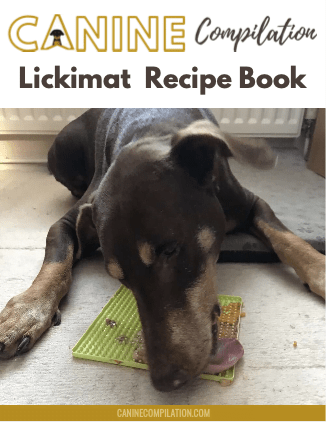 This article may contain affiliate links. As an Associate with Amazon and other companies, we may earn a commission if you click and purchase with one of our links. There's no extra cost to you. Thanks!
WHAT ARE GOOD DOG TREATS FOR TRAINING?
We get through A LOT of dog treats. Because one of my dogs is dog-reactive, we train almost every day and this invariably needs food, since she's not terribly toy motivated.
I love these pyramid pan and baking sheet treats as they make hundreds of tiny treats. Just one sheet makes around 500 treats. Yep, 500 treats from one Pyramid Pan baking sheet.
I can do an entire training session without her piling on the pounds as a result. Plus, since I research and make my own dog treats, I know they have healthy ingredients that can form part of her daily food allowance.
What's more, these treats can fit in almost any enrichment food toy, such as wobble disks, treat ball dispensers and my new favourite, the Turn Around tower.
BALL TREAT DISPENSER
Plus 4 other toys to delight your dog: dental cleaning chew toy, rope ball, IQ ball, squeaky ball
WHAT ARE THE HEALTHIEST TREATS FOR DOGS?
Unless your dog has an allergy or other specific health problem, the best treats are those with natural, dog-safe ingredients. Homemade treats can be a healthier option than store-bought, but of course it really depends on the ingredients you use.
Very often, store-bought treats are stuffed with unhealthy, cheap fillers and very possibly, synthetic preservatives. Sadly, there have even been cases of pet fatalities due to some ingredients in commercial treats.
WHAT INGREDIENTS SHOULD NOT BE IN DOG TREATS?
There are plenty of ingredients that, in small doses, are not going to cause any lasting damage to your pup (unless they have an allergy to it of course).
However, with so much food to choose from, my current tendency is to try to avoid anything that 'might' be problematic for my fur-babies. New research is constantly helping us see the effects of different things on our dogs' health.
There are some definite no-nos that are toxic to dogs, such as chocolate, raisins, onions, macadamia nuts, grapes, alcohol, caffeine, and xylitol (a sweetener found in many human foods).
Then there are the ingredients that are very often found in dog treats, but that I personally no longer use. In the case of processed ingredients, not only have they been stripped of any original nutrients they may have had, they are also more likely to come from GM-based crops that have been sprayed with pesticides:
peanut butter – see why I don't use it
wheat flour – wheat has very little to offer nutritionally and it is more difficult for a dog to digest due to the carbohydrates it contains. Wheat intolerance can affect many areas of your dog's health including the skin, coat and digestive system.
corn or maize flour – though this is more nutritious than wheat, it can still lead to intolerances and health problems
soya – it is more difficult for dogs to properly digest the protein in soya beans, which makes it harder for them to digest. Soya has also been found to lead to food intolerances and allergies
Tapioca (cassava) offers very little nutritionally. It is simply a cheap carbohydrate filler
WHAT ARE THE BEST NATURAL DOG TREATS?
The easiest DIY, natural dog treats that you can prepare are also the purest. Dehydrated meat treats will have the highest protein content that you could wish for in a dog treat and they are easy to prepare.
If your dog will eat them, you could also give fresh fruit such as berries, apple or banana, or veg like broccoli, green beans and peppers as treats. However, if your dogs are anything like mine, fresh fruit and veg is promptly spat out!
The same fruit and veg are sometimes more palatable if they are frozen or dehydrated (sadly not for my pair…). For that reason, I include fruit and veg pureed up in my dogs' daily food and also in many of the dog treats I make.
IS CHEESE A GOOD TRAINING TREAT FOR DOGS?
Unless your dog is lactose intolerant, cheese makes a yummy and appealing dog treat. The smell of a small chunk of cheddar cheese is guaranteed to get my oldest dog out of a deep sleep.
If your dog is a cheese fan, look for 100% cheese dog treats, such as yak bars, or make your own!
Goat's cheese can be easier for some dogs to digest. This recipe uses low fat, mild, soft cheese. You could also use cottage cheese.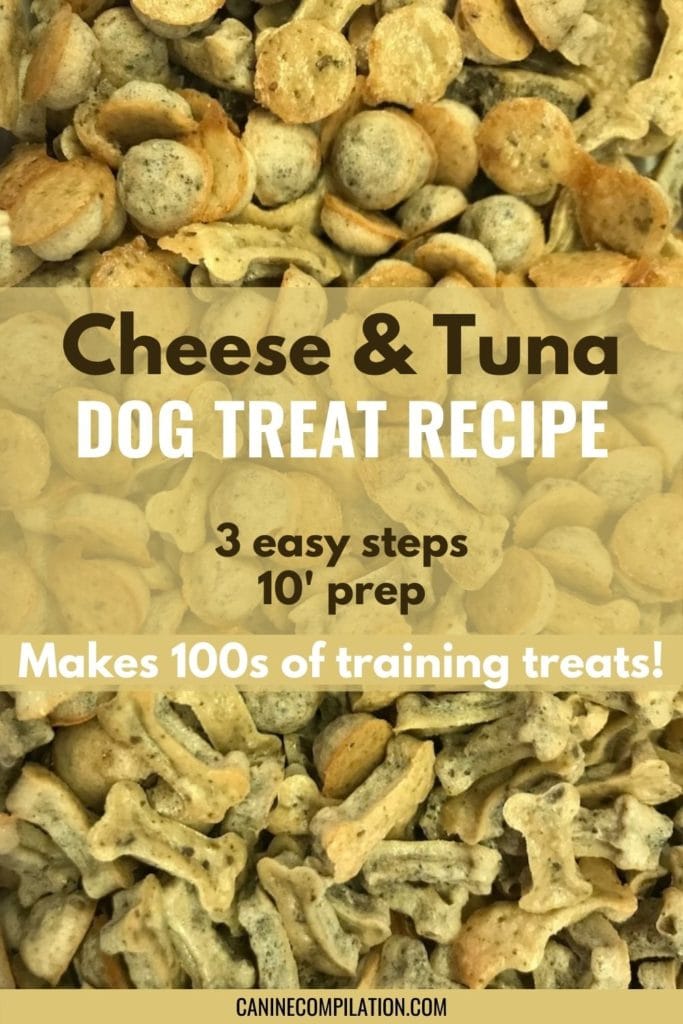 HEMP SEEDS: CAN DOGS EAT HEMP SEEDS?
Absolutely they can. Hemp seeds have a perfect balance of Omega-3 to Omega-6 fatty acids. Why did I add hemp seeds to these treats? Because hemp seeds are nutrient dense and can offer many health benefits, including anti-inflammation properties, improved skin condition, improved cardiovascular function and better overall vitality. Oh, and when they're milled they do a great job of adding body to this treat mixture!
HOW TO MAKE CHEESE AND TUNA DOG TREATS: 3 EASY STEPS
Ingredients:
1 can tuna, drained (102g drained. In brine preferable to in oil)
3 eggs including shells
20 g oatmeal
Low fat cream cheese 50g
20g milled hemp seed
Instructions:
Throw all the ingredients in a food processor and blend until there are no lumps – it will be liquid like a pancake batter.
Pour the mix onto the baking sheets and using the edge of a spatula, spread the mix into all the tiny holes.
This recipe amount makes enough for 2 complete pyramid / dot pans.
Bake at 280degF / 140degC (fan oven) for 30 minutes
Note on filling pyramid pans and dot sheets:
Some people prefer to use a piping bag or sauce bottle and hand fill each hole, rather than just tip it over and spread. You can of course do this, but for my part, life is too short for such a faff and I find that the tip and spread method works really well 🙂
HOW LONG DO HOMEMADE DOG TREATS LAST?
Dog treats are just the same as human food in terms of the time they last when freshly made. You probably wouldn't want to eat cake that had been made over a week ago, and homemade dog treats will also go off just as quickly.
If the treats have meat in them, they are best kept in the fridge and will happily last 4 to 5 days. You can extend this time by dehydrating them after cooking. If you don't have a dehydrator, you can dry them slowly in an oven on a low heat. Either way can take hours, but properly dried treats can last for months.
MORE RECIPES FOR PYRAMID PANS AND BAKING SHEETS
For more all-natural, healthy dog treats recipes you could try these – they are also perfect for Pyramid or dot pans:
Meaty Morsels – Make Over 500 Delicious And Healthy Little Dog Treats For Less Than $1
Pyramid Pan Tuna Dog Treats – Tuna dots