Do I need to worry about my dog's eyes looking cloudy?
Have you noticed that your dog's eyes seem to be turning blue or cloudy lately? There are several reasons for a dog's eyes to go cloudy, some of which are worrying, and some are not.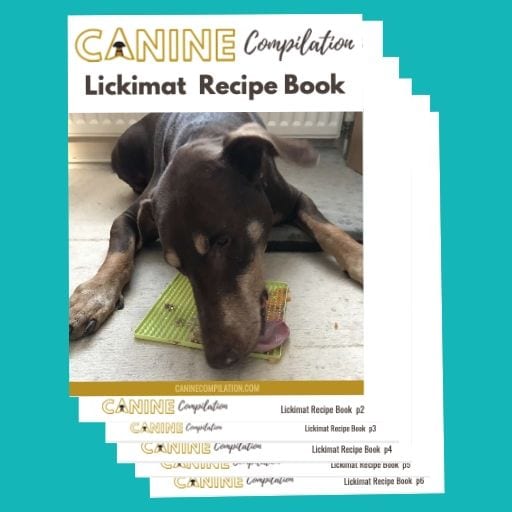 WHY DO MY DOG'S EYES LOOK CLOUDY?
The principal reasons for cloudy eyes in dogs – especially in ageing or senior dogs – are nuclear sclerosis and cataracts.
My older dog – a 13 year old dobermann – has bluish, cloudy eyes nowadays.
He goes to the vet regularly (he gets monthly acupuncture with his vet) and thankfully she's not worried.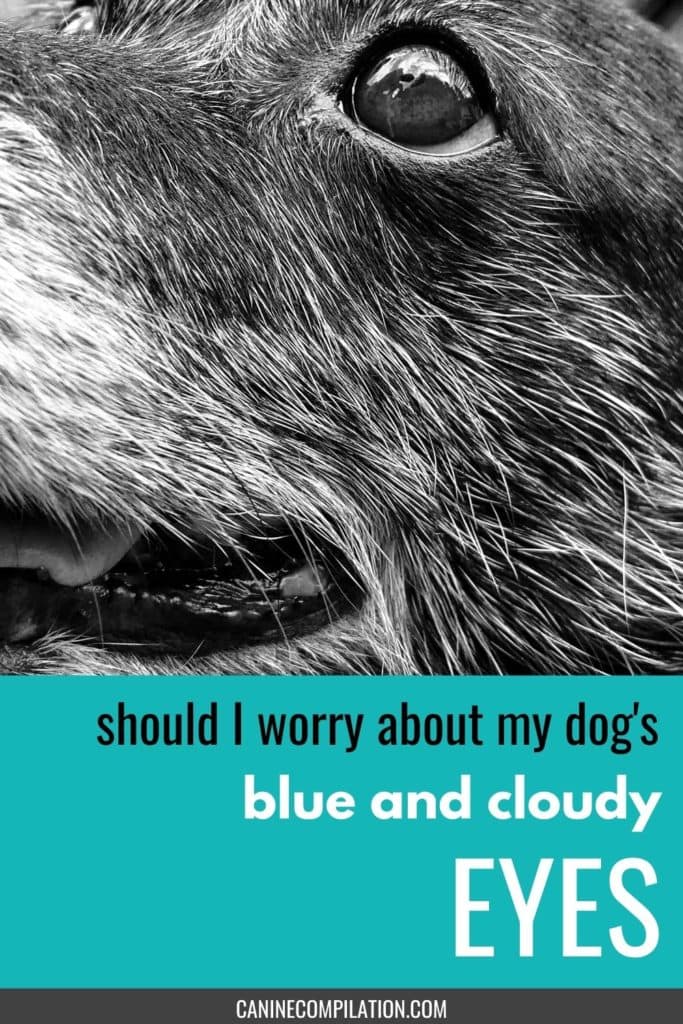 COMMON CAUSES OF CLOUDY EYES IN DOGS
Still, I wanted to understand why dogs' eyes turn blue or cloudy, and when it's something to worry about, or not. Many changes to a dog's eyes are completely harmless, but there are a few potentially damaging causes. If we understand how to look out for changes in our dogs, we can take any concerns to our vets immediately.
CORNEAL DISTROPHY
Some dogs develop an inherited condition called corneal distrophy, and certain breeds are predisposed to suffer from it. It's a fairly common condition that can occur in one of 3 places in the eye, and it makes the eyes look cloudy and opaque. Whilst there is no cure, it does not generally lead to a loss of vision.
Epithelial corneal dystrophy affects the superficial layers of the cornea
Stromal corneal dystrophy affects the middle layer of the cornea
Endothelial corneal dystrophy affects the deepest corneal layer
NUCLEAR SCLEROSIS
In nuclear sclerosis, the eye lens changes as a normal consequence of ageing, and cloudiness can occur. This is often what has happened when pet parents begin to notice blue eyes in an older dog.
It rarely significantly affects the dog's vision
It often gives the eyes a cloudy, bluish colour, rather than white
No immediate treatment is needed, but it's important to have your dog's eyes checked regularly, as cataracts might develop in the future
CATARACTS
Just as people can get cataracts, so can our dogs. There are many reasons for a dog to develop cataracts, including ageing, trauma, certain diseases, and genetics. Certain breeds are more susceptible to cataracts than others.
Cataracts occur when protein strands in the eye clump together abnormally and obscure the lens. Cataracts:
make the eyes an opaque, white colour
obscure vision, and in some cases, can result in blindness
could lead to the more serious problem of glaucoma
can be resolved surgically
Again, regular vet check-ups are essential to monitor the condition.
GLAUCOMA
Glaucoma is a serious condition which needs urgent veterinary treatment. It occurs when pressure builds inside the eye and it is very painful for your dog. It can result in permanent damage to the eye.
There are 2 types of glaucoma: primary and inherited. Inherited glaucoma can, for example, be caused by cataracts, amongst other things. Inherited glaucoma can affect certain breeds more than others.
Symptoms of glaucoma in dogs can include
cloudy eyes
whites of the eyes are red
bulging in the eyes
red or blue tint to the cloudiness
discharge
Treatment can include medication and / or surgery.
DRY EYE
If your dog's eyes are cloudy, does the cloudiness seem to float on the surface of the eye, obscuring what lies behind? This might be a symptom of dry eye: in other words, your dog's body does not produce enough tears.
Consequently, the eye isn't properly lubricated and the surface of the eye becomes irritated. Ulcers can form and the surface becomes scarred. It is this scarring that produces the cloudy appearance.
Again, some breeds are more susceptible than others. Symptoms of dry eye in dogs can include:
squinting or excessive blinking
discharge
whites of the eyes are red
swelling
As you can see, several of the symptoms are the same as in glaucoma, so a vet diagnosis is required. Dry eye can be treated with medication, or in severe cases, surgery.
ANTERIOR UVEITIS
The uvea refers to a combination of elements at the front of the eye and anterior uveitis is an inflammation of one or more of these elements. It's a serious condition that, left untreated could result in your dog's loss of vision.
It can be caused by various things, and is treatable with medication, depending on the cause of the problem.
The symptoms of anterior uveitis include:
squinting
discharge
redness
swelling
strangely shaped pupil
CAN MY DOG SEE WITH CLOUDY EYES?
Some of the conditions that result in a dog's eyes being cloudy do not overly affect a dog's vision.
However, certain conditions, if left unchecked, can indeed result in diminished vision, or worse, total loss of vision.
WHAT AGE DO DOGS' EYES GET CLOUDY?
As dogs age, there is a normal degeneration of the eyes. In most cases it's a slow change, most noticeable after the age of 7 years or so. Of course, this varies from one breed to another, in some breeds it may start sooner, in others later.
CAN YOU FIX CLOUDY EYES IN DOGS?
If you've read through the above reasons for cloudy eyes in dogs, you'll know that cloudy or hazy eyes can be a symptom of an underlying problem, and that problem needs to be addressed by medication or surgery.
In other some cases, the cloudiness is a natural phenomena of ageing and doesn't hurt your dog or affect his vision terribly. However, in order to know what the cause of cloudy eyes in your dog is, a vet examination is needed.
WHAT ARE THE SIGNS OF A DOG GOING BLIND?
Has your dog begun to bump into things? Or not recognise people approaching him? Maybe he has begun to startle easily? Does he find his toys, or treats, with the same ease as before? Perhaps he seems to be 'sniffing out' treats that are right in front of him, rather than being able to see them clearly.
GREAT ACTIVITIES FOR DOGS WITH LIMITED VISION AND EYESIGHT PROBLEMS
Sometimes, as their eyesight begins to suffer, our golden oldies can begin to feel uneasy about going out in the dark. Walking them earlier and improving outside lighting around the home can help.
Some great indoor activities for dogs with eyesight limitations are anything involving sniffing. Sniffing is fantastic for dogs, allowing them to do what they would do naturally without us pesky humans dragging them away from every interesting smelly lamp post!
You could try setting up some simple enrichment free work with your dog, or maybe some nose work activities. There are fantastic, effective toys and games that will encourage your dog to sniff, such as a snuffle mat, or enrichment toys like these:
CONCLUSION
By being aware of any changes in your dog's eyes – such as discharge, irritation, swelling, squinting, as well as cloudiness – you can help to quickly identify any potential problems and get your beloved pooch seen by a vet promptly.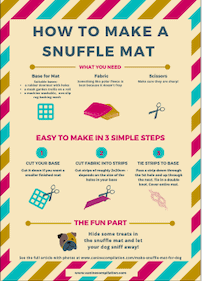 REFERENCES