Perfect For Raw Fed Dogs: These Healthy And Beautiful Raw Birthday Cakes For Dogs Will Make Your Dog's Day
I take advantage of celebrating my dog's birthdays. They are with us for such a short time, every moment is worth making special. Making a birthday cake for raw fed dogs though is not simply a question of throwing some fondant icing onto a yummy sponge…
A SPECIAL DOG BIRTHDAY
This year is particularly important for me. My beautiful dober-son, Mino, turns 13, a fantastic age for a large breed. I know that it will very possibly be the last time I get to make him a dog birthday cake, so I want it to be memorable.
He loves food and he's spent his life happily being a professional tester for my brick and mortar business dog treats, not to mention the constant experiments in pupcakes, woofins and other biscuits and cakes for dogs.
I wanted to do something really amazing and toyed with the idea of a towering, 3 tier birthday cake – all dog-safe ingredients, of course! The problem with big cakes though is that they have to be eaten (duh) and my 2 dogs would therefore have to eat nothing but cake for days.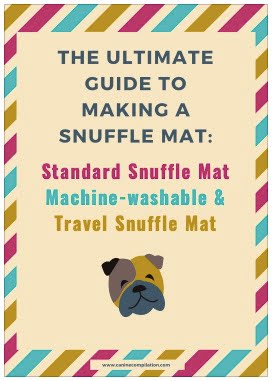 So instead, I've settled for making some truly amazing pupcakes that he can enjoy with Toxa, my 7 year old dober-daughter. This satisfies my need to make something spectacular, and also their need to eat! As much as possible, the ingredients in the cakes are less 'treats', and more 'dinner'.
CAN DOGS EAT PUPCAKES?
These are not the typical cupcakes that we humans would eat, even though they may look good enough to eat! Laden with sugar, baking powder and flour, human cupcakes are not good for dogs at all. Instead, these are birthday bone-anza, dog-friendly pupcakes.
WHAT CAKES ARE SAFE FOR DOGS?
So long as your dog doesn't have any allergies to the ingredients, these dog birthday cakes are suitable for any dogs. They are gluten-free and have no peanut butter.
I total I made 13 mini pupcakes, given that this is his 13th birthday. There are 2 main cake bases. My dogs are raw fed, and the first cake base is pure raw. The ingredients in the first dog cake recipe amount to a 100% nutritionally complete meal, which is then tarted up with some optional, pretty bits and pieces.
The second is a baked cake. It's not a typically fluffy sponge that we humans would look for in a cake. These pupcakes contain no wheat flour, no baking soda and no sugar. That doesn't mean they don't taste good to a dog though! For that matter, these particular pupcakes taste good to us humans too, so my carnivorous friends tell me! Here's the tutorial to make the hedgehog baked cakes.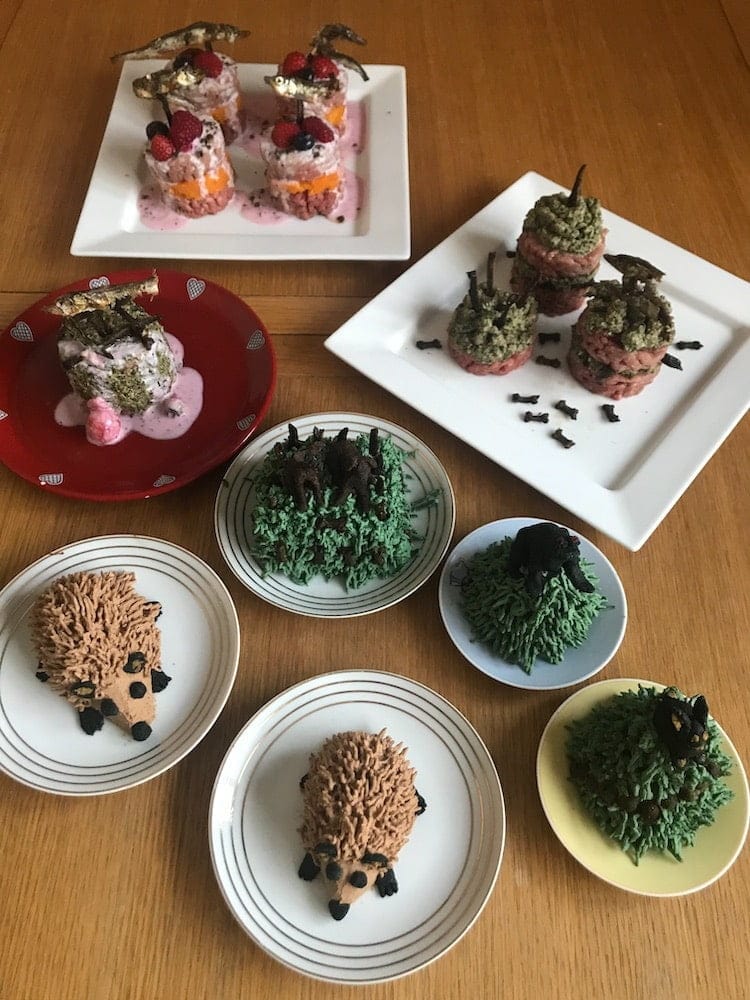 WHAT SHOULDN'T I PUT IN A BIRTHDAY CAKE FOR DOGS?
So many cakes for dogs – and many dog treats in fact – are basically just flour, eggs and more often than not, peanut butter. Only 1 of those 3 ingredients is nutritionally interesting to a dog, and 2 of them are potentially harmful. Watch this quick video by Bella & Duke to see why peanut butter is a no-no for dogs.
As for the flour… flour has no nutritional value and it can cause allergies in many dogs.
Since there are so many other, healthy ingredients that can be used instead of peanut butter and flour, I prefer to do that.
HOW LONG DO PUPCAKES LAST?
These raw birthday cakes for dogs will last just as long as any other raw meat in your fridge: 4 to 5 days.
Grisha Stewart's Dog Training And Behaviour School
DOG BEHAVIOUR PROBLEMS?
NEED TO UP YOUR DOG TRAINING?
Get access to hundreds of hours of video classes, eBooks, special events and live sessions, covering most aspects of dog training and behaviour:
puppy training
dog reactivity, aggression, resource guarding
dog confidence, fearful dogs
loose leash walking
RECIPE: BIRTHDAY CAKE FOR RAW FED DOGS
I chose to decorate my raw pupcakes with some dehydrated liver sticks, liver 'not-chocolate' sprinkles, 'flying' fish, mini liver bones and a kefir / berry sauce. You may prefer not to do this. If you'd like to make the cakes as I did though, you will also need the 'optional' ingredients in the list below.
Given that this raw dog cake is nutritionally complete for an adult dog, I feed it as a meal, not a treat. This recipe makes 6-7 burger layers, so 3 cakes as per the photos. If you make each cake as I did, the weight of each cake is approximately 170gr / 6 oz.
INGREDIENTS
400gr / 14oz minced beef
66gr / 2.3 oz beef liver
56gr / 1.96oz sardines
40gr / 1.4oz milled hemp seed
28gr / 1oz broccoli
28gr / 1oz red pepper
28gr / 1oz spinach
1 egg and its shell
3 gr / .10 oz ground ginger
3 gr / .10 oz kelp
OPTIONAL INGREDIENTS
dehydrated whole fish such as capelin or sprats
dehydrated liver sticks – see instructions for how to make them
mini liver / veg bones
kefir or Greek yogurt
raspberries / strawberries / blueberries / cranberries
INSTRUCTIONS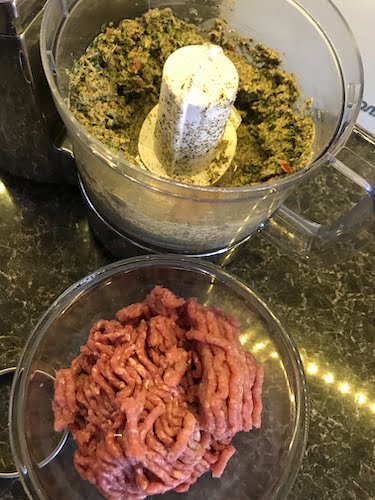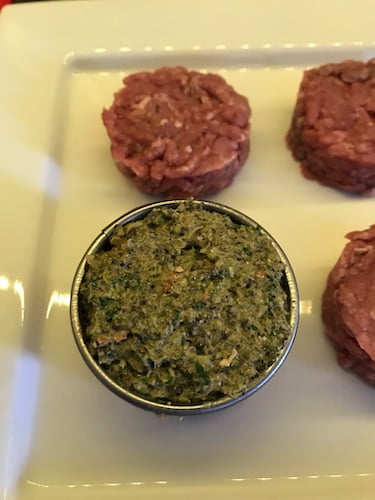 Place all the ingredients EXCEPT the minced beef into food processor and blitz until it has no more large lumps in it
Squish the minced beef into a round cookie cutter, creating several compact 'burgers'
Place the cookie cutter on top of the burger and fill it with the blended ingredients. Gently compact it down but don't press too much or you'll destroy the beef 'burger' shape underneath
I played around with various combinations of layers. The blended ingredients are softer than the minced beef, so if you choose to add another 'burger' on top, you might find that the blended layer bulges. I simply smoothed the bulge over the entire tower, using it like an icing covering (see pic 1)
You could make the blended layer shallower than the burgers (see pic 2)
You could pipe the blended layer on top of the burgers in shapes (see pic 2) – this is easier if you blend the ingredients until they are very smooth in texture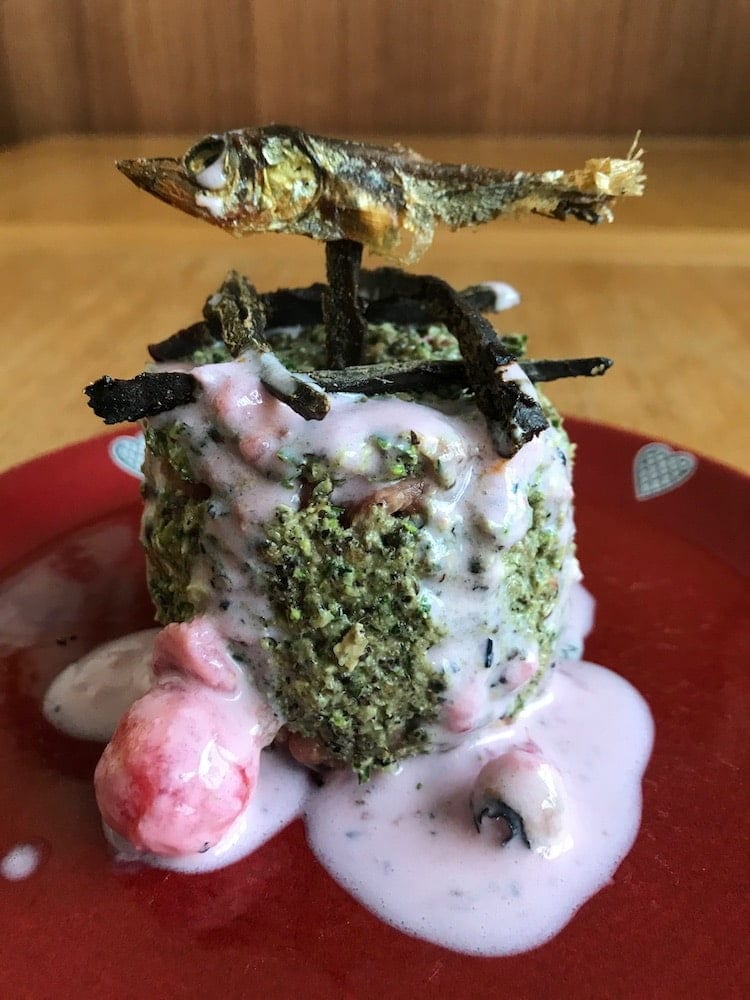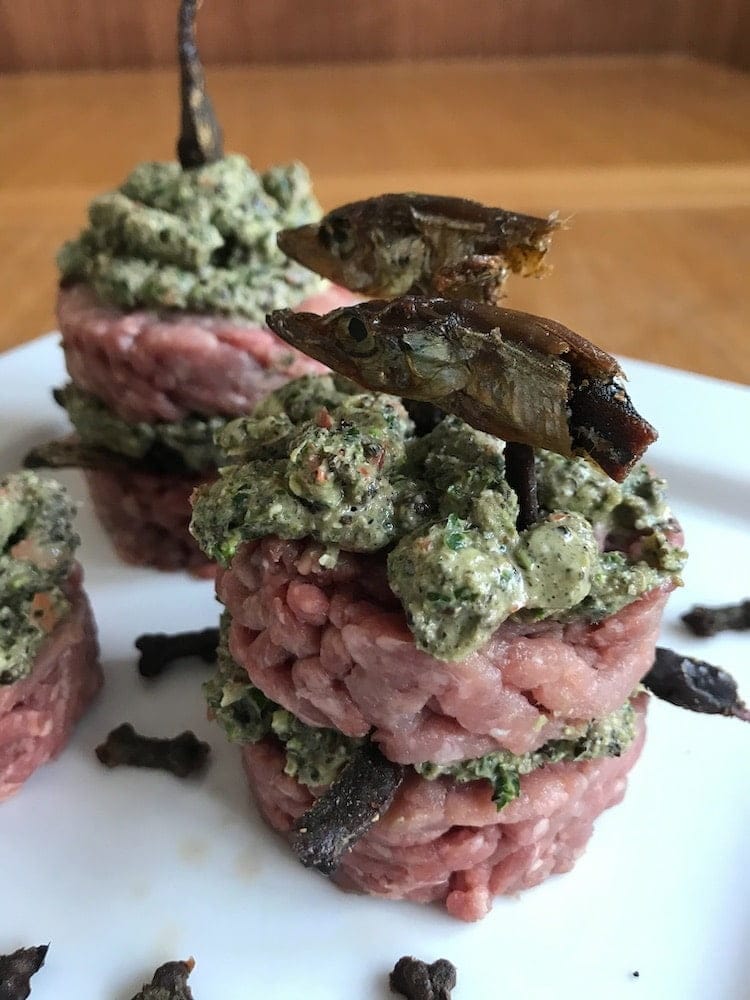 VARIATION ON RAW BIRTHDAY CAKE FOR DOGS
I also made some raw pupcakes up with squash. There's so much of it at this time of year and it is a lovely colour in cakes. To make these pupcakes, just replace the blended ingredients for roasted or steamed squash. They look so pretty with the berries on top too.
INSTRUCTIONS – OPTIONAL EXTRAS
LIVER STICKS
If you plan to use the liver sticks as I have, to create the flying fish, be warned that after a couple of days stuck in a wet, raw cake, they will begin to soften. If your fish are large, you might find the liver stick begins to bend. Avoid this by not placing them in the cakes until necessary.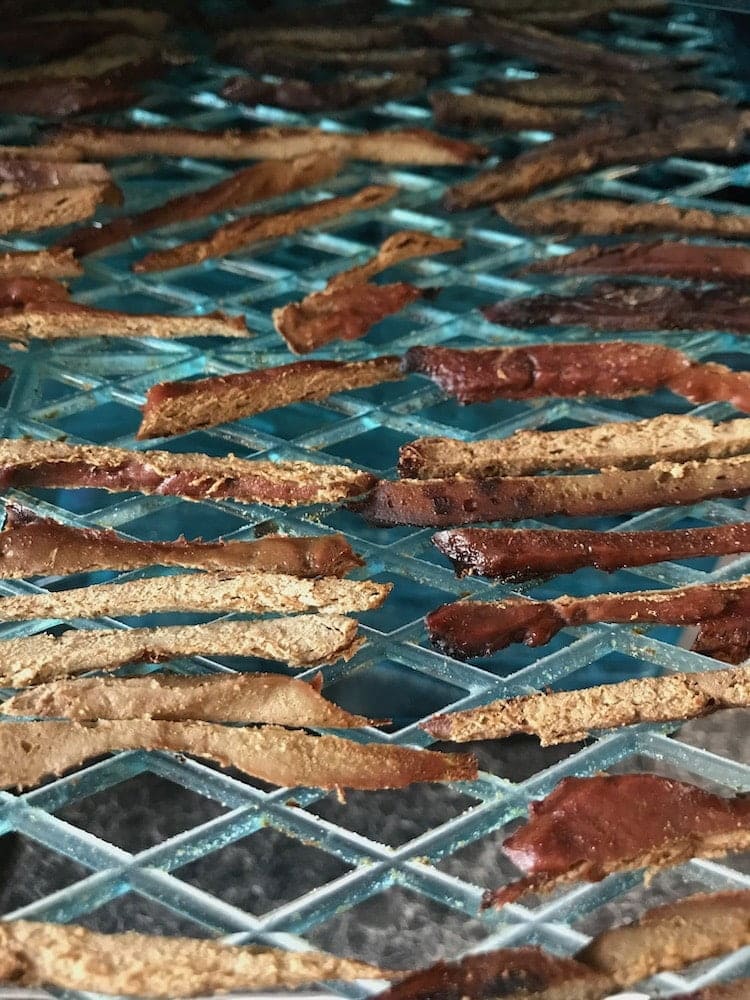 Thinly slice liver into slices of around 5mm thick.
Lay them onto a baking tray lined with aluminium foil and dehydrate at 75degC / 170deg F until most of the liquid has seeped out of them. This takes around an hour.
They should be a little easier to handle now, so cut them into sticks, julienne style, of around 5mm wide, with points on the ends. They will shrink as they dehydrate, so don't try to cut them too thin. Alternatively, leave cutting them down to size until they have dried out more.
If you have a dehydrator, transfer them to it and dry out at 70deg C / 160deg F for 3 hours – keep an eye on them as they will dehydrate quickly being so thin. If you don't have a dehydrator, pop them back in the oven and continue to dehydrate them for a few hours at 75deg C / 170deg F.
When they are ready, they will snap and not be bendy. However, they should be hard enough to use them as the supports for the 'flying' fish
LIVER 'NOT-CHOCOLATE' SPRINKLES
These aren't chocolate at all – they're just tiny bits of the same dehydrated liver used to make the liver sticks in the previous step. Either chop them up tiny or pop them in the food processor for a few seconds and you'll have fantastic, not-chocolate sprinkles
FLYING FISH
Using some dehydrated capelin or sprats (I didn't dehydrate them, I bought them ready dried out), cut a slit into the underside of the fish.
Gently push one end of a dehydrated liver stick into the fish and carefully push the other end down into the cake
MINI LIVER BONES
Of course, you could make these edible decorations in hearts, paw shapes, gummy bear shapes, or whatever mini mold you have to hand. The smaller the better from a visual point of view though. These silicone molds are a good size:
Blend 160gr / 5.6oz liver and 40gr / 1.4oz pumpkin or squash until smooth
Spread the mix into bone shaped silicone molds. I find the easiest way to do this is pour the mixture over the top of the molds and with a spatula, push the mix into the holes. Once you've filled the mold there will be some stringy bits that won't go in – just remove them (I give them straight to the dogs)
Bake at 140deg C / 280deg F for 30 minutes. Remove from the mold, turn out onto a baking tray and continue to slowly bake (75degC / 170deg F) until crunchy – this might be only 10 minutes if the mold size is very small. It might be longer if your molds are larger.
Sprinkle them around the cakes
KEFIR / BERRY SAUCE
Blend a handful of berries with roughly the same volume of kefir – I didn't measure this but did it by eye to get the consistency and colour I wanted.
I wanted some whole chunks of fruit to be visible, so I didn't blend until smooth and creamy. I also threw in a couple of whole berries at the end.
Pour it over the top of the cakes so it drips down the sides
CONCLUSION
Making a spectacular birthday cake for a raw fed dog isn't difficult. Even the simplest structure can look special, but adding a few optional extras can make it a birthday to remember!
READER FEEDBACK
Here's some feedback from a reader, who sent me photos of the fantastic cakes she made for her gorgeous dogs:
I wanted to share how your recipe that I got from one of you blogs turned out! It was a HUGE hit for the dogs. Each dog got one at my pup's 6th birthday party. It was super easy to make using Stella and Chewy's small raw patties and then sandwiched in between was moistened freeze dried raw food and then on top as your blog showed, organic berries and coconut drizzle with freeze dried fish snacks. Boy did the dogs devour them! All raw. All organic. Now THAT's a birthday cake! Thank you for your post on this! It made the party!

K. F. Leggett
Other recipes that might interest you (or more likely, your dog!):
Hedgehog Birthday Cake For Dogs
Cheese and Tuna Tiny Training Treats