Hello there, raw feeding warrior!
Our raw fed dogs are happy dogs, aren't they? It's important to us to find the best raw dog treats for them. We want something that will be healthy for them, but also something they'll love and enjoy eating!
In this blog post, we will round up some of our favorite homemade raw treats for dogs.
Frozen raw dog treats are perfect for when you want to keep your pup cool on a hot day. Dehydrated raw dog treats make it easy to feed your pup at home or on-the-go, and celebration cakes make any special occasion, well…special!
This article may contain affiliate links. As an Associate with Amazon and other companies, we may earn a commission if you click and purchase with one of our links. There's no extra cost to you. Thanks!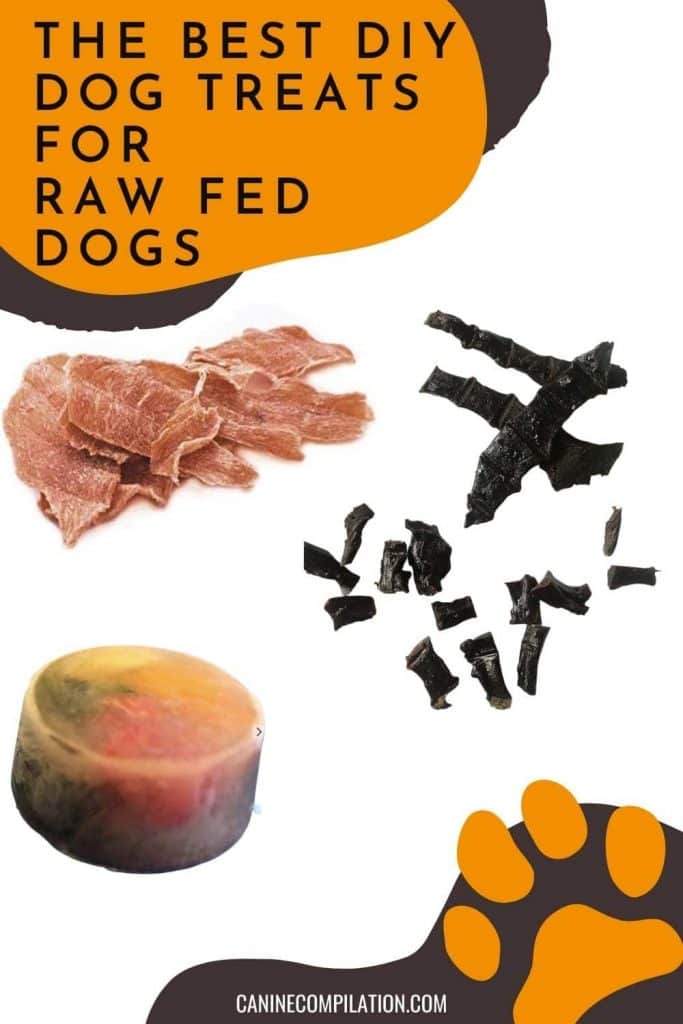 WHAT RAW TREATS CAN I GIVE MY RAW-FED DOG?
Raw feeders – especially those who are new to it – often ask "What can I give as treats?".
Here is a small selection of fantastic treats you can prepare for your dog. If you like these, check out our eBook with over 40 pages of raw dog treat ideas and recipes!
SINGLE-INGREDIENT RAW FOOD
Simply chopping up raw pieces of food is the fastest way to prepare treats. Raw meat, fish, fruit and vegetables can be diced up and fed in little pieces.
I don't know about you though, but handling sticky bits of wet, raw meat for treats isn't actually my idea of fun.
Thankfully, there are lots of other things we can give, in addition to gunky food that will leave your hands looking like you're a butcher by trade.
FROZEN RAW DOG TREATS
When the temperature begins to rise, a healthy cold snack is a great solution for your raw fed pup!
Frozen raw dog treats can be made in many different flavors and make an excellent reward for your pup.
The simplest way to make them is to just freeze bone broth, kefir, Greek yogurt or fruit purees in ice cube trays. Here are a couple of our favorite frozen raw dog treat recipes:
FROZEN RAINBOW DOG TREATS
Colorful and healthy, these treats are easy to make from things you probably have in your pantry right now.
FROZEN CHIA SEED PUDDING DOG TREATS
If you're looking for a super nutritious option, whip up some of these healthy chia seed puddings for your pup.
DEHYDRATED / DRIED RAW DOG TREATS
We always have plenty of dehydrated treats prepared in this house. Whether they get used for training and walks, or for doing some canine enrichment work with a noisebox or snuffle mat, dried dog treats are an essential part of our daily activities.
You can easily prepare raw meat to turn it into long-lasting, dehydrated meat jerky.
CHICKEN JERKY FOR DOGS
You can't beat a one ingredient recipe. This chicken jerky recipe is pure protein: no additives, no preservatives, no fillers.
Of course, you can replace the chicken with any other lean flesh or muscle meat, such as beef, venison, kangaroo… the list goes on!
LIVER / ORGAN MEAT JERKY
Dehydrated organ meat such as liver, kidney or heart make irresistible dog treats!
Imagine your favourite snack, that you just can't put down (what would it be? Potato chips, chocolate, popcorn…?).
Multiply that by four or five and you'll see how your dog can't get enough of organ treats.
LIVER PATE
It's incredibly simple to whip up a batch of DIY pate for dogs. Be brave and try replacing your store-bought squeezy cheese or liver pate with a DIY homemade version. It will almost certainly be healthier for your pooch.
RAW BIRTHDAY CAKES, PUPCAKES AND SPECIAL OCCASION CAKES FOR DOGS
RAW PUPCAKES
Dogs love a good party the same as the rest of us, so long as there's something to stuff their faces with! But don't worry, there are no flour-filled fairy cakes in this gig.
Instead, these cakes are a celebration of fresh, wholesome ingredients that with a teeny weeny bit of effort, will look like they came out of a Masterclass cake making course.
They are based on a 100% nutritionally complete recipe so they can be fed as a meal rather than a treat.
FOOTBALL CAKE
This isn't really a cake at all. It's a bowl-shaped lickimat turned inside out and decorated to look like a football.
No stodgy cake sponge, no forcing your poor pup to eat cake for days. Plus, this cake is very quick to put together. Seriously.
LICKIMATS AND KONGS
If you don't have a lickimat, you don't know what you're missing, or rather, your dog doesn't.
Whilst some dogs are very aggressive chewers and so not suited to lickimats, for most dogs a lickimat makes an excellent base for a raw treat.
The simplest topping is to put some ready-ground raw food on it. My dog usually gets a ready prepared 80-10-10 raw food mix. This squishes down into a lickimat perfectly. Infact, I often give my dog her entire dinner on a series of lickimats dotted around the kitchen.
If you're not feeding a raw ready-made mix, use any ground raw meat instead. Some mashed banana or a bit of kefir also works well.
Kongs can be filled with similar mixtures. See this article for more lickimat topping ideas.
RAW DOG FOOD SNUFFLE MAT
If you thought that snuffle mats weren't an option for your pet because she is fed a homemade, raw dog food diet, think again!
Whilst it's true that the standard, fabric snuffle mat is definitely NOT suited to wet bits of raw food, this silicone version is perfect.
It's a simple DIY project, made from food-grade silicone, and it can be washed in the dishwasher. You can even make it while you're busy watching your favorite Netflix show.
So, no more lamenting not being able to just throw kibble in a normal snuffle mat! Give it a go – your dog will love it!
KEEP YOUR DOG HAPPY AND HEALTHY WITH THESE RAW TREATS
Raw Fed Dog Treat Guide – eBook
In the Raw Fed Dog Treat Guide, you'll find over 40 pages of raw treat ideas and recipes, perfect for your four-legged best friend.
From frozen treats for summer days to dehydrated delicacies, or nutritionally complete treats to raw celebration cakes – there's something for everyone, or rather, everyone's dog.
CONCLUSION
If you have a dog that is raw fed, then we know how difficult it can be to find the best treats for your pup. The good news is there are many homemade options! These ingredients will make some of the tastiest and healthiest dog treats around.