Which Is The Best Raw Dog Food Company In The UK? Review Of 3 Raw Food Suppliers, Complete With Doggy Taste Tests!
I've been feeding my dogs a raw diet for years, both totally DIY, and with ready-made minces. These days, I tend to feed a variety of ready-made minces that I buy frozen.
If you prefer to buy your dog's raw food ready-made too, rather than prepare it yourself, there are plenty of suppliers to choose from. But which UK brand of raw dog food is the best, from a pet parent's point of view, and also from a dog's point of view?
Along with my dog, I did reviews of 3 different brands of single protein (Beef), complete meal ready mixes, and my dog did the taste tests!
Cotswold Raw Review
Nutriment Review
The Dog's Butcher Review
This article may contain affiliate links. As an Associate with Amazon and other companies, we may earn commissions from qualifying purchases. Don't worry, there's no extra cost to you!
THE RESULTS
You can read on for more details, but here is a summary of the results:
The overall winner from my dog's point of view was The Dog's Butcher.
And my opinion…? It's a close call between Cotswold and the Dog's Butcher, but if I have to choose one, it's also The Dog's Butcher. Read on to see why.
THE TASTE TESTS
I've been trying to give my dog more choice in her life recently, and that includes the food she wants to eat. I often let her choose between 2 different proteins at dinner time, though this was the first time we've done a taste test so methodically.
None of the suppliers we reviewed are her usual brand, they were all new to her.
We ran the test over 3 days, offering her a bit of each brand in 3 separate piles. She eats twice a day and I rotated where I put each brand for each meal so that she had the choice of all 3 foods each time, but their position changed. I fed her on a series of lickimats that she eats from almost every day. (I love lickimats for feeding my dog raw mince – you can get lots of other lickimat topping ideas here).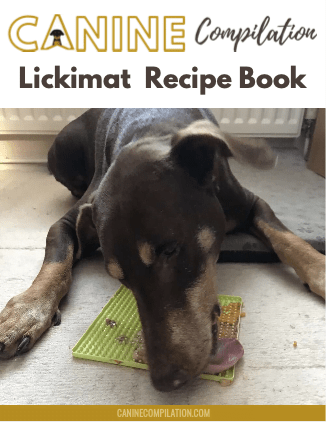 Each meal, after briefly checking out each of the minces, she invariably ate all of the Dog's Butcher (DB) food completely and then went back to the others.
A close second choice was Cotswold (C). She finished this before completing her third (and final) option, Nutriment (N).
The overall winner from my dog's point of view was The Dog's Butcher.
The video above shows one of the taste tests. She sniffs out the Cotswold Raw and Nutriment minces before she finds the Dog's Butcher raw on the green lickimat. She finishes that before going back to eat the rest.
So now that we've looked at the winner from my dog's point of view, let's get into the details of each supplier from the pet parent's point of view.
REVIEW OF INGREDIENTS AND OVERALL QUALITY
Although the meat percentage was similar in all 3 brands, the main difference was that there was only meat, organ and bones in DB, whereas both Cotswold and Nutriment include vegetables and other supplements.
The meat from all 3 suppliers is all sourced from Britain and the quality in each of them looked good, with no funny smell or colouring.
THE DOG'S BUTCHER
Working Dog Food. Purely Ox Single Protein 80-10-10.
Ingredients: 80% meat, (20% ox tripe, 25% ox heart and tongue, 20% meaty ox chunks, 15% lung) 10% veal bone, 5% ox kidney or spleen 5% ox liver
Of the 3 suppliers, the DB raw contains the chunkiest pieces of meat. It's the brand my girl preferred, which might be because she liked the meat better, or, because this was the only mince with no veg or supplements in it – she dislikes veg and can deftly spit out any large chunks, leaving them immaculately clean at the bottom of her bowl!
Once defrosted, it had a small pool of liquid in it, but not an unreasonable amount.
Although the meat was chunky, there weren't chunky bits of bone – these must have been ground up well as I couldn't find any large bits of bone.
COTSWOLD RAW
Active Range. 80/20 beef complete meal. 80% British beef, bone and organ meat. 20% fresh vegetables, herbs and eggs.
Ingredients: British beef, bone, heart, liver and kidney (80%), free range eggs, fresh seasonal vegetables, milled flaxseed, wheatgerm, kelp, milk thistle, dandelion, alfalfa, spirulina, nettle leaf, turmeric and thyme.
The vegetable pieces were minced up quite small, as was the meat. Like the DB, it had a small pool of liquid in it once it defrosted but no more than expected. The smell, colour and overall look was good. There were no large visible pieces of bone.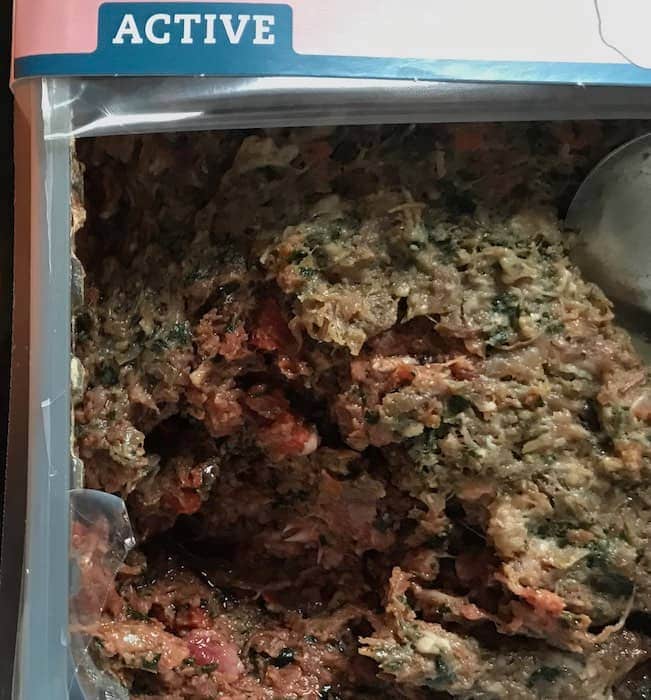 NUTRIMENT
Boneless Beef Complete Formula. Working adult dog food. 85% meat and offal. 15% vegetables and superfood.
Ingredients: British beef heart, beef green tripe, beef kidney, beef liver, fresh carrots, fresh butternut squash, fresh broccoli, fresh green curly cale, Scottish cold water salmon oil, organic virgin coconut oil, raw sea kelp powder, bilberry powder, spirulina powder, whole milled sesame seeds, wheat germ oil.
Of the three brands, this was the firmest and the driest. It was minced up finely. I didn't need to worry about pieces of bone with this food, as it was the only boneless meal.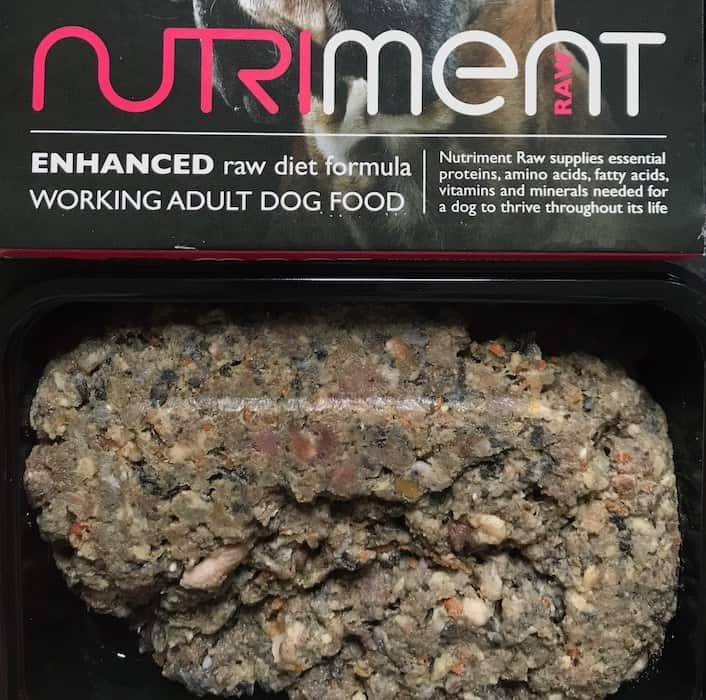 ONLINE SHOP AND HOME DELIVERY
I have a great local raw food supplier store near me so I don't usually need to buy online. I might buy online if I want something the store doesn't stock, or if I see an online deal. However, for the purpose of the reviews, I made some online purchases too.
All of the suppliers have shipping restrictions to Northern Ireland and parts of Scotland.
Here's a summary of each supplier's online shop ease of use, and delivery information. Note the delivery costs refer to buying frozen meat products, not the other items in their stores.
BRAND
COURIER
MINIMUM ORDER
DELIVERY COSTS
NOTES
COTSWOLD
Delivery with their own van, goods in reusable, recyclable packaging NOT polystyrene
Minimum 8kg
£4.95 +VAT. Free with certain products.
I found their online shop the best laid out and easiest to use
DOG'S BUTCHER
Ships nationwide via DPD in max 48 hours, in polystyrene boxes
Minimum order 7kg
£6 for 7kg, £12 30kg, rising scale by weight
Whilst there's lots of choice, many products are sold out
NUTRIMENT
Ships via courier with next day delivery on orders received before 2pm (deliveries are made Tues-Fri only)
Minimum order 5kg
£7.95 5-10kg,
£14.95 20-30kg, rising scale by weight
There's a lot of choice as Nutriment do several different ranges. I would have appreciated better search filters, such as filter by price, filter by protein etc.
I also found it hard to change the tubs to chubbs on some products (see PRICING for more info on Chubbs)
PACKAGING
All 3 foods come in plastic tray containers. Whilst I couldn't find any information about the packaging on the packaging itself – such as whether it's made from recycled materials, is recyclable, where it's produced etc – I did find some of that information on one of the supplier's websites.
Of the 3 suppliers, DB had the simplest packaging: a plastic tray with a peel off lid. It was also the one with the least information about the food on their packaging. I couldn't find any packaging information on their website either. If you're portioning up your dog's food, you'll need to transfer this mince to another container with a lid, or leave it open in your fridge.
Nutriment had the best packaging from an ease of use point of view. Rather than a peel off lid, it had a proper lid, allowing you to portion up the food and seal the container again. From an environmental perspective though, this does mean more plastic…
Cotswold had full information about their packaging on their website and they provide a resealable bag with online orders, so if you portion food up, it doesn't need to be left in an open tray in your fridge.
| | | | |
| --- | --- | --- | --- |
| BRAND | PACKAGING STYLE | MATERIALS | NOTES |
| COTSWOLD | Leak-proof, 100% recyclable tray with peel-off lid | Tray made in UK from 90% recycled material | Ingredients and feeding guide printed on packaging. They provide a sealable bag with online orders |
| DOG'S BUTCHER | Tray with peel-off lid | Not stated | NO ingredients or feeding guide listed on the packaging, though they are listed on the website. |
| NUTRIMENT | Tray and resealable lid | Not stated | Ingredients and feeding guide printed on packaging. |
VARIETY OF RANGE BY EACH SUPPLIER
As well as the single protein beef minces tried in this review, each supplier also offers other ready-made mince ranges. Of the 3 suppliers, Nutriment offers the broadest range of mince products. However, The Dog's Butcher offers a greater range of whole (not minced) organ meat, so if it's testicles or brain you're looking for, head over to The Dog's Butcher!
| | | | | | |
| --- | --- | --- | --- | --- | --- |
| BRAND | SINGLE PROTEIN | COMPLETE MINCES | BONELESS MINCES | PUPPY RANGE | SENIOR RANGE |
| COTSWOLD | YES | YES | NO | YES | YES (called Enhanced) |
| DOG'S BUTCHER | YES | YES | YES | YES | NO |
| NUTRIMENT | YES | YES | YES | YES | YES |
PRICING
The Dog's Butcher comes in slightly cheaper, which makes sense when you consider that it is the simplest elaboration of the 3, having no fruit, veg or supplements added to it.
| | | |
| --- | --- | --- |
| BRAND | PRICE PER KILO (for the product reviewed) | Additional info |
| COTSWOLD | £4.95 | They offer fortnightly or monthly subscription packs which include the delivery price, but there's not that big a saving on some of the ranges |
| DOG'S BUTCHER | £4.20 | Check out their special offers for savings on the standard prices. They do offer a Starter Box at a small saving but there's very little choice in what's in it and it's very tripe-based. |
| NUTRIMENT | £4.30 | Their Chubb packaging is slightly better value. The chubb is a sausage-shaped bag, weighing 1.4kg. It's less plastic so better for the environment |
BELLA AND DUKE
Bella and Duke is a great supplier of ready made raw dog food, and I regularly feed my dog Bella and Duke complete minces. However, as they don't currently offer single-protein complete minces I couldn't include them in this review.
If you are in the UK, I highly recommend Bella & Duke 100% natural raw dog food.
They have several options suitable for dogs of all ages. They also have options for dogs with specific dietary or health requirements, such as a range for older dogs, low fat blends for dogs with pancreatitis, etc.
Use this code to get it a 50% DISCOUNT off your first order
c56173f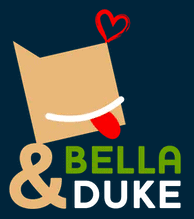 CONCLUSION
My dog's favourite of the 3 was The Dog's Butcher. She didn't have to consider the other aspects though, so her vote covers the taste test.
| | | | | | |
| --- | --- | --- | --- | --- | --- |
| BRAND | PRICE | PACKAGING | DELIVERY COSTS | ONLINE SHOP | RANGE |
| COTSWOLD | | ✔ | ✔ | ✔ | |
| DOG'S BUTCHER | ✔ | | | | ✔ |
| NUTRIMENT | | | | | ✔ |
I didn't taste it myself (hey, I'm a vegetarian), but as a pet parent I would also choose The Dog's Butcher. Partly this is because I want to give her what she wants, but for my style of feeding this works well for me. I often throw bits of fruit and veg in her food so I don't need them to be in her mince. I also really like being able to give her novel protein such as brain – and yes – testicles.
However, if I had an older dog, I would go with the Cotswold Senior range, which has joint supporting supplements added to them. I also love their concern for the environment in terms of their packaging.
What do you feed your dog, have you tried these 3 suppliers?
REFERENCES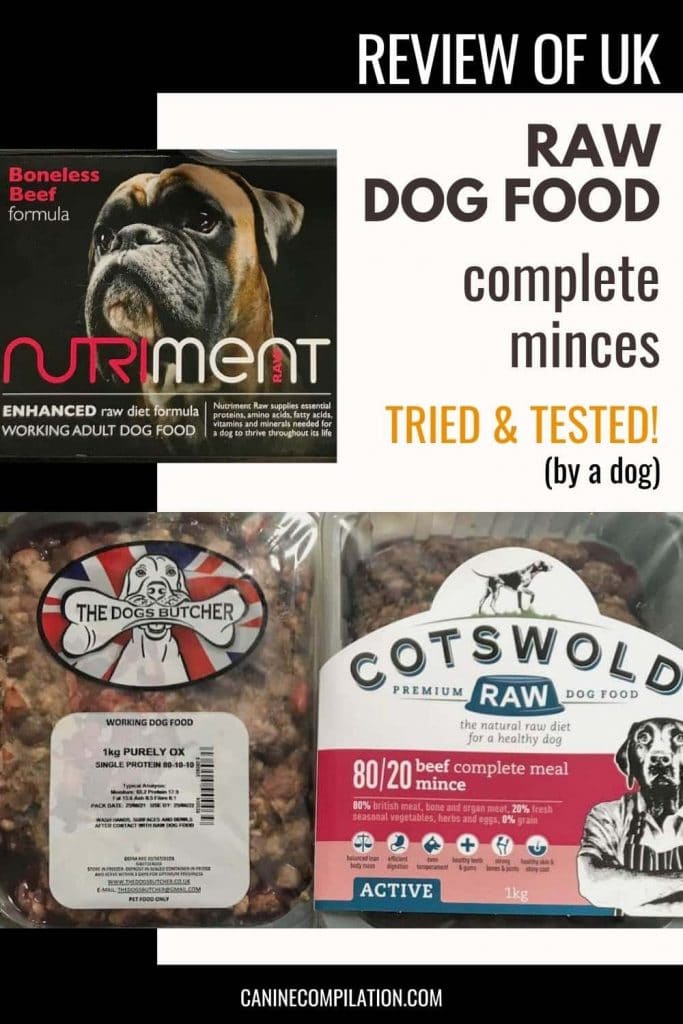 RAW TREATS FOR DOGS
Many raw feeders, especially those new to it, ask 'What can I feed as treats?'. If that sounds familiar, we've got you covered!
With over 40 pages of raw dog treats, this eBook will keep your raw fed dog happy when it comes to treat time!
Raw Fed Dog Treat Guide – eBook
In the Raw Fed Dog Treat Guide, you'll find over 40 pages of raw treat ideas and recipes, perfect for your four-legged best friend.
From frozen treats for summer days to dehydrated delicacies, or nutritionally complete treats to raw celebration cakes – there's something for everyone, or rather, everyone's dog.