You might already know about the fantastic health benefits of turmeric. When combined with other ingredients, turmeric makes 'golden paste' – also known as turmeric paste – an incredible supplement for dogs and humans alike.
This article will look at the main health benefits of golden paste for your dog, what kinds of dogs benefit most from having it, where to buy it and how to make it yourself!
This article may contain affiliate links. As an Associate with Amazon and other companies, we may earn a commission if you click and purchase with one of our links. There's no extra cost to you. Thanks!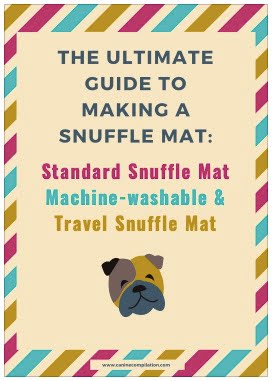 WHAT IS TURMERIC?
Turmeric is a spice, made from the plant curcuma longa, part of the ginger family. Indeed, fresh turmeric root looks similar to ginger root. Cut the peel off though and you'll see its brilliant yellow-golden colour.
It has been used for centuries in medicine for a whole host of conditions, from improving digestion to reducing inflammation.
WHAT IS GOLDEN PASTE?
Golden paste is a simple turmeric recipe originally developed by Dr. Doug English, an Australian veterinarian. It is used to treat many different health conditions in dogs.
Its most important ingredient is the spice turmeric. It also has 2 other ingredients – ground pepper and oil – both important in making the golden paste as effective as possible.
Our bodies – and our dogs' bodies – don't absorb curcumin into the bloodstream very well. However, by adding freshly ground black pepper to the turmeric, we increase that absorption rate (bioavailability) by a whopping 2000% (ref).
The active element in the pepper is piperine, and it works to enhance the bioavailability of curcumin. If you buy a ready-made golden paste, make sure it has pepper in it.
The oil in the recipe makes the liver metabolize the curcumin slower, again improving absorption into the body.
WHICH KINDS OF DOGS BENEFIT FROM TURMERIC?
Some people wonder if turmeric is good for dogs that don't have ailments. Golden paste isn't just for senior or ill dogs – it's fantastic for any dog! But it's especially good for canines who are over-exerted or in pain from old age.
GOLDEN PASTE FOR DOGS – PROBLEMS
GALL BLADDER PROBLEMS
Curcumin makes the gall bladder contract and release more bile, so if your dog has gallstones or a bile duct obstruction, don't give him golden paste. It could exacerbate the problem (source).
BLEEDING DISORDERS
Curcumin is an anticoagulant (thins the blood) and can slow blood clotting. For this reason, it's not recommended for dogs with bleeding disorders.
SENSITIVITIES / SIDE EFFECTS OF GOLDEN PASTE
Most dogs can eat golden paste with no problem at all. However, as with any food, some dogs have gastrointestinal reactions so you may see stomach upsets or loose stools.
If you do, reduce the dose until there are no more symptoms and then gradually increase it. If you're concerned your dog has an intolerance for it, stop feeding golden paste and consult with your vet.
GOLDEN PASTE FOR DOGS CEYLON CINNAMON
Some pet parents have reported that their dog smells a bit of cat pee when they first start feeding golden paste. This didn't happen to my dog, but if it happens to yours, you can add 1 tablespoon of Ceylon cinnamon (not cassia cinnamon!) to the recipe at the end, once the ingredients have been cooked and mixed together. This will prevent the pee smell.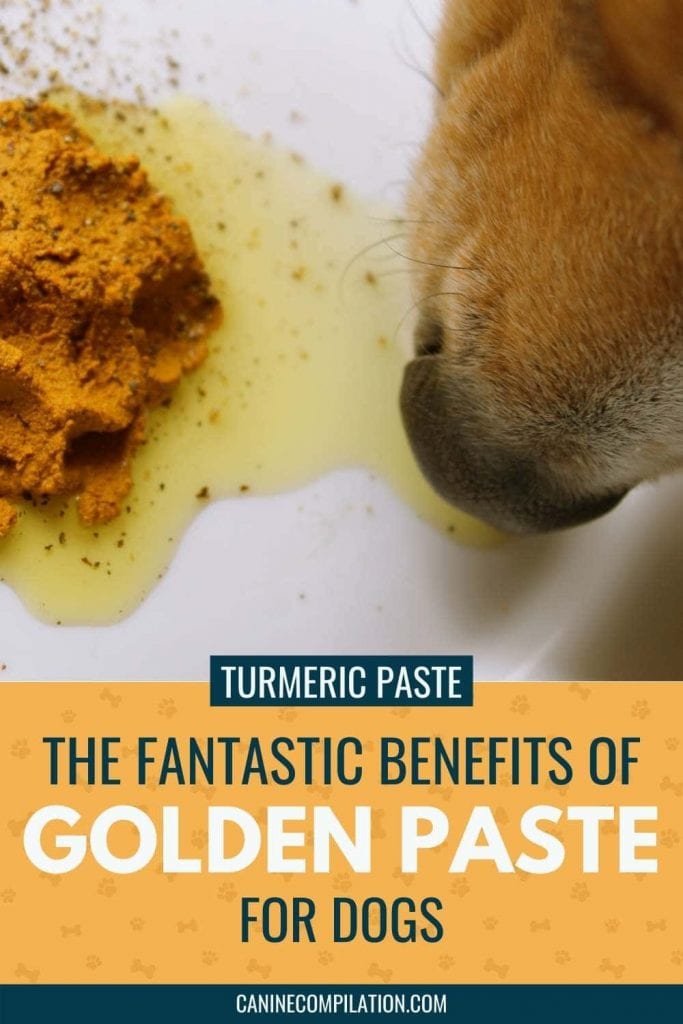 THE AMAZING BENEFITS OF TURMERIC FOR DOGS
So what does golden paste do for dogs? The curcumin in turmeric is a powerful antioxidant. It also has strong anti-inflammatory properties, This makes it useful in treating a whole host of medical problems, including allergies, Alzheimer's, liver and kidney disease, and digestive diseases.
It is often used to specifically treat these illnesses in dogs:
HOW TO MAKE TURMERIC GOLDEN PASTE FOR DOGS
There are lots of golden paste for dogs recipes available online. Some have added ingredients such as ginger or honey, to improve the taste. However, honey has been found to reduce the efficacy of the golden paste, so it's not advised.
I prefer to use Dr. English's recipe. If any new research comes up, you can be sure he will adjust his recipe. For instance, he updated the recipe in 2016 following research that showed it was more effective with a greater amount of pepper (source).
Before you get out your weighing scales, a warning: turmeric is a beautiful colour, but if you don't want that colour all over your clothes, wear an apron. It stains very easily.
Golden paste can even stain plastic containers. I suggest you use an old, glass jam jar or mason jar to store it in.
BEST-SELLING ORGANIC TURMERIC POWDER
is lab-tested for purity
is certified USDA Organic and certified Non-GMO
GOLDEN PASTE RECIPE FOR DOGS DOUG ENGLISH
This is a golden paste recipe your dog will love. Even if his taste buds don't, his body certainly will.
Preparation Time: 5 minutes
Cooking Time: 15 minutes
Note re. the oil. You can use raw, unrefined coconut oil / flaxseed-linseed oil, virgin or extra virgin olive oil / organic MCT oil / ghee.
Note re. the ground pepper. Ready-made ground / milled black pepper is no good for making golden paste. The active ingredient we need in pepper – piperine – begins to oxidise as soon as it is ground, so that's why we grind it just before making the paste. Buy black pepper corns and grind them yourself.
GOLDEN PASTE FOR DOGS INGREDIENTS
1/2 cup (125 ml / 60g) turmeric powder
1 cup water (250 ml) plus extra water in reserve, if needed
1/3 cup (70 ml) oil (see above for oil options)
2 – 3 teaspoons freshly cracked (ground) black pepper
INSTRUCTIONS
Put the turmeric and the water in a saucepan and bring them to the boil, stirring constantly so it doesn't stick to the bottom and burn.
Lower the heat to a simmer. Keep stirring until it becomes a paste – this will only take 2-3 minutes. Note: If you buy turmeric labelled as 'Raw' you will need to simmer the turmeric in the water for around 25-30 minutes. Raw turmeric takes longer to cook than standard turmeric. If it dries out too much, add a little extra water.
Remove it from the heat and let it cool for 10 minutes.
Add the freshly ground black pepper and the oil. The mixture should still be warm so if you're using coconut oil it will melt into the mixture.
Stir it until the ingredients are well combined and leave it to cool.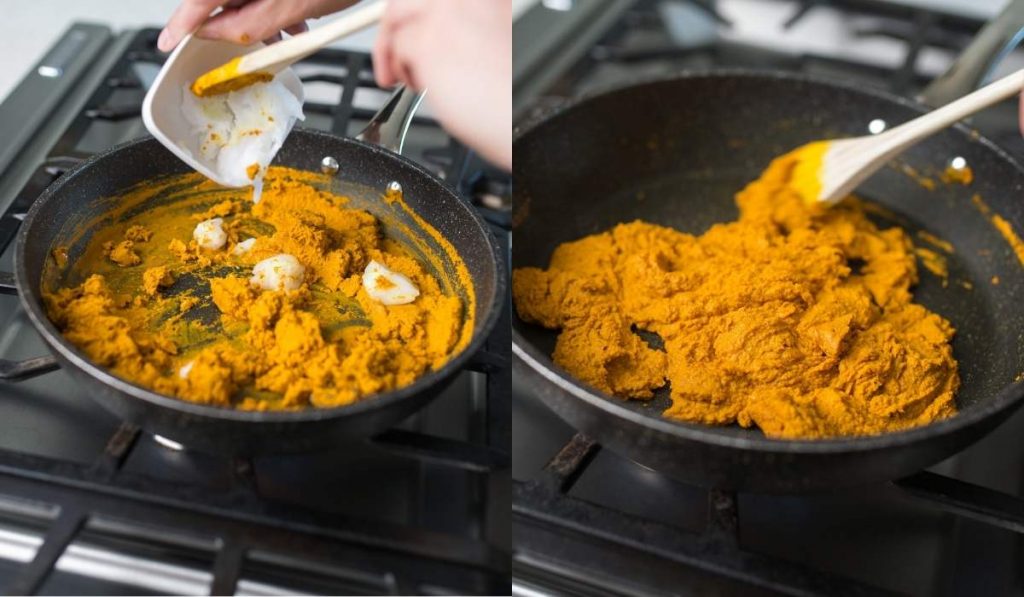 HOW TO STORE GOLDEN PASTE
Once it's cool, put it in a jar and keep it in the fridge. I also put a label on the lid with the date I made it, though it's usually used up in 10 days or so.
Freeze it in smaller portion sizes if you're not expecting to use it all within a couple of weeks. I often use silicone ice cube trays to freeze individual feeding portions.
HOW LONG DOES GOLDEN PASTE FOR DOGS KEEP FOR?
It should keep well for at least 2 weeks, but after 3 weeks, throw away any unused paste. The water in the recipe introduces the chance of mould and bacteria growing in it.
GIVING TURMERIC GOLDEN PASTE TO YOUR DOG
Some dogs dislike the bitter taste. The easiest way to give golden paste to your dog is mix it on with his dinner.
It can also be stirred into a little kefir.
HOW MUCH GOLDEN PASTE SHOULD I GIVE MY DOG?
If your dog hasn't had turmeric before, start with a small amount of golden paste and work up to the following dosages:
10lbs dogs 1/4 teaspoon per day
20lbs dogs 1/2 teaspoon per day
30lbs dogs 3/4 teaspoon per day
40lbs dogs 1 teaspoon per day and so on
Turmeric doesn't stay in the body very long, so it's best to split the dosage – half in the morning and half in the evening.
WHERE TO BUY TURMERIC
I get organic turmeric from my local health food shop to make the golden paste. If you don't have any in your area, there are plenty of online sellers.
Note that if you buy raw turmeric it takes much longer to cook. Standard turmeric is cooked when it is harvested and dried, before being sold.
BEST-SELLING ORGANIC TURMERIC POWDER
is lab-tested for purity
is certified USDA Organic and certified Non-GMO
WHERE TO BUY GOLDEN PASTE FOR DOGS
Because golden paste goes off fairly quickly, especially if it's not stored in the fridge, it's not easy to find it ready-made. If you do a search for 'Golden paste for dogs Pets At Home', or 'Golden paste for dogs Amazon', you probably won't find any (I certainly didn't).
For this reason, most pet parents end up making their own. Your local pet store might have some in a fridge – just check the ingredients to see what's in it.
TURMERIC SUPPLEMENTS FOR DOGS
Some pet parents prefer to give turmeric to their dogs as a supplement, especially in treat form. A few really fussy dogs won't eat golden paste, even when mixed into their food!
TOP-RATED TURMERIC TREATS FOR DOGS
Many pet parents swear by these treats, saying they made a real difference to their dog's mobility and health.
No Artificial Flavouring
No Artificial Preservatives
Made with Natural Ingredients
Provides Mobility, Immune & Digestive Support
CONCLUSION
Turmeric has been used for centuries to treat a range of health problems including arthritis, heart disease, liver disorders, stomach ulcers and cancer. Dogs can also benefit from this powerful healing agent through golden paste!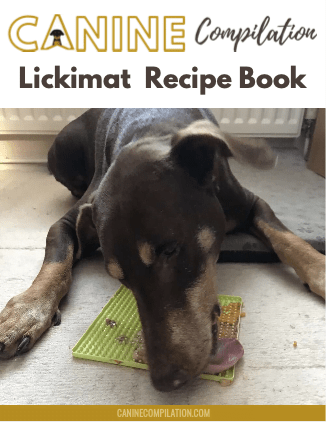 I am not a veterinarian: this information is not intended to replace medical advice, but rather, to help you make informed decisions to improve your dog's health and wellbeing. Please, always seek your vet's opinion, especially in the case of your dog being ill.