It can be hard to figure out what is safe for your dog to eat and what isn't. There's little doubt about chia seeds though: there are many health benefits of chia seeds in general, which can also benefit a dog's health. There is, however, one main precaution you need to be aware of when adding chia seeds to your dog's diet.
We'll pay homage to this tiny seed which is packed so full of nutrients, and take a look at how much you can safely give your dog. There are even some tasty chia dog treat recipes and feeding ideas for how to give your pup chia.
This article may contain affiliate links. As an Associate with Amazon and other companies, we may earn a commission if you click and purchase with one of our links. There's no extra cost to you. Thanks!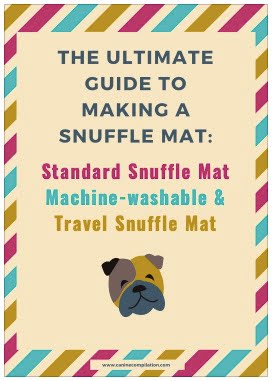 GENERAL HEALTH BENEFITS OF CHIA SEEDS
These tiny white or black seeds come from the Salvia Hispanica plant,in the mint family. Despite their size, they pack a high nutritional punch with several benefits for our health – and our dogs' health.
packed with antioxidants
high in fibre
packed with nutrients, including manganese, magnesium, phosphorus, calcium, zinc and potassium, as well as several vitamins
low in calories
an excellent source of protein, with several essential amino acids
packed with Omega-3 fatty acids
In fact, chia is so nutritious it has more calcium than dairy products, more potassium than banana and more antioxidants than blueberries!
BENEFITS OF CHIA SEEDS FOR DOGS
OK, so chia seeds are super healthy for us humans. But you're here to find out if it's worth giving them to your dog. Here goes:
the fiber can help with constipation
their Omega-3 fatty acid content has many health benefits, including assisting in joint problems such as inflammation, promoting good heart health, immune system health and brain function, and helping to give your dog a shiny coat
the high fiber content can promote a healthy weight for your pup
their nutritional profile makes them a good food source for maintaining healthy bones
some animal studies have shown that chia seeds in the diet help to lower blood sugar levels, making them a useful supplement for diabetes sufferers. If your dog has diabetes, discuss feeding her some chia with a holistic vet or canine nutritionist
since it has no taste or smell, even picky dogs will eat it in their dinner
they are very easy to add in to your dog's diet
Bear in mind though that as healthy as chia seeds are, you would never feed them as a high percentage of your dog's food.
HAZARDS OF CHIA SEEDS FOR DOGS
In general chia seeds contain so many great things for our dogs, but any new food can be hard on dogs' stomachs if they're not used to it, so don't give too much all at once!
BLOCKAGES
Dry chia seeds are very absorbent, easily soaking up water or fat. If you feed a lot of them to your dog in their dry state, without any liquid, the seeds will absorb liquid in your dog's digestive system. A large amount of seeds could potentially cause a blockage.
Avoid this potential risk by soaking the chia seeds first in water, yogurt or kefir, or, mix them in with some wet food when feeding them to your dog.
ALLERGIES
There is a risk of allergies with any food type. Your dog is no more likely to be allergic to chia than he is to any other type of food though.
OMEGA- 3 EXCESS
Since they're rich in Omega-3 but not Omega-6, too many of them might result in an imbalance of Omega-3. You can counteract this by combining them with a food stuff that has more Omega-6, such as poultry.
WHAT ARE THE SIDE EFFECTS OF EATING CHIA SEEDS?
Dogs that struggle to digest chia seeds will show side effects that may include stomach pain, vomiting, diarrhea or constipation.
An allergic reaction might result in a rash as well.
HOW MUCH CHIA CAN MY DOG EAT?
As with any new food, it's best to start off slow to make sure your pup has no adverse reactions.
Try sprinkling seeds over wet dog food (or adding it to water if you feed dry food) at a rate of one teaspoon to 40 pounds of your dog's weight. So, if your dog weighs:
10 pounds = 1/4 teaspoon chia seeds
20 pounds = 1/2 teaspoon chia seeds
30 pounds = 3/4 teaspoon chia seeds
40 pounds = 1 teaspoon chia seeds
You can divide this up during the day into more than one meal or snack.
HOW TO GIVE YOUR DOG CHIA
You can add chia seeds to your dog's food simply by sprinkling them into your dog's dinner.
Chia can also be added to a dog's water bowl: soaking them in this way avoids any potential blockage risks.
CAN DOGS EAT CHIA SEEDS DRY?
Yes they can. If you sprinkle a few seeds on top of their wet food for instance. Too many dry chia seeds could represent a blockage hazard though.
SUPERFOOD SNACK RECIPES YOUR DOG WILL LOVE
Chia seeds can be used as an egg substitute, a 'crumb' covering for meat or fish, used whole and raw, or milled, so they're great for lots of dog treat ideas.
They can be used in place of some types of flour when cooking homemade treats. Pop the seeds in a grinder first to mill them.
FROZEN CHIA SEED PUDDING WITH FRUIT
These super healthy treats are great to have prepared in your freezer. They are quick and easy to make too.
You will need:
2 tablespoons Chia seeds – whole or milled
1 cup of Greek yogurt / kefir / water (use what your dog likes!)
handful of pureed fruit – I like to use berries such as blueberries, strawberries or raspberries – or organic, unsweetened baby food fruit puree (pure fruit only)
dog treat molds (I use silicone ice cube molds)
GREAT SILICONE MOLDS FOR YOUR DOG TREATS
4 piece food grade silicone molds
paw and bone shapes, perfect for dog treats!
dishwasher safe
use for baked or frozen treats
GREAT SILICONE MOLDS FOR YOUR DOG TREATS
food grade silicone molds
cute penguin shapes, perfect for dog treats!
dishwasher safe
use for baked or frozen treats
INSTRUCTIONS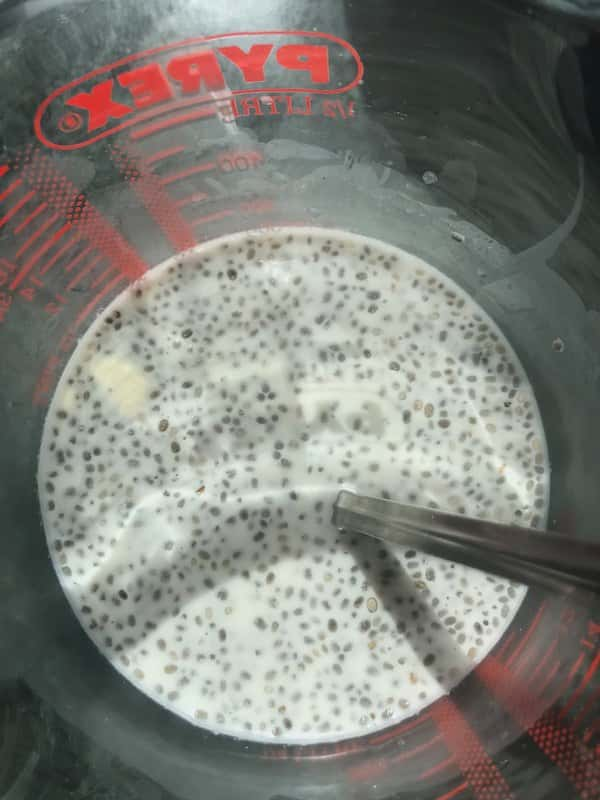 TURKEY AND CHIA SEED DOG TREATS
The Omega-6 in the turkey helps balance the Omega-3 in the chai seeds in this dog treat recipe.
CONCLUSION
Chia seeds are a great addition to any dog's diet. They provide your pup with a powerhouse of nutrients and health benefits. There is really only one disadvantage worth mentioning – dry chia absorbs a lot of liquid, which could lead to intestinal blockages if you give your dog too much dry chia, or if you don't soak it first. As with any new food, make sure you don't overdo it! But aside from that minor detail these little seeds are great for dogs!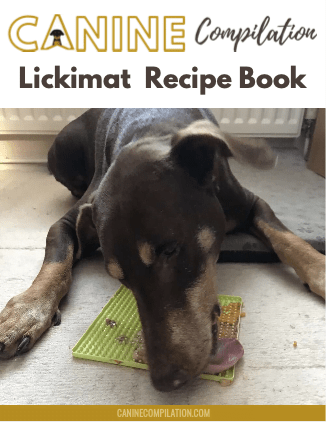 References