Imagine: your mother-in-law calls to say she's on her way over and will be there in '15. Yikes! You hurriedly tidy up and make the place look presentable. Then you look at your dog. Your lovely dog, who rolled in fox poo on his walk and then had a quick dip in the pond to cool off. No time to bath him, so what do you do?
If you have some, you'll probably reach for the dry dog shampoo. It's a really convenient option to get you out of a jam. If you don't have any, and you've now only got 10 minutes left til your mother-in-law rings the doorbell, jump straight to the DIY recipe to make your own dry shampoo for dogs.
As with anything dog-related, there always seem to be pros and cons to consider before you whip out your credit card or head over to your local store. This post will address those points so that you can make an informed decision about whether to buy dry shampoo for your furry friend.
I've compiled a short list of the best products, including recommendations made by other pet parents and professional groomers, and my own personal favourite. I've also included a recipe for an easy DIY version that will make your pup smell fresh and clean without sacrificing any of their natural oils.
This article may contain affiliate links. As an Associate with Amazon and other companies, we may earn commissions from qualifying purchases. Don't worry, there's no extra cost to you!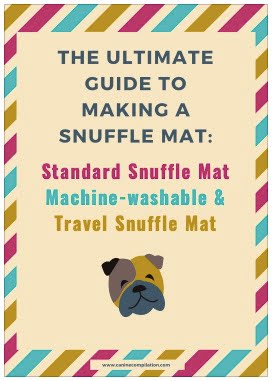 WHY USE A DRY SHAMPOO FOR DOGS?
A dry shampoo helps to quickly remove odors and improve a greasy-looking coat. It is usually a powder, mousse or spray that you can apply directly to your dog's fur, without having to use water.
It's a great time-saving product to use when your dog needs some cleaning up, but you don't have the time or energy to give her a proper bath.
It's often a less stressful option for dogs that hate being bathed too.
My girl dislikes getting wet, so occasionally I use dry dog shampoos just to freshen her up a little between baths.
I also use it in the winter rather than bath her. Dobermanns really feel the cold so I don't want her shivering away after a bath.
If you tend to take your dog out with you on the road, keeping a bottle of dry shampoo in your travel bag is a great idea. My dog's sure to find something revolting to roll in when we go for a walk in the countryside, and cleaning her off before we head home saves me having to drive back with all the windows open.
HOW DO DRY SHAMPOOS WORK?
Most dry shampoo powders contain oil absorbing ingredients to soak up excess oil in your dog's fur.
Spray, foam or mousse shampoos have chemical surfactants to help you wipe away dirt more easily. Once you've rubbed the mousse or foam into the fur, you need to wipe it off with a towel or absorbent paper.
Most products on the market are spray / foam / mousses – there are far fewer commercial dry shampoo powders.
Both types usually contain perfume too. That's great for combatting that fox poo smell, but the fragrance might irritate some dogs.
CAN YOU USE DRY SHAMPOO ON DOGS TO CLEAN THEM?
What dry shampoo doesn't do is properly clean your dog. The only way to do that is to bath your dog.
However, if you want to do a spot clean, a mousse or foam dry shampoo will do a pretty good job.
For an all-over fragrance freshen-up, I would use a spray.
And to reduce a greasy looking coat, I would use a powder shampoo.
USE A BIT OF ELBOW GREASE
However, brushing your dog down well might even save you the trouble of applying a dry shampoo.
Loose hairs trap excess oil and smells, and they clump together with bits of dirt in your dog's coat.
A good brushing helps to distribute natural oils and gets rid of dead fur, resulting in a cleaner-looking, less smelly dog!
If after thoroughly brushing your dog she still looks like she had a fight with a bottle of olive oil, apply the shampoo.
Waterless dog bathing doesn't mean bathing them in powder / mousse instead of water though, so just add a little shampoo at a time and brush it well through your dog's fur. If you're using a spray or mousse, wipe it away with a towel or kitchen paper completely after brushing or massaging it in.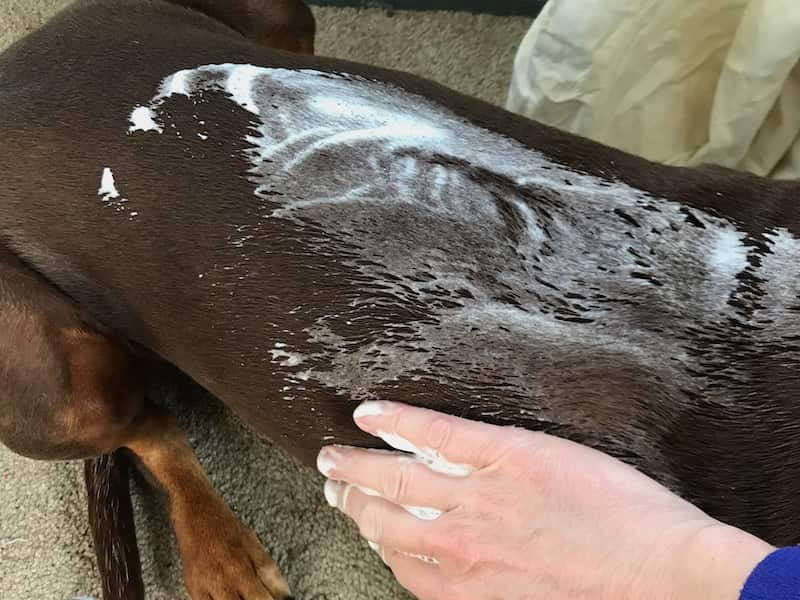 When you finish, you shouldn't be able to see any product left in your dog's coat. If there's anything still there, your dog will end up licking it off, which is best avoided.
If you're worried about leftover product in your dog's fur, wipe her down with a damp cloth or a dog grooming wipe.
COMPOSTABLE DOG GROOMING WIPES
Dog grooming wipes are so handy to have, but compostable ones like these, with natural ingredients in them, are even better:
plant based
compostable
hypoallergenic
lavender scented
suitable for paws, body AND butt!
Of course, not all brands are created equally and some dry shampoos contain particularly harsh or potentially dangerous products.
IS DRY SHAMPOO SAFE FOR DOGS?
Your dog's coat needs some oil, so using too much dry shampoo, or using it too often, will soon begin to upset this natural balance, leading to dry, flaky skin.
Used in moderation though, in between proper bathing, it is fine for most dogs.
Some dogs are more sensitive and might not respond well to a particular product. Clearly, if this happens, stop using it.
WHAT TO AVOID IN A DRY SHAMPOO FOR DOGS
If you want to keep your dog as healthy as possible while giving her the occasional dry shampooing session, try to avoid products with a really long list of ingredients, especially if you can't pronounce any of them.
Bear in mind, whatever you put on your dog is going to end up in her stomach. Dog's lick themselves clean all the time, so there's no way I would want any of these common dry shampoo ingredients going in my dog's mouth:
DMDM Hydantoin: an ingredient which releases formaldehyde, a chemical known to cause cancer.
Ammonium Lauryl Ether Sulfate: this is a chemical used to break down substances in detergents, which can irritate skin
Tetrasodium EDTA: this is a chemical used to increase the absorption of other chemicals into the skin and can cause skin irritations.
Cocamide DEA: this has been linked to cancer
Ethyl and Methyl Parabens: linked to cancer and reproductive problems
WHAT IS THE BEST DRY SHAMPOO FOR DOGS?
I've included a mousse, a spray and a powder version, so whichever style you prefer, I've got you covered.
Who would have thought that an electric hair strimmer manufacturer could create such well-respected dog care products?
Everyone seems to love the WAHL pet range. I'm not surprised, this shampoo:
This is my personal favourite. I've been using Burt's Bees products for years (for humans, not dogs!) and I love the quality and care that goes into them. They focus on making natural products with great ingredients. It's fantastic that I can now also use Burt's Bees on my dog!
It comes in a bottle with a top spray mechanism. I don't like this style as much as a trigger mechanism, but it's a minor thing.
Their All Natural Waterless Shampoo Spray:
BEST POWDER DRY SHAMPOO
I use my own DIY powder shampoo (see how to make it below) but if you'd rather buy one, here are the ones I'd recommend:
BEST DRY SHAMPOO – POWDER (USA)
COAT DEFENSE WATERLESS DRY SHAMPOO POWDER
This powder is a little different to most dry shampoos, as it is designed to help with skin problems such as hot spots and itching. Lots of pet parents have reported that their dogs' symptoms have eased using this product.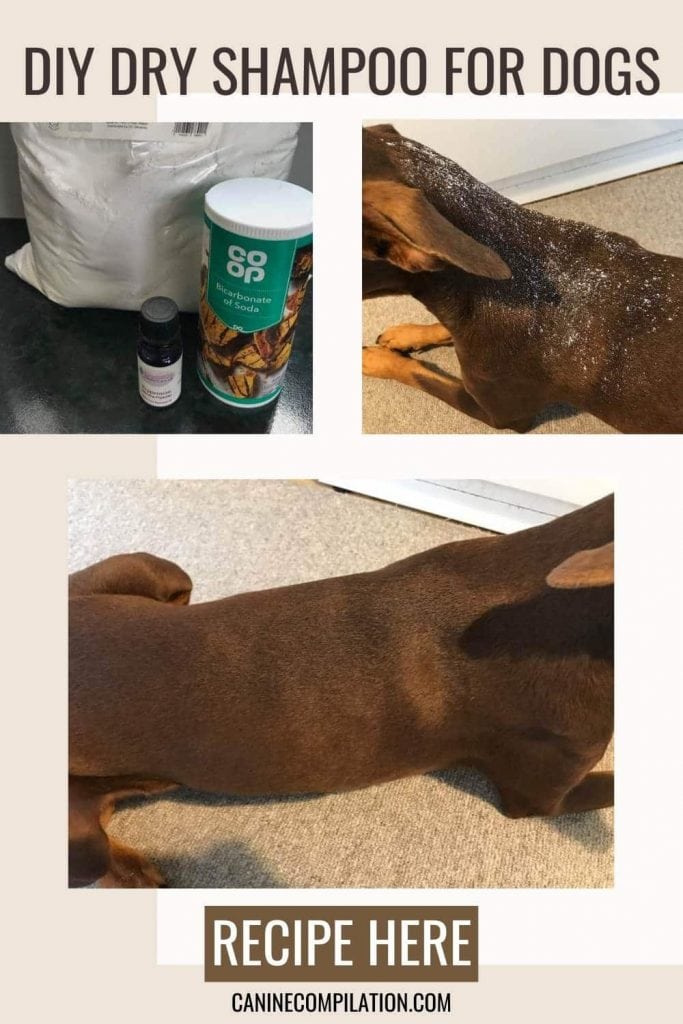 DIY DRY SHAMPOO FOR DOGS RECIPE
There are 3 main ingredients that do the job of absorbing excess oil:
cornstarch
baking soda / bicarbonate of soda
Fullers Earth powder
You can use any one of these on its own, straight from the packet.
To use, sprinkle a little on your dog and brush it through their fur. As you brush it out, you'll brush out clumped up loose hair, excess oil and some dirt too.
Avoid sensitive areas like the face and groin, and make sure your dog isn't breathing in dry shampoo dust clouds!
If you want to make your homemade shampoo more functional, add in a little DE (diatomaceous earth). This is a great natural flea killer – for more information on how to combat fleas naturally, see this article.
And if you want to make your dog smell nicer, you can add some dog-safe essential oil to the powder – I used peppermint. See more about dog-safe essential oils in this article.
To make a scented dry dog shampoo:
get a small jar (preferably a shaker jar)
put a heaped tablespoon of whichever absorbing powder you're using in the jar
add 3-4 drops of dog-safe essential oil, such as lavender or peppermint
add another heaped tablespoon of powder
add 3-4 drops of dog-safe essential oil,
to make it a de-flea powder too, add a teaspoon of DE
stir to combine all the ingredients
It's good to go!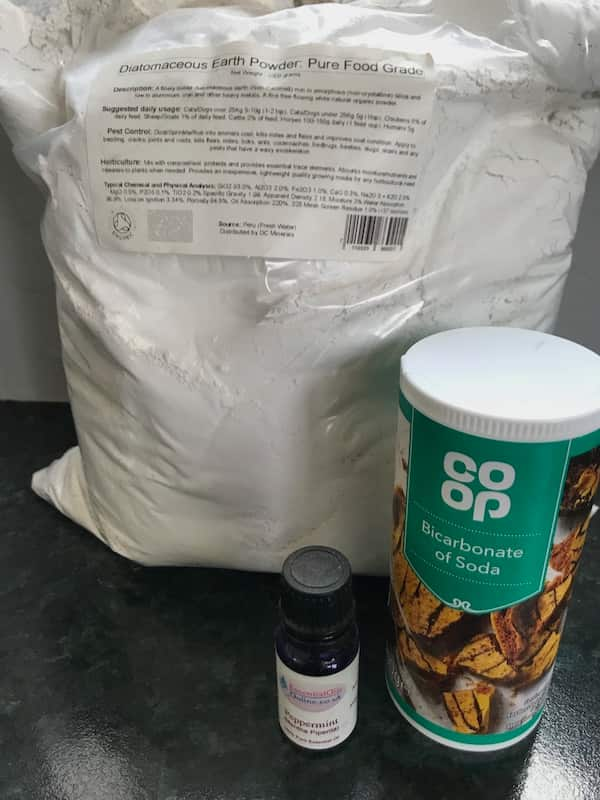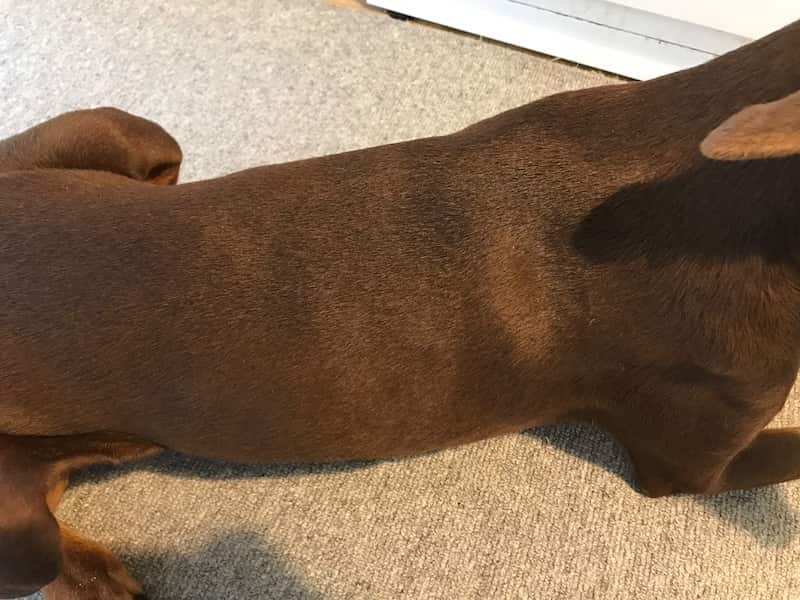 CONCLUSION
Dry shampoo can be a great fix to quickly freshen up your dog's coat when you don't have time to bath her properly, but it isn't a long-term replacement for a proper bath.
Look for a dry shampoo with limited, recognisable ingredients to avoid feeding your dog chemicals.
Alternatively, whip up a batch of DIY dry dog shampoo powder with our recipe.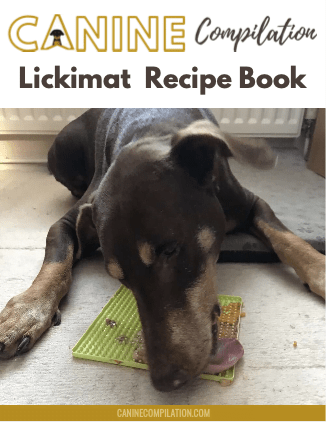 References
Chemicals to avoid in beauty products