My dog often gets raw, green tripe in her diet. I recently saw some white tripe in the supermarket and wondered, what's the difference between green tripe and white tripe, and which tripe is best for my dog? Here's the answer: green tripe is FANTASTIC for dogs, and much better than the white stuff.
Whatever colour tripe you come across, one thing is certain: this stuff STINKS. I mean, it's seriously smelly. Don't let that put you off though, green tripe is incredibly nutritious and good for dogs – more on that in a bit.
This article may contain affiliate links. As an Associate with Amazon and other companies, we may earn commissions from qualifying purchases. Don't worry, there's no extra cost to you!
WHAT IS TRIPE?
Tripe is largely muscle and comes from the stomach lining of a ruminant (animals like cows, sheep, goats, bison). Ruminants have 4 compartments in their stomachs, working like a fermentation vat to digest food.
Green tripe is untreated, and still has lots of digestive enzymes, probiotics (healthy bacteria) and nutrients in it.
Most commercial tripe comes from cows (beef tripe). It can be either fresh, frozen or dried and comes in 2 colours, white or greenish-brown. This colour variation depends on how it has been treated for consumption.
It has a tough, chewy texture.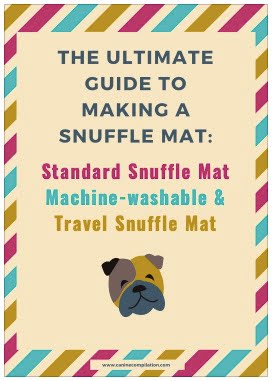 WHICH IS BEST FOR A DOG, GREEN OR WHITE, BLEACHED TRIPE?
So, given the choice, should you give your dog the more palatable-looking, white bleached tripe prepared for human consumption, or green tripe?
Hands down, go for green. (In fact, it's more brown in colour, but it's called green because it is unprocessed.)
Let me tell you how the white tripe got to be that colour: in many cases it's dipped in chlorine. After bleaching, it is usually cleaned and cooked, then wrapped up in nice little trays and sent off to butchers and supermarkets. If you've ever bought any, apart from the honking tripe smell, you might have noticed the smell of bleach too. Now you know why.
In other processing plants, it's steamed or boiled. Some cleaning processes involve hydrogen peroxide. Either way, it ends up white, with many of the nutrients stripped out, so the raw, green stuff is WAAAAY better for your dog.
If you're planning on cooking tripe for yourself (yep, there are still people who eat tripe, although it certainly isn't the most fashionable meat to put on your plate!), you could share some with your dog, sure. There's very little nutritional value to it though.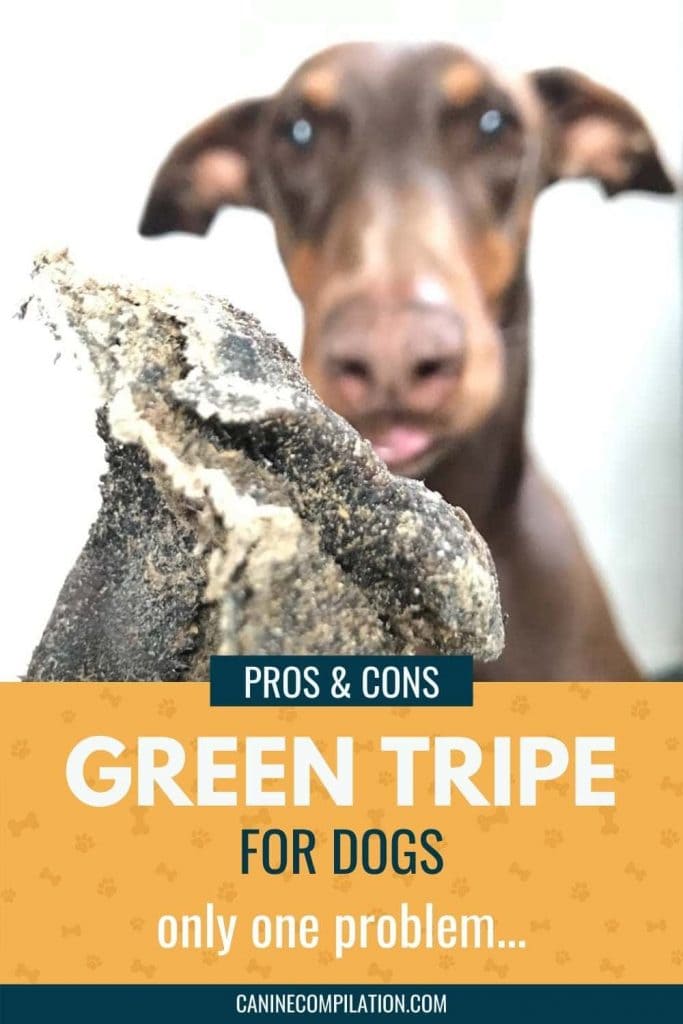 THE BENEFITS OF GREEN TRIPE FOR DOGS
Sometimes we get so caught up in doing right by our dogs that we forget something really simple, but important: variety and taste.
So the first benefit of green tripe is this: most dogs love it, its honky smell, its revolting flavour. Yep, this is doggy heaven. Giving your dog a variety of food and flavours is important. Imagine how you'd feel if you could only eat the same thing every day. Yawn.
So if you see some nice, fresh green tripe at the butchers, be brave. Go forth where more timid pet parents would shy away. Make your dog happy.
OK, on to the stuff you might have been looking for – the nutritional benefits of green tripe for your dog.
Oh, and did I mention? Dogs love to eat it.
GREEN TRIPE TASTE TEST (MY DOG, NOT ME)
I did a few taste tests with my picky princess. I offered her some of her regular raw food (80-10-10 ready made minces) or pure tripe. After quickly smelling her regular food she dives right in to the tripe and wolfs it all down. Here's a quick video from one of the taste tests.
NUTRITIONAL ANALYSIS OF RAW TRIPE
Here's the nutritional analysis of raw green tripe taken from one of the packs of minced frozen green tripe that I bought:
Moisture 74%
Crude Fat 10.60%
Protein 13.9%
Phosphorous 0.2%
Calcium 0.5%
Another nutritional analysis lists the following additional information:
Calories 756.35 cal/lb.
pH 6.12
Lactic Acid Bacteria 12, 000 CFU/G
Linoleic Acid (EFA) 2.72%
Linolenic Acid (EFA) 0.37%
Ref: Woodson-Tenent Laboratories, Inc., Gainesville, Georgia, sample # G97-16346.
WHAT DOES GREEN TRIPE DO FOR DOGS?
So tripe is very nutritious. So what? What does that mean for your dog's health?
FEED TRIPE TO STOP YOUR DOG EATING DOG POOP (COPROPHAGIA)
There's one other reason for feeding your dog tripe that I've come across: it helps prevent dogs eating dog poop. (In case you wanted a nice, nondescript term for it, poop eating is called coprophagia).
I've been blessed with dogs that don't eat dog poop. Indeed, my picky princess of a dobermann would rather cross the road than walk by another dog's poop sometimes.
All the labradors in my childhood were avid poop eaters though, and I know some of you have dogs that think a pile of poop is as inviting as a packet of potato chips would be to us.
Here's why tripe might help with this problem. Coprophagia can be caused by different things, but if your dog's diet is hard for him to digest, or if your dog has a medical condition that means he's not getting all the nutrients from his food, he may be more likely to eat poop.
If a dog eats poop because of the digestive enzymes it contains, giving your dog raw green tripe which is full of digestive enzymes, should help resolve the problem. Try it and see. Apart from putting up with the awful stink of tripe in your house, what have you got to lose?
FEED TRIPE TO STOP YOUR DOG EATING GRASS
I came across another supposed tripe-based solution too, that feeding green tripe can stop your dog from eating grass. This is one argument that I have to poo-poo: my dog gets tripe in her diet most days, and she still loves to chomp on the long grass that I leave uncut at the bottom of the garden.
It might work for your dog though, give it a try.
HOW MUCH GREEN TRIPE SHOULD I FEED MY DOG?
If you already feed your dog a raw diet, you may already include tripe. If, like me, you feed a 80-10-10 ready made raw mince, it will very likely already have tripe in it.
If you feed kibble, or canned, but want to supplement your dog's diet with something super healthy, add tripe in gradually to avoid a bout of diarrhoea. Start with a teaspoon size for a toy dog or a tablespoon size for a larger dog.
If you buy whole green tripe, and want to cut it into chunks, use a very sharp knife – tripe's rubbery texture makes it difficult to cut otherwise. Like most meat, it's easier to slice up if it's slightly frozen.
If you have whole tripe, feed your dog a slice of it to chew on rather than chopping it up into tiny pieces to put in his bowl.
CAN I FEED MY DOG JUST GREEN TRIPE?
Some raw feeders give their dogs green tripe as a complete meal. Its perfect calcium : phosphorus and Omega-3 : Omega-6 fatty acid ratios mean you don't have to concern yourself with feeding bone or balancing different proteins.
I personally wouldn't do this long term. As I said earlier, how would you feel if you only ever got to eat one thing every day? Even if you adore pizza, say, you'd soon get sick of it day in, day out. However, feeding an entire meal with only tripe is a viable option.
CAN A DOG HAVE TOO MUCH TRIPE?
If your dog isn't used to eating raw tripe, then giving him a big bowl of it might lead to some rather unwelcome side effects at the other end (if you think the tripe smells bad, that's nothing compared to some dog's gas…). Start with a small amount in his food to avoid diarhhea.
IS RAW TRIPE SAFE FOR DOGS?
Yes, yes, yes.
Even the bleached, white stuff is safe, it's just not a nutritional powerhouse like raw green tripe is.
HOW TO FEED A DOG TRIPE
Unless you just jumped straight to this heading, you'll already have read that raw, green tripe in whole chunks is the best. That way it's good for your dog's health, and teeth too.
However, it's not always easy to find whole, raw green tripe to buy. Here are some other options:
frozen
dried / dehydrated tripe (buy it here)
canned – this won't have all the nutrients, good bacteria or enzymes found in raw green tripe, but it will still smell and taste good for your dog. If you have a picky eater or underweight dog, adding some canned tripe in to the dinner bowl should help.
At my local raw dog food supplier, here are a few of the many pure tripe products on sale.
There are many more 80-10-10 ready-prepared minces that include tripe in them too.
WHERE TO BUY GREEN TRIPE
Fresh. Your best bet is your local butcher. Supermarkets only sell the bleached white variety.
If you're lucky, a local farm shop that sells grass fed beef might sell fresh green tripe too. Grass fed tripe is much better than beef tripe from feedlot-raised cattle.
Frozen. The internet (what can't you get online these days?) or your local pet supplies store that stocks raw food. There are so many online dog food companies offering frozen raw food, including tripe. It might not be whole tripe though – it might be ground / minced. Still super nutritious, it just won't clean your dog's teeth for you.
Dried / dehydrated. Again, the internet or your local pet supplies store that stocks good quality dog treats.
Canned. You might be lucky and find it at your supermarket. If not, online.
DEHYDRATED TRIPE FOR DOGS
My very picky dog absolutely adores these tripe sticks. It's all I could do to get her to wait patiently while I took a picture
CONCLUSION
Dogs love the taste of tripe, but their human parents are often dissuaded by its bad smell. If you've been worried about feeding your dog this healthy and nutritious food, don't be!
Green tripe has a variety of health benefits and if you feed raw green tripe to your pup it's an easy way to ensure they get all the nutrients they need in one sitting.
So what do you say? Time to hold your nose and make your dog happy?