Make Your Own Pate For Dogs With These Two Easy Recipes – Your Dog Will Love Them!
With the recent recall in Primula squeezy cheese here in the UK, many of us pet parents are wondering what we can use instead. There are ready made pates for dogs, but they are pretty pricey. However, it's incredibly simple to whip up a batch of DIY squeezy cheese or pate for dogs yourself and put it into squeezy tubes. You can even make up extra and freeze what you don't need.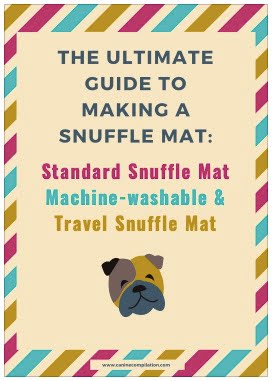 SQUEEZY TUBE CONTAINERS FOR PATE
There are lots of things you can use to put the pate in: silicone tubes or bottles, travel bottles, food grade squeeze tubes for things like ketchup… and also, recycled baby food pouches.
BOTTLES
I've tried a couple of different options. The problem with the bottles is that the mouth on the bottle is quite small and it can be a faff transferring the pate from the food processor to the bottle. Much of it ends up on the outside of the bottle, not the inside… Of course, I could use a piping bag and that would save the mess, but it's one more step in the process and I am essentially, quite lazy!
However, I like to go running with one of my dogs and I find holding a small bottle easier than a pouch. I can leave the lid off the bottle which makes dosing easier on the run. With the pouch I really need to pop the lid back on each time or I'm likely to inadvertently squeeze pate all along the trail.
If you do use a bottle, it needs to be pliable enough to be able to squeeze it. A hard plastic bottle is not suitable, since you'd never be able to get the pate out.
RECYCLED BABY FOOD POUCHES
Recycling a baby food pouch has the benefit of having a bigger opening to put the pate into. Cut the end opposite to the cap and clean out the pouch. Refill it with dog pate. You just need to find a way to close it up again afterwards so you don't get a pocket full of pate. Bag sealing clips do the job pretty well – try to use one the same size as the pouch, so it's not too bulky.
Another option could be to clean out and reuse a toothpaste tube.
Bag sealing clips like these are useful for so many things, not least, to close off whatever pouch or bag you fill with pate.
TREATS FOR RAW FED DOGS: THEIR DAILY FOOD
My dogs are raw fed, but I need to use 'treats' a lot for training, as well as to persuade my elderly, wheelchair-bound dog to come home after a walk! I don't want them to get fat, so the treats have to be part of their normal, daily food allowance. My squeezy cheese and pate for dogs are great solutions.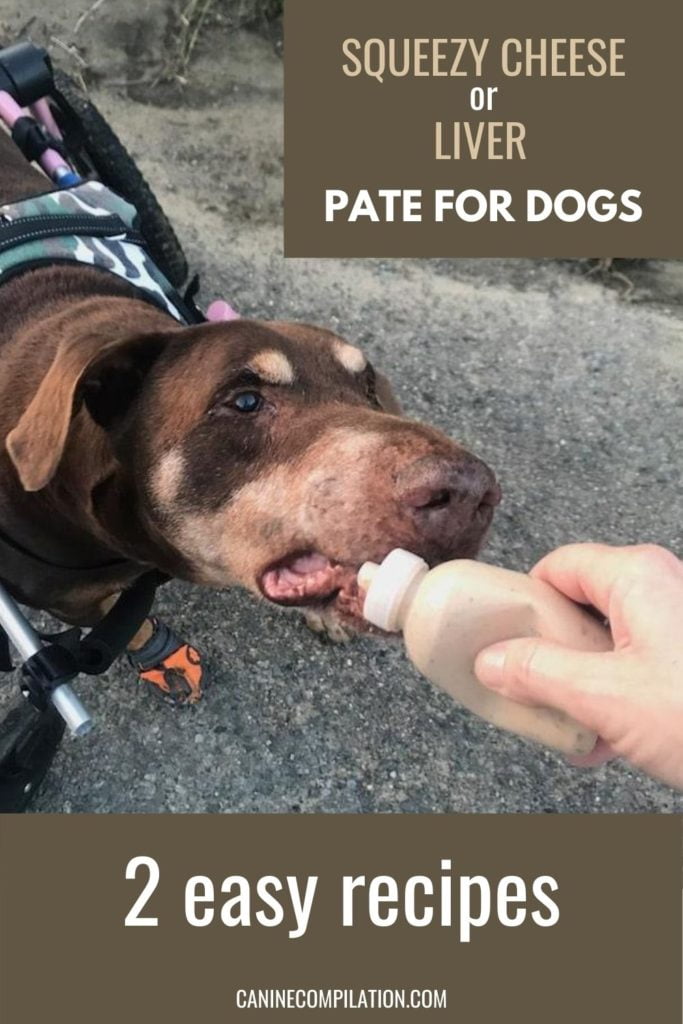 I feed my dogs with ready prepared 80-10-10 raw minces. These are too firm and lumpy to be of any use as pate, so I blend them up with a couple of other ingredients and then they're perfect.
GETTING THE RIGHT TEXTURE
Some 80-10-10 minces have large lumps of bone in them. That type of mince is not the best for a pate base – look for one that has more finely ground bone. If not, the lumps of bone will block the mouth of the pate tube.
The same goes for replacing Primula squeezy cheese. We can't just shove some cheese in a tube, it's too firm to 'squeeze'. Replacing the Primula with a DIY version will be better for your dog though. Have you seen what's in the original? The bit we want – the cheese – is only 57% of the product. We really don't want the rest.
Primula ingredients:
Cheese (57%) (MILK), reconstituted skimmed MILK powder, whey powder (MILK), emulsifying salts (sodium phosphate, triphosphates, polyphosphates), modified maize starch, water. For allergens see ingredients in bold
DIY, PRIMULA-STYLE, SQUEEZY CHEESE RECIPE
Put 70gr low fat cream cheese and 30gr steamed sweet potato or pumpkin in a blender.
Blend them til creamy.
Pop the mix into a squeezy bottle or pouch and store it in the fridge. Use it up within 3-4 days so there's no need to worry about it going off, or freeze it.
Check the ingredients on the cream cheese before you buy it. I get one that is 100% cheese, nothing else. Make sure it doesn't come with any horrid extras, like sugar, or worse, xylitol.
Grisha Stewart's Dog Training And Behaviour School
DOG BEHAVIOUR PROBLEMS?
NEED TO UP YOUR DOG TRAINING?
Get access to hundreds of hours of video classes, eBooks, special events and live sessions, covering most aspects of dog training and behaviour:
puppy training
dog reactivity, aggression, resource guarding
dog confidence, fearful dogs
loose leash walking
DIY, LIVER PATE FOR DOGS RECIPE
There's a popular brand of pate here that has liver in it, but it's pricey. Also, a lot of that would represent too much organ meat for some dogs. Instead, my pate for dogs recipe includes a base of their usual 80-10-10 raw food mince, plus some steamed veg and some cream cheese to soften the mix, some ground eggshell and a little liver. The resulting proportions are not far off the 80-10-10 original.
A note on using liver: to avoid any nasty parasites in raw meat for your dog, you should freeze it first. I buy a pack of liver every week and leave it in the freezer for a couple of weeks before defrosting it to use in recipes.
Here's the recipe: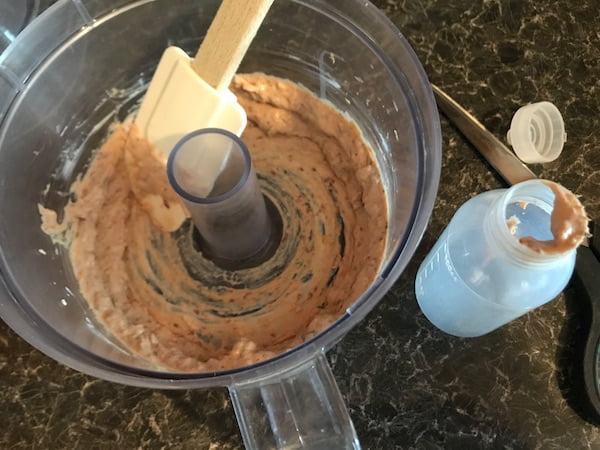 INGREDIENTS
50gr raw food mince 80-10-10
28gr low fat cream cheese
10gr liver
10gr steamed sweet potato / pumpkin
2gr ground dried eggshell
total weight 100g
INSTRUCTIONS
Pop all the ingredients into a blender.
Blend til it has a creamy texture and there are no large lumps.
Pop the mix into a squeezy tube / bottle / pouch
Use it up within 3-4 days so there's no need to worry about it going off. Alternatively, freeze it.
OTHER USES FOR SQUEEZY CHEESE OR PATE FOR DOGS
Both of these recipes are perfect as lickimat toppings too. The lickimat is such a versatile way to feed our pooches – you can find lots more ideas and recipes for lickimat toppings here.
Get a free recipe book of lickimat toppings here: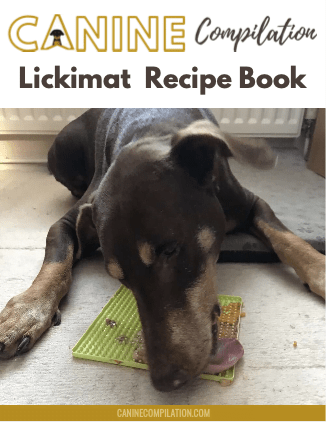 Another fantastic use for pate is to help clean your dog's teeth. Yep! If you put pate in this chew toy, which has a special reservoir in the middle, the design of the toy will clean away at your dog's teeth will she licks and bites the toy. What a great combination!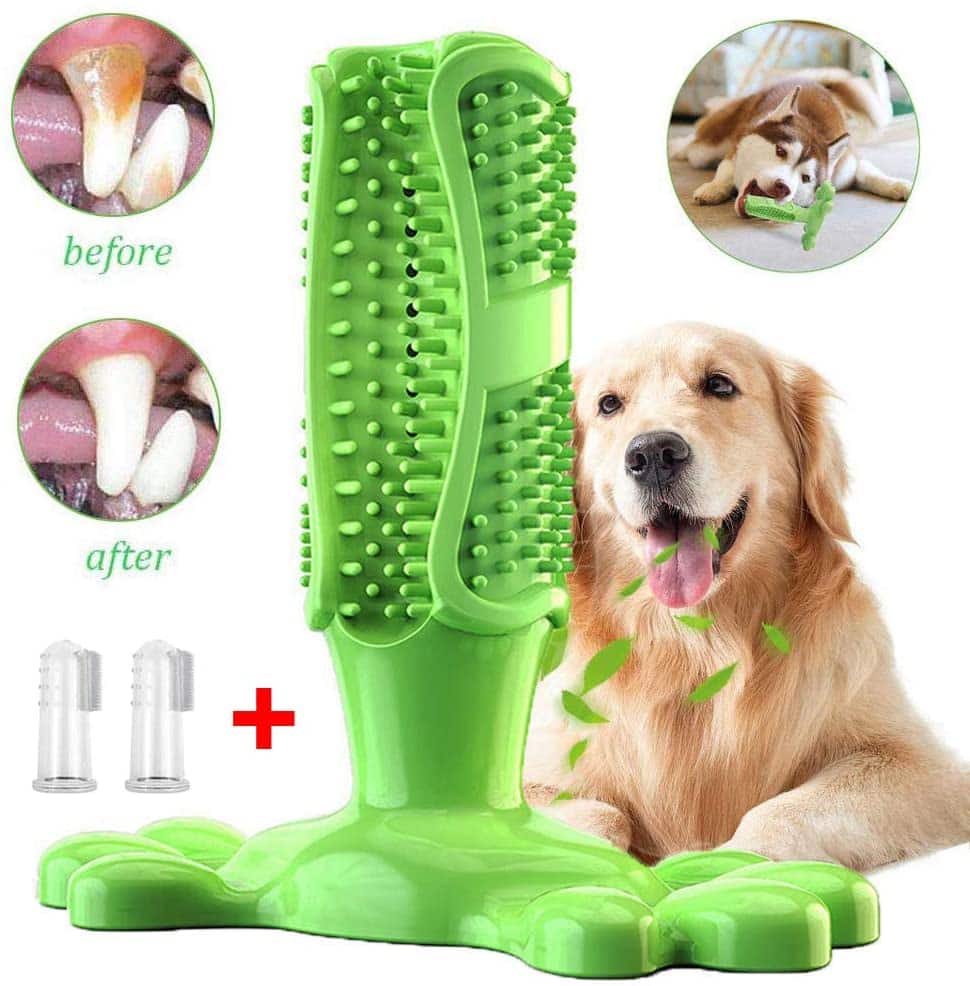 If you'd like to know how to keep your dog's teeth clean naturally, check out our top tips in this in-depth article.
CONCLUSION
You can easily replace a store-bought squeezy cheese or liver pate for dogs with a DIY homemade version. Whats more, it will most likely be healthier for your pooch. You don't even need to buy a special container – you can recycle travel bottles, baby food pouches or sauce bottles.
References