Getting a wheelchair can completely change your dog's life. It can mean the difference between life and death. So many people decide on euthanasia because their dog's mobility is severely limited, and for sure, there comes a time when that may be the kindest decision for a beloved dog. However, getting a wheelchair for your dog might help you delay the need for that decision for a long time… This article looks specifically at the front wheel attachment for a dog wheelchair.
My gorgeous dobermann, Mino, has wobblers. It's a degenerative, neurological illness that is gradually stripping my beautiful boy of his ability to control his movement. Wobblers is a compaction of the neck or spine, and in many cases, it first presents itself when a dog begins to walk with a wobbly gait. He might look a little drunk, and can't place his feet properly.
When the vet told me that she thought Mino had wobblers, it was like a death knell. I'd heard of a couple of other dobermanns who'd suffered from it and eventually, had to be put to sleep.
The illness began with him not being able to place his rear legs properly when walking. Just getting around the house was OK, but after a few minutes on a walk outside he simply collapsed. His back legs couldn't do it.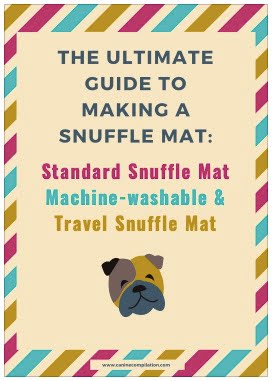 Plan ahead for your dog's needs
Initially, I got him a rear leg wheelchair – but this is crucial – I bought a wheelchair that I knew I would be able to extend into a 4 wheel wheelchair down the line. You can read all about the rear wheel wheelchair here.
Understanding the nature of your dog's illness helps you plan ahead. I knew he was likely to become increasingly weak, so might be unable to walk properly with any of his 4 legs, at some point.
The rear wheelchair had been excellent at helping keep up his muscle mass, and his spirits. Like so many dogs, getting out every day is one of life's highlights. However, after a few months he stumbled a couple of times on his front legs while out on a walk and I knew that he needed front leg support already.
How much does a wheelchair for dogs cost?
The make of rear wheelchair that I'd bought was Walkin' Wheels – you can see their product range here. I really did my homework and researched my options before I bought the rear set. Wheelchairs for dogs are not cheap, but there's no point buying something that turns out to be weak and fragile, and ultimately, a waste of your money.
You can get a cheap, small dog wheelchair from around £50 ($75), whilst the good quality ones go up to £300 ($500) for a large size. Unfortunately, the price of the front wheel attachment isn't that much cheaper than the rear wheel wheelchair, so once you add the 2 together, it's quite an investment.
However, getting that wheelchair has meant that not only is Mino still with me, he's also had a fantastic quality of life despite his illness – thanks to the chair. Without it, he'd have wasted away from muscle loss, or frustration, by now. It's been worth every penny to see him continue to enjoy life, to run and play, to continue to explore.
4 wheel dog wheelchair
I could have just got the 4 wheel wheelchair at the start, which would have represented a slight discount. However, there was no guarantee that Mino would need all 4 wheels. At that time, he only needed rear leg support.
I chose Walkin' Wheels as they had so many options to upgrade the wheelchair, for example, from 2 wheels to 4, and the quality was excellent. Whats more, they have a fantastic range of accessories for the chairs and for dogs. They haven't let me, or my dog, down. I'm grateful every single day for that wheelchair, and so is Mino.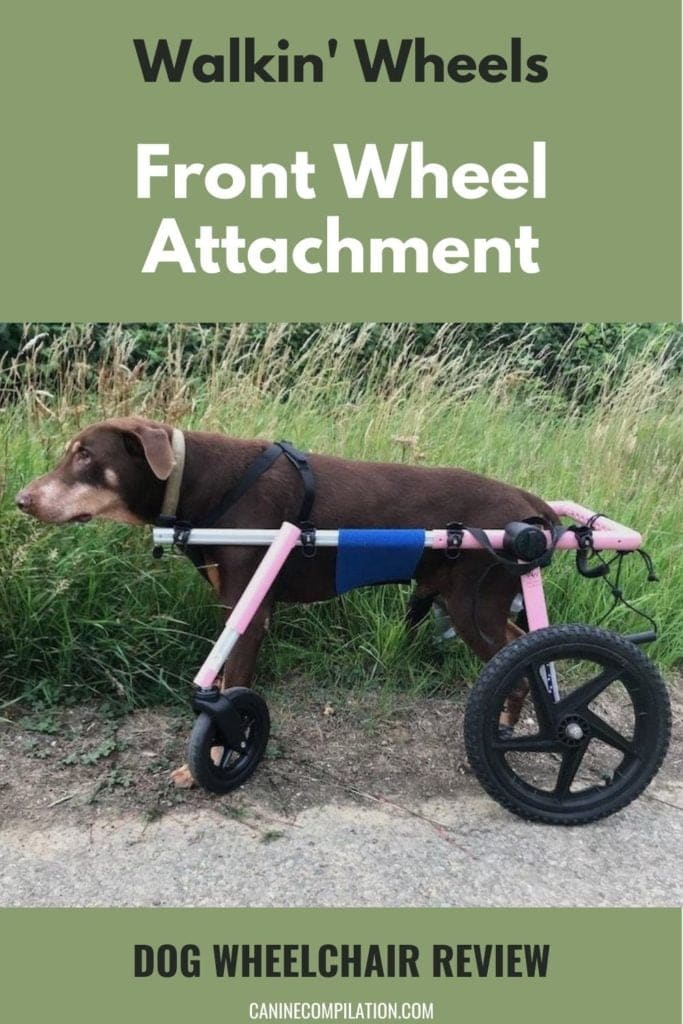 Walkin' Wheels review: Front wheel attachment
Your first job is deciding which sized wheels you need for the front attachment. This is simple enough to do by measuring the struts and the wheel size of the rear wheel wheelchair that you'll already have.
There's a choice of 3 colour options (pink, blue or camo), and different types of wheels.
Easy assembly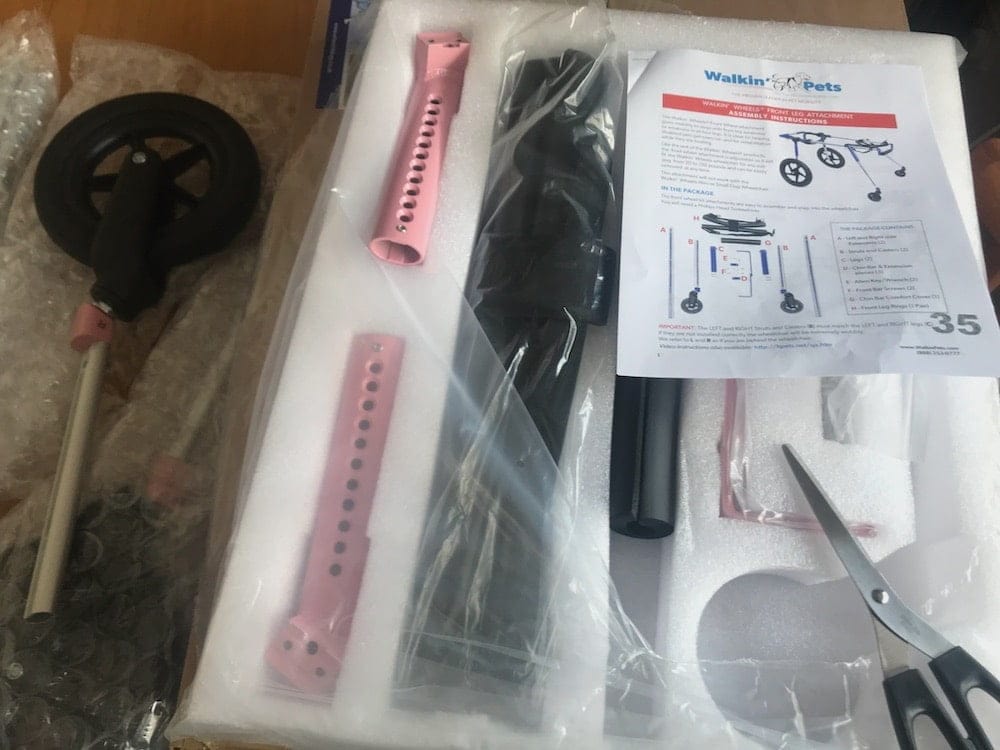 The size I needed was in stock, so a couple of days later, Mino's new wheelchair attachment arrived. It was well packaged in a compact box, and easy to identify the different parts. I assembled it without problems in less than half an hour.
The quality was just as rugged as the rear chair and the 2 elements were simple to combine. The design is really well thought out, making it easy to adjust it to fit your dog.
Clear instructions
There are full instructions in the box, plus a great online video to watch, showing clearly how to fit them together.
I decided not to put the (optional) front bar in place for Mino. Sniffing is essential for him and I didn't want to deprive him of that pleasure by restricting his ability to lean down and smell things. I thought this might make the wheelchair a little unstable, but it doesn't.
It can seem alarmingly 'wobbly' before you put it on your dog, but it isn't. I think that range of movement is essential so that your dog doesn't feel like he's in a cage.
Take it slowly
The first time I put him in it, we went no further than up and down the drive for a few minutes. I'm lucky, Mino takes to things very quickly. You could dress him up in an astronaut suit and he'll not complain. The second time I put him in the chair we did a full walk, but this won't be the case for many of you – take it at your dog's pace, you don't want the chair to scare him in any way.
This was his second day out. At one point later in the walk I had to run to catch up with him – once he got his confidence he was unstoppable!
The downside
Apart from the cost, there is one other negative aspect of the front wheel attachment. Mino is a big dog, so he has the large size wheelchair. When he only had the rear wheels, the chair folded up into a very convenient 'flat' shape. The front legs do not fold though, they are fixed.
The full 4 wheel construction is BIG. You need to think about where you'll store the chair in between walks. I keep mine in my vehicle. However, the large wheelchair would not fit in the boot of some smaller cars.
The best wheelchair for dogs in the UK / US
I had another – much cheaper – rear wheelchair for my dog before. It didn't allow for a front wheel attachment, it wasn't as rugged and sturdy as it needed to be, and wasn't fully adjustable.
The Walkin' Wheels products are at the top end, price-wise, but you do get what you pay for. I know that not everyone can stretch to this kind of investment, but if you have the means, it's well worth the money. What price can you put on keeping your fur baby happy and healthy?
Support
Should you need it, there's plenty of help on the manufacturer's website (links below). I had a query I wanted to check out and Becky at Wheels4Dogs over here in the UK resolved it for me immediately. They have great after sales support. Thanks Becky!
Links
Rear wheel Walkin' Wheels wheelchair review
Handicapped Pets – manufacturers of Walkin' Wheels in the US
Wheels4Dogs – Walkin' Wheels importers in the UK