This Is Guaranteed To Reduce Vet Bills And Help Your Dog To Live Happier, Healthier And For Longer: Look After Her Teeth
Just like humans, dogs can suffer from dental problems. They'll never need a filling (dogs don't get cavities like us) but they can have problems like bad breath, tartar, plaque and gum disease. Cleaning dogs' teeth is an important part of being a responsible pet parent, though brushing their teeth is not the only option.
However, NOT keeping your dog's teeth clean can lead to some really awful consequences.
Perhaps the situations's not that bad – maybe you can see some brown stains on your dog's teeth and you're wondering 'How can I get plaque off my dog's teeth?'. We'll be covering several ways you can look after your dog's teeth naturally.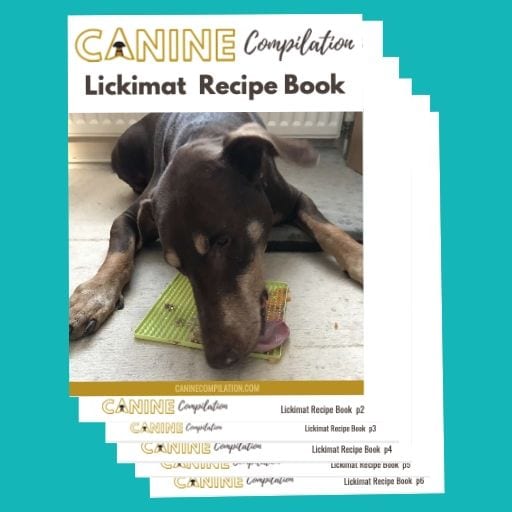 WHAT HAPPENS IF I DON'T KEEP MY DOG'S TEETH CLEAN?
It's useful to understand some terms here: Calculus, also known as tartar, is hardened plaque. If you don't clean plaque off properly it turns into tartar. Unlike plaque, tartar cannot simply be brushed away – it has to be scraped off.
What happens if you don't clean your dog's teeth? Maybe nothing, if you're lucky. But, worst case scenario – expensive vet bills, infections, gut problems, organ disease, and worse of all, your dog in pain and discomfort.
If your dog's teeth are in really bad shape, you will undoubtedly need veterinary help to get the problem under control. After treatment, regular maintenance is essential to avoid repeat problems.
HOW TO CLEAN A DOG'S TEETH WITHOUT ANESTHESIA
Incorporating the easy techniques that we will cover in this article – as well as brushing your dog's teeth when necessary – is WAAAAY better than her having to have anaesthetic for a dental operation, which is stressful for her AND costly for you.
SYMPTOMS OF POSSIBLE DENTAL PROBLEMS IN DOGS
Potentially worrying signs to be on the lookout for, include:
bad breath
refusing to eat
avoiding certain food – eg crunchy food
pawing at the mouth
excessive drooling
heavy tartar build up (brown teeth)
gum problems – swollen or bleeding
DOES MY DOG NEED HIS TEETH CLEANED BY A VET?
Your vet is the best person to advise you if it's necessary to anaesthetise your dog in order to clean his teeth. If there is a lot of tartar build-up, professional dog teeth cleaning will be necessary.
Holistic vet Dr Dobias advises that a blood test is done alongside any such professional teeth cleaning, since bacteria found in built-up tartar can affect some of your dog's organs, particularly the heart and kidneys.
SHOULD I CLEAN MY DOG'S TEETH AND IF SO, HOW OFTEN SHOULD I BRUSH MY DOG'S TEETH?
Ideally, we should brush our dogs' teeth as often as necessary to keep them free of plaque and tartar build up.
This varies from dog to dog: some breeds tend to suffer poor dental health more than others. Plus, if we do other things to help our dogs clean teeth naturally, we won't need to brush their teeth as much.
CAN I USE A NORMAL TOOTHBRUSH ON MY DOG?
There are proper doggy toothbrushes you can buy, some of which have useful, multi-angled bristles to really get into the nooks and crannies in the teeth.
In the past, I have used a human toothbrush with soft bristles – a child's toothbrush can be better suited to smaller dogs.
You could also use an electric toothbrush. Just as for humans, an electric toothbrush is so much more effective than manual brushing. Vet Dr Dobias makes the point that with removable heads, you can use the same base and just change the toothbrush head for one you only use for your dog – just don't use your dog's toothbrush by mistake!
Some dogs though might be scared of the sound of an electric toothbrush, in which case manual may be the best for your dog.
DO NOT USE HUMAN TOOTHPASTE as many of them contain ingredients which are toxic to dogs.
There are lots of commercial dog toothpastes on the market, some of which are enzymatic – they help to break down plaque and tartar.
Watch out for the ingredients though: some products meant for cleaning dog's teeth have some questionable ingredients. A common one is baking soda, which has been linked to potential health issues in dogs. A small amount every now and again might not present much of a risk, but I would certainly be concerned about prolonged use over time. Just be sparing with the doggy toothpaste!
HOW TO CLEAN A DOG'S TEETH AT HOME
Making your dog scared of having her teeth cleaned is clearly counter-productive, so if your dog isn't used to having her mouth handled, start slowly.
Use something that your dog finds irresistible (homemade squeezy cheese or liver pate for my pair) so your dog looks forward to having her teeth cleaned
Choose a place where she is relaxed and feels safe – maybe on the couch with you in the evening, if this is her normal behaviour?
Don't force it, take it slowly
Let her smell the paste and the brush
Pop some paste on your finger and offer her it to lick
Rub it onto her teeth and gums, gently
Put some paste onto the brush and let her lick it
Gently brush her teeth: don't brush vigorously as you would your own
Don't brush for too long the first time – you don't want to overdo it
HOMEMADE TOOTHPASTE FOR DOGS
Coconut oil. I no longer use coconut oil in my dog treats because it's quite fattening and there are some studies that suggest it can be unhealthy in their food. A small amount used for toothpaste though, is another matter. It makes for a super simple dog toothpaste. Just put a very small amount of oil on the brush.
HOW TO CLEAN A DOG'S TEETH WITHOUT BRUSHING
So, how to clean dog teeth without brushing? Brushing – thankfully – isn't the only option in looking after your dog's oral health.
TIPS FOR KEEPING YOUR DOG'S TEETH CLEAN AND HEALTHY WITHOUT BRUSHING
I made the mistake of NOT brushing my dogs' teeth when they were puppies. What I should have done is get them used to having their teeth touched from the get-go. If your dog is comfortable with you touching them anywhere, it will make any future health interventions, and just general handling, so much easier for you both.
HOW TO CLEAN A DOG'S TEETH WITHOUT TOOTHPASTE: TEETH CLEANING PADS FOR DOGS
If your dog lets you put your fingers in her mouth, but won't let you get a toothbrush and paste in there, then perhaps tooth wipes are an alternative option to try. These little finger pads are quite tight fitting – you slip one on the end of your finger and gently rub it on her teeth. They are flavoured and lightly textured. It's surprising how much plaque comes off your dog's teeth with these pads.
With a little gentle perseverance, this activity could almost be an extension of petting your dog when you're snuggled up together watching TV.
DESCALE WITH A DESCALER
If it's not built up too much, you can try gently scraping the plaque and tartar off – work from the gum and scrape down the tooth. Some people do this with a descaling tool, others with a finger nail. Wipe away anything that comes away so your dog doesn't end up eating it.
CLEAN DOG TEETH FROM PUPPY AGE ONWARDS
If I had a new puppy now, I'd use doggy toothpaste, or a small amount of coconut oil, or my own pate recipe, to get my puppy used to having her mouth and teeth handled. I'd rub her teeth and gums gently, starting just for a short time each day, to get her used to it.
Even if you don't plan to include brushing in your dog's oral health routine, it's worth getting her used to having her teeth and mouth cleaned and handled anyway.
HOW TO CLEAN DOG'S TEETH NATURALLY
I don't brush my dogs' teeth every day. I don't even brush them every week. Thankfully, although I don't have a regular routine for brushing my dogs teeth, I do other things that contribute to great oral health, so their teeth are in pretty good shape!
DIETARY SUPPLEMENT
While scientists still don't understand exactly how it works, studies have shown that an algae, Ascophyllum nodos, can reduce plaque and tartar build up. In a double-blind, placebo controlled study, dogs eating food containing this product resulted in significantly lower levels of plaque and tartar formation.
The Powder works systemically and once it is absorbed into the bloodstream it begins to work its way out into the saliva which coats all of the teeth. This slowly begins to soften the plaque and tartar build up making it change texture, to a softer, gloopier texture. This can then be removed either through chewing or brushing.

PRODEN PLAQUE OFF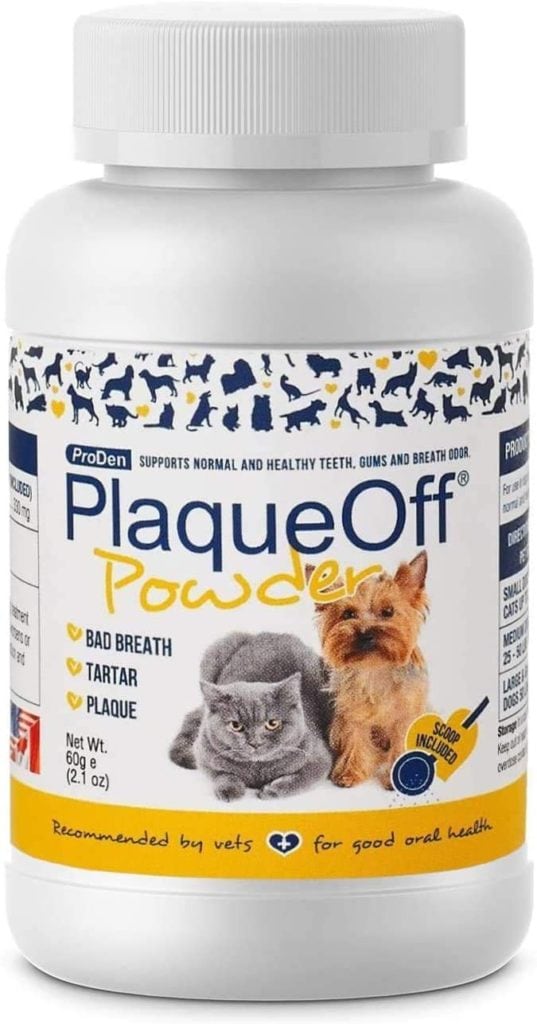 I've been adding this to my dogs' food and treats for the past couple of years, which undoubtedly helps keep their teeth in good shape. You can get it on Amazon – it comes with a small measuring scoop so you can easily see how much to give your dog in her food. Just sprinkle it over the top of the food and wait for the magic to happen…
CHEWING HELPS CLEAN DOG'S TEETH
My dogs are raw fed and get regular scratchy and crunchy things to gnaw on, such as raw bones, antlers, rabbit ears and crunchy dried fish. Chewing on these things, along with eating skin and fur of their prey, is how an animal in the wild would naturally keep its teeth clean.
BAD CHEW TREATS
I do not recommend most of the dog treats that claim to be teeth cleaning chews. If you look at the ingredients, you'll soon see that A) they are full of awful, unhealthy fillers and preservatives and B) those same ingredients are used in pretty much all the other cheap, mass-produced normal dog treats, so the only difference is in the shape. Teeth cleaning chew treats are often shaped with bristles and grooves to help rub away at the tooth surface, but that's all that most of them have to offer.
BEST DOG TEETH CLEANING CHEWS AND TREATS
RABBIT EARS FOR KEEPING DOG'S TEETH CLEAN
My 2 dogs eat rabbit ears every week or so – fur and all. You might be able to get these fresh from your butcher. If not, you can buy dehydrated rabbit ears online. I would not recommend feeding hairy pigs' ears – there have been many health scares recently with pig's ears.
The added benefit of something like rabbit ears is that as well as helping to keep your dog's front teeth clean, the fur also helps flush parasites out of your dog's intestinal tract. Oh, and your dog will love them too!
RAW BONES
Lots of people worry about giving their dog raw bones, but it's one of the best ,natural ways to keep your dog's teeth clean. Here are some simple guidelines for giving your dog raw bones to clean her teeth:
give the size of bone right for the size of your dog. Small dogs can manage small bones, such as chicken wings or thighs
you can bash up bones, such as chicken thighs or wings, to break down the bone into smaller pieces initially.
if your dog is a gulper, hang on to one end of the bone and let her chew away at the other
NEVER feed heavy, weight-bearing bones such as beef leg bones. They are too dense and hard, and even large dogs might break their teeth on them. They also offer no benefit to teeth cleaning
NEVER give cooked bones, only raw
CHEW TOYS
As for chew toys, if your home is anything like mine, there will be dog toys strewn throughout the house (I really must teach them to put all their toys back in the toy chest). However, certain chew toys do a much better job of cleaning your dog's teeth than others. Proper teeth-cleaning chew toys are designed with lots of sticky-out bits and grooves that can effectively scrape away at the tooth surface while your pup has a good old gnaw.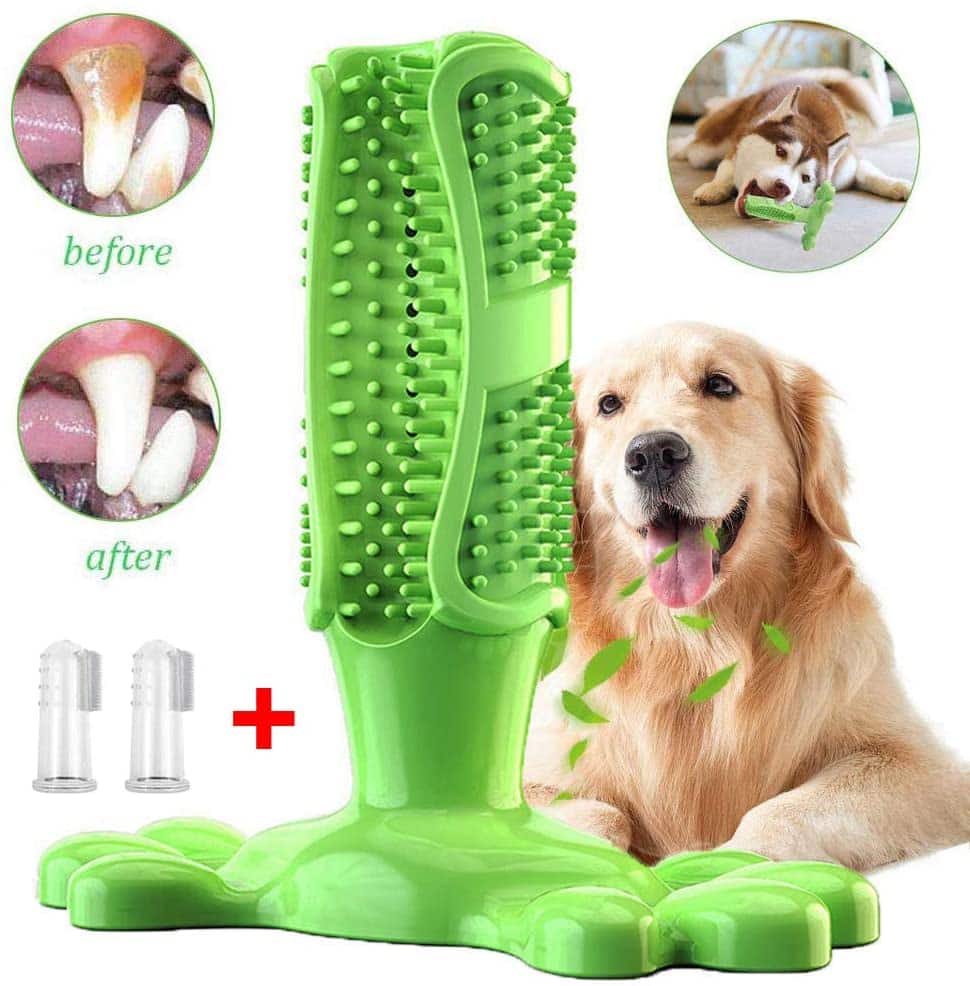 I especially like this one: it's made of rubber, not plastic; it has a 'toothpaste reservoir' so you can squirt dog toothpaste – or any other yummy squeezy treat such as doggy pate – into the toy to make it even more appealing to your pup; and, because its design features little feet, it's easy for a dog to hold it in place while he gnaws away.
This little chew toy is one of the best things I've bought for my dogs' oral health. They usually ignore rubber chew toys, preferring something more interactive and interesting.
Due to the toothpaste reservoir though – or even just smearing some dog pate or cream cheese between the bristles – this toy becomes an irresistible dog-magnet!
CONCLUSION: HOW TO CLEAN YOUR DOG'S TEETH PROPERLY
A combination of techniques – from dietary supplements and food, to chews and toys, as well as occasional brushing and the use of dog teeth cleaning products – will not only keep your dog's teeth in tip-top condition but also save you money in the long run.
What do you do to keep your dog's teeth clean?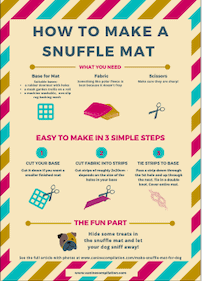 REFERENCES
Effects of Edible Treats Containing Ascophyllum nodosum on the Oral Health of Dogs
A randomized controlled clinical study of the effect of daily intake of Ascophyllum nodosum alga on calculus, plaque, and gingivitis