Are You Still Risking Your Dog's Health By Using Commercial Chicken Jerky? Keep Your Dog Safe With This Easy Chicken Jerky For Dogs Recipe
There have been so many tragic dog food and dog treat scares in the past. What's worse, we continue to suffer from dog treat and food recalls. However, making chicken jerky for dogs is NOT hard to do at home. Why buy prepared, chemical-laden treats when it is so simple to make something nutritious like this homemade chicken jerky for dogs recipe?
This post may contain affiliate links which means I receive a small commission at no cost to you when you make a purchase. As an Amazon Associate, I earn from qualifying purchases.
If you look at the ingredients of some chicken jerky for dogs recipes, you'll see more than just chicken. You can't beat a one ingredient recipe though!
This chicken jerky dog recipe is pure protein: no additives, no preservatives, no fillers to bulk it out. It also makes a fantastic alternative to rawhide (in case you didn't know, giving your precious pooch a rawhide treat is tantamount to putting glue and chemicals in her bowl).
We've all done it, of course – I shudder to think of all the rawhide treats I gave to my dogs years ago, before I learned just how awful rawhide treats are.
So, thankfully, this is one super simple, healthy chicken dog treat that anyone can make, whether you have a dehydrator or not!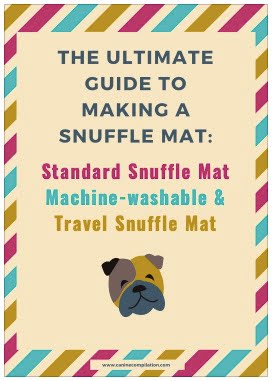 IS IT BEST TO MAKE CHICKEN JERKY IN A DEHYDRATOR OR OVEN?
I've made chicken jerky for dogs both in an oven and in the dehydrator. Personally I prefer using a dehydrator to an oven. However, if you don't have a dehydrator, don't despair – you can still make it in an oven.
Dehydrators are more energy efficient and using a dehydrator means your oven isn't tied up. Plus, I've had ovens in the past that don't cook evenly, so some parts of the food cook faster than others.
What's more, many ovens don't have a low enough setting to do the same job as a dehydrator, and will end up 'baking' the food.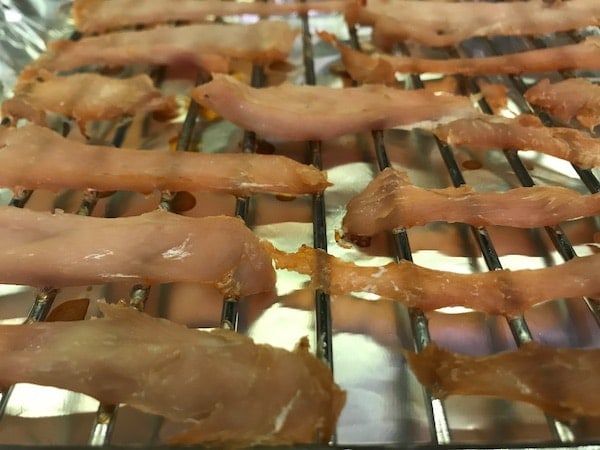 One final reason for choosing a dehydrator over the oven: food dehydrates faster when air can circulate around it, so it's best to dry it on racks or grills. I've found that if I put chicken on a metal grill in the oven it will inevitably stick to the grill in places, even if I oil it first. However, it hasn't stuck to the trays of my dehydrator, and no oiling is necessary.
MY RECOMMENDATION: MID-LEVEL DEHYDRATOR
Many of us seasoned, dog treat bakers swear by Excalibur dehydrators. They are a bit more expensive than other machines of the same size, but they're built well, have a great range of features and there are lots of models to choose from. This one has
top, front-facing, digital controls
26 hour timer
9 trays that measure 15 x 15 inches
15 square feet of drying space – that's a LOT of dog treats!
A GOOD ENTRY-LEVEL DEHYDRATOR
Many small dehydrators are round, but I prefer the rectangular ones – they're better for fitting food like meat jerky in them. Something like this is great for starting to make treats
enough trays to dry a reasonable amount of treats
easy to clean
variable temperature control
easy to store away – won't clutter up your counter top
An oven does tend to dry food out faster than a dehydrator though, so if you're in a hurry an oven will be faster. All the same, it seems ridiculous to use the words 'hurry' and 'dehydrate' in the same sentence – dehydration takes time!
A dehydrator is a handy thing to have in any kitchen – it's not just for making jerky for dogs! You can prepare delicious dried fruit snacks, vegetables, herbs… there are endless possibilities. You can also pick up a counter top dehydrator very cheaply. It doesn't have to be a large or professional model to make decent amounts of dehydrated food.
CHICKEN JERKY: WHAT ABOUT BACTERIA?
It's good practice to heat blast meat jerky to ensure that any potential bacteria is killed off. However, there are differing opinions as to how hot and for how long.
Most bacteria can be killed through a heat of 74°C / 165°F or higher within minutes of cooking. For that reason, some dehydrators have a 'Safe Setting' which is 75°C / 167° F or more. So, if you're dehydrating at this heat or higher, you've probably already blitzed the baddies.
However, this depends on the entire piece of meat reaching that temperature. For thinly sliced jerky, there's no problem. A big fat piece of meat, such as a whole organ or joint, is another matter though.
Also, some governing bodies require dog treat businesses to oven blast treats at the end of dehydration. This requirement seems to be different from place to place. Some advise that the food achieves 3 minutes at 160°C / 320°F, but others require different times and temperatures.
If you're just making chicken jerky for your own dog, this regulation does not apply to you, though you may wish to heat blast the jerky to be on the safe side.
Another way to reduce or kill certain pathogens in chicken meat is to marinate it in apple cider vinegar before dehydration.
HOW THICK SHOULD I SLICE THE CHICKEN?
Unless you are especially skilled at thinly slicing meat (I am not), it is easier to cut meat when it is slightly frozen. No, not rock hard! After just 15-20 minutes in the freezer, it will be easier to cut.
How thick you cut the slices really depends on what kind of treats you want. If you want them to be chewy, cut them thicker and don't completely dehydrate them.
Completely dehydrated treats are not bendy and chewy: they are crisp and brittle. However, the thicker you cut them, the longer they take to dehydrate.
If you want thin treats that you can easily snap off into pieces (great for training sessions), keep the slices thin.
I cut mine at approx 5mm (1/4″). That produces thinner chicken jerky strips that I can break into pieces. Some leftover chunks are always thicker than this, but not big enough for me to slice. These end up still a little bendy and chewy once the thinner strips are properly dehydrated.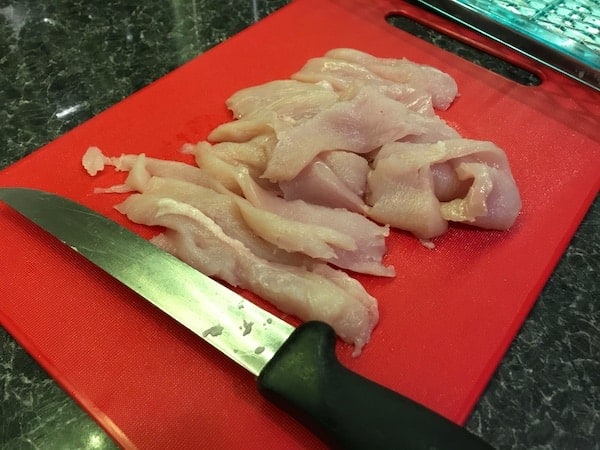 HOW LONG SHOULD I DEHYDRATE CHICKEN JERKY FOR?
How long is a piece of string? Time is an ever-changing variable since it depends on the type of treat I want to make. If I want a softer, chewy treat, I dry it for less time. If I want something that I can store for ages and that will snap into pieces easily, I will dehydrate it thoroughly.
However, I've rarely dehydrated jerky (in a dehydrator) for less than 8 hours, and I always put it on the hottest setting in my dehydrator (75°C / 167° F). Usually, it takes around 12-14 hours.
HOW LONG DOES DOG CHICKEN JERKY KEEP FOR?
Generally, this depends on how dry you made them in the first place, how they are stored and the humidity in your area.
Shelf life and shelf stability are affected by different factors, including:
not dehydrating the chicken jerky enough – soft jerky means that some moisture is still in the meat. Moisture results in faster bacterial growth, which leads to mould
using oily or fatty meat
not storing the jerky properly, for instance, storing it before it has properly cooled, storing it in an open container in the fridge where it will absorb moisture, storing it in a damp environment
the climate where you live might be too humid or damp
making too big a batch that is left unused over too long a period of time. This is easily resolved by freezing a large batch into smaller portion bags and taking a bag out when you need more treats
HOW TO STORE HOMEMADE CHICKEN TREATS FOR DOGS
The storage of your freshly prepared chicken dog jerky depends on how dry it is.
If you made yours to create a soft, chewy chicken treat for your dog, it will have a shorter shelf life. In this case, I'd advise you to keep the treats in an airtight container in the fridge for up to a couple of weeks – don't forget to put a date label on the container!
However, although treats rarely last more than a week in our house, I still prefer to dry them out more. I do a lot of training and nosework with my dogs so I like to have treats that aren't going to be sticky and disgusting in my hands.
Generally speaking, I store my crispy, chicken jerky treats in an airtight container. If they are really well dehydrated, they would keep for 6 months, if they lasted that long without being eaten first!
If you have a vacuum sealer, you could store small amounts in batches in vacuum bags and keep them in a cool, dark place.
RECIPE CHICKEN JERKY FOR DOGS
INGREDIENTS
Just one ingredient, chicken breast! If your budget stretches to it, organic chicken breast is best.
INSTRUCTIONS
Slice the chicken (see 'How thick should I slice the chicken?' above)
Lay the strips out on a grill or rack
Place in a dehydrator at 75°C / 167° F -OR – in the oven at the lowest temperature, ideally around 50°C / 120° F. If your oven doesn't go this low, make sure you keep a close eye on the jerky pieces and turn them regularly to dry them evenly. You could even leave the oven door cracked open slightly so they don't just bake
Dehydrate them at the lowest temperature for several hours. The exact time depends on what kind of chicken jerky you want for your dog – see 'How long should I dehydrate chicken jerky for?' above
Take one piece out when you think the jerky is ready and let it cool, then do a 'snap test'. If you want thoroughly dehydrated chicken jerky for dogs that will keep for several weeks, the jerky should snap easily
OPTIONAL EXTRAS
Tart up your chicken jerky dog recipe before dehydrating:
baste one side with pureed liver
sprinkle with turmeric
rub on some dog-friendly herbs, such as thyme, rosemary or parsley
WHICH DEHYDRATOR IS BEST FOR MAKING DOG TREATS?
They all do pretty much the same thing, so ask yourself these questions: what you'd like a dehydrator for, what your budget is, how much use will it get, how much space do you have on your counter, will it be at eye level?
I have 2 dehydrators, a smaller one and a larger beast that occupies most of the counter. The small one is great for when I only have a small volume of food to dry. The controls are on the front and it's very easy to access the trays. It's rectangular, not round. Many entry-level machines are round but I prefer a rectangle as it suits me better for jerky and longer treats.
My larger machine is a beautiful beast. I can fit so many treats in it and it has a great, even, drying capacity. It has a timer and its highest temperature is enough to 'safely' dehydrate meat treats. However, its controls are on the top which is inconvenient as I have to tip-toe to see them. The trays are so large they don't fit comfortably in the dishwasher.
A GOOD ENTRY-LEVEL DEHYDRATOR FOR MAKING DEHYDRATED DOG TREATS
A good entry level dehydrator would be something like this one:
enough trays to dry a reasonable amount of domestic treats
easy to clean
variable temperature control
no timer – you can't really expect everything at this price!
can be stored away in a cupboard when you're not using it, so it won't clutter up your counter top.
A GOOD MID-LEVEL DEHYDRATOR FOR MAKING DEHYDRATED DOG TREATS
If you plan to make LOTS of dehydrated dog treats (or human ones!), you will soon find a little entry-level dehydrator limiting. A larger machine will allow you to prepare lots more treats at once. It also comes with additional functions, such as a timer.
Many of us seasoned, dog treat bakers swear by Excalibur dehydrators. They are a bit more expensive than other machines of the same size, but they're built well, have a great range of features and there are lots of models to choose from. This one has
top, front-facing, digital controls
26 hour timer
9 trays that measure 15 x 15 inches
15 square feet of drying space – that's a LOT of dog treats!
AIR FRYER CHICKEN JERKY FOR DOGS
If you only occasionally make dehydrated food, and you're not sure it's worth getting a dehydrator just for that, perhaps a combo dehydrator/air fryer would suit you. This is an excellent addition to your kitchen equipment.
It can make reheating things like pizza so much better – it tastes like it's fresh out of the oven. It also makes great homemade fries (chips to us Brits, of course!). Something I make for myself almost weekly are roasted vegetables – delicious! Oh, plus you can make some healthy, chicken jerky for your dog in it! 😀
CONCLUSION
We saw how to make dog chicken jerky in an oven or in a dehydrator. Either way, it's super easy and there is no risk of your poor pup eating some nasty commercial treat laden with chemicals.
Whilst it's totally possible to make homemade chicken jerky treats for dogs in an oven, a dehydrator – even a small, entry-level dehydrator – has its benefits.
So, is this yummy chicken jerky recipe for dogs on your to-do list this week?
MORE HEALTHY DOG TREAT RECIPES
If you liked this recipe for chicken jerky for dogs, take a look at some of our other healthy dog treat recipes
Dehydrated liver dog treats recipe
Squeezy cheese for dogs recipe