These Stunning, Spooky Halloween Cakes For Dogs Will 'Disappear' Immediately – Straight Into Your Dog's Tummy!
Halloween is a fun time of year: great food, trick or treat, and the opportunity to dress up in spooky costumes. Let your dog get in on the act with these easy (seriously!) but super healthy, pumpkin Halloween cakes for dogs!
In this article: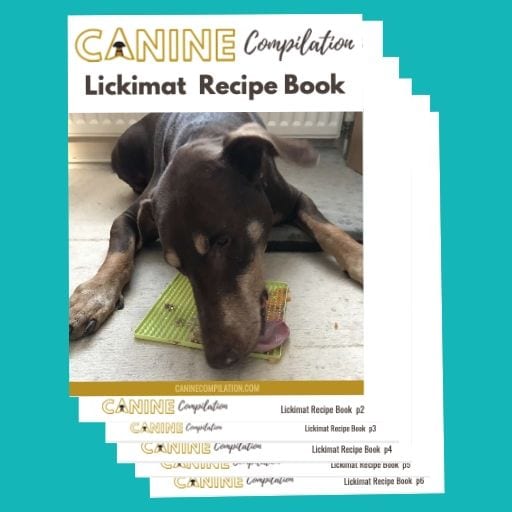 Halloween cup cakes for dogs
At this time of year, with so much pumpkin available, why not make something delicious for your pup with the left-over pumpkin? These Halloween cakes for dogs look difficult to make, but they're really not.
I styled these cakes on Cousin Itt from the Addams Family. It gave me the opportunity to use my grass piping nozzle, which is my new best friend in the kitchen. I know Cousin Itt doesn't have visible eyes and arms, but without them the cakes looked lost, so this is Cousin Itt version 2.0
Can dogs eat cupcakes?
These cakes are meant for dogs. They don't have any of the ingredients we humans like to put in our own cakes, so no sugar, wheat flour or baking soda. Those ingredients are not good for dogs (they're not good for us either LOL!).
What cakes are safe for dogs?
These Halloween dog cakes are gluten-free and have no peanut butter. Flour offers nothing of nutritional value to a dog and what's more it can cause allergies. Peanut butter is full of potential problems… this short video by Bella & Duke explains why peanut butter is not a good ingredient for cakes for dogs.
Don't worry that the 'sponge' is heavier than the sponge for a human cake is. Because there are no raising agents in these cakes, they don't rise into soft fluffy sponge cakes. Trust me, your dog won't be complaining that his Halloween cake isn't light or fluffy!
This recipe produces a sponge which is more like a meat loaf. Here's what it looks like chopped in half
How long do dog cupcakes last?
These Halloween cakes for dogs would last around 4 to 5 days in your fridge, but I doubt you'll still have any left after a couple of days!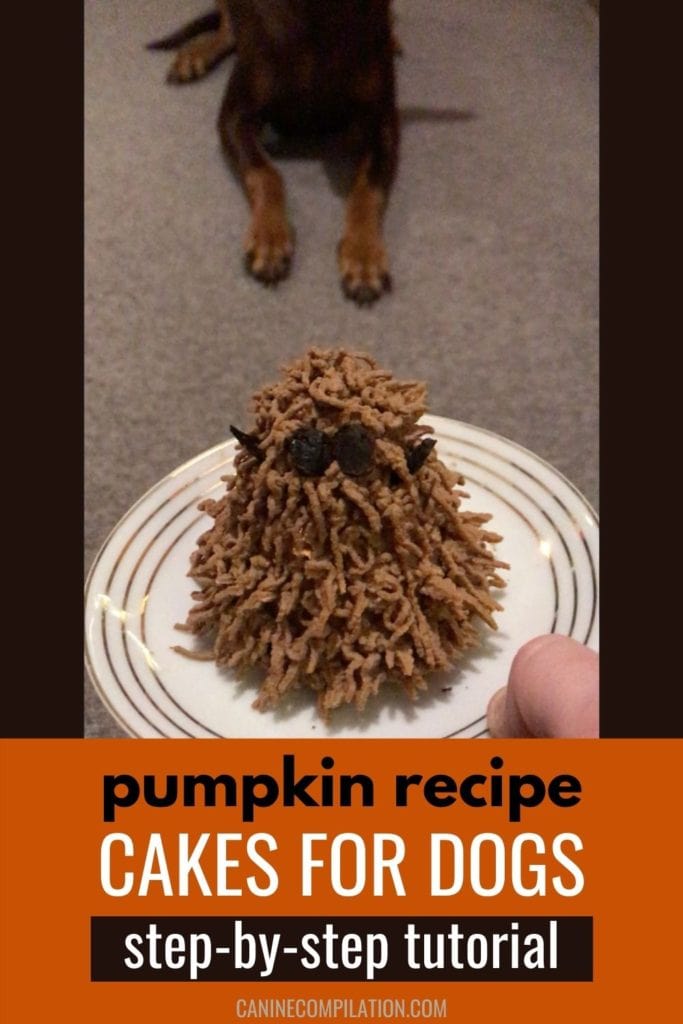 Recipe: Halloween cake for dogs
There are 3 parts to these cakes: the sponge cake body, the frosting (long hair) that covers the body, and a small amount of dehydrated liver for the eyes and arms.
If you don't want to dehydrate liver for the eyes / arms, you could replace this with some dog safe chocolate – melt it and pipe out the shapes on some baking parchment. Once it's cool, peel it off and pop on your frosted cake.
Equipment
Food processor
Baking tray
Grass piping nozzle and piping bag
(Optional) grinder for oats, almonds and dehydrated liver if you're not using ready made oatmeal / almond flour / cake colouring
I'm so pleased I got this piping nozzle. It's such fun to use it and has a host of possibilities for future use. The same can be said of the tree mold – clearly it's meant for trees, but it's really versatile. Here we are making Halloween characters with it!
Ingredients
This quantity is enough to make 4 Halloween cakes, based on using the silicone mold I used.
If you make the 'hair' very long, you will need to make more frosting.
Sponge cake
227gr / 1/2 pound minced beef
80gr / 2.8oz oatmeal
80gr / 2.8oz grated or shredded carrots OR pumpkin
80gr / 2.8oz ground almond (almond flour)
1 egg and its shell
Frosting (this frosting stays soft)
100gr / 3.5oz baked squash / pumpkin
100gr / 3.5oz cream cheese
30gr / 1oz coconut flour
carob powder (add enough to get the colour you want, I added 5gr / .20 oz) DO NOT USE COCOA – THIS IS BAD FOR DOGS
Dehydrated liver (for eyes and arms)
Liver (or an alternative – see below)
Instructions
Make the dehydrated liver
As said before, if you don't want to dehydrate liver for the eyes / arms, you could replace this with some dog safe 'chocolate'. It isn't really chocolate as it contains no cocoa, but it looks and melts the same as chocolate. Melt it and pipe out the arm and eye shapes on some baking parchment. Once cool, peel off the shapes and pop them on your frosted cake
That said, it's worthwhile making liver treats for your dog anyway. I make a batch of dehydrated liver treats every week for my dogs. They are a high value treat that dogs go nuts for and that makes them really effective training treats.
Be warned that after a couple of days stuck in wet frosting, these liver sticks will start to soften. Avoid this by not placing them in the cakes until necessary. The day before will be fine.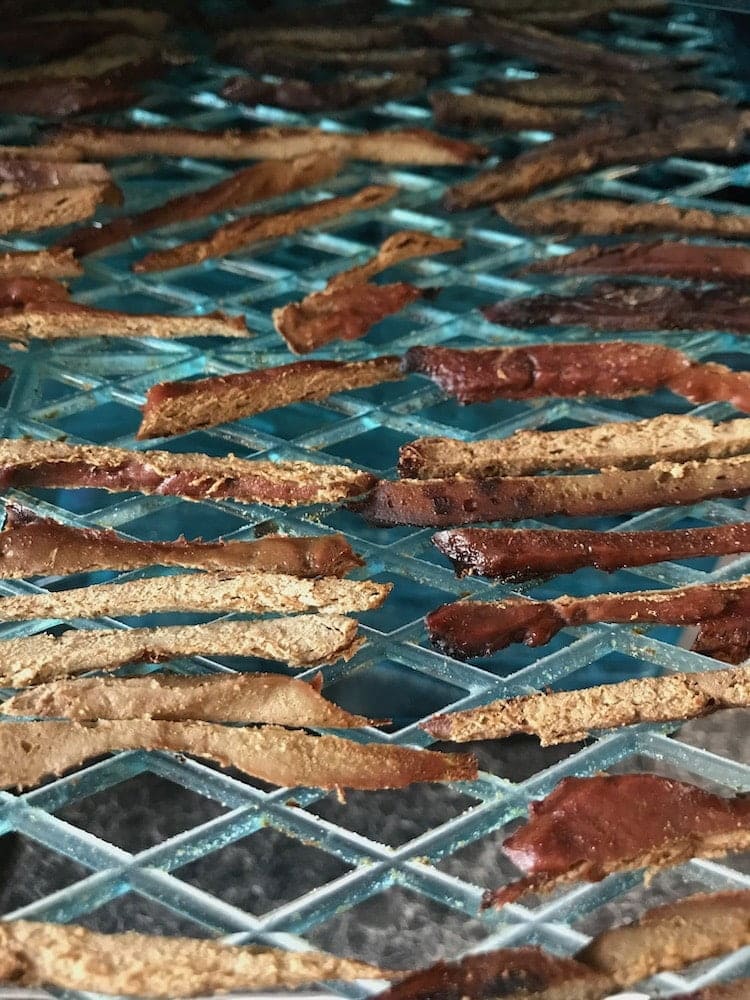 Thinly slice liver into slices of around 5mm thick.
Lay them onto a baking tray lined with aluminium foil and dehydrate at 75degC / 170deg F until most of the liquid has seeped out of them. This takes around an hour.
They should be a little easier to handle now, so cut them into sticks, julienne style, of around 5mm wide, with points on the ends. They will shrink as they dehydrate, so don't try to cut them too thin. Alternatively, leave cutting them down to size until they have dried out more.
If you have a dehydrator, transfer them to it and dry out at 70deg C / 160deg F for 3 hours – keep an eye on them as they will dehydrate quickly being so thin. If you don't have a dehydrator, pop them back in the oven and continue to dehydrate them for a few hours at 75deg C / 170deg F.
When they are ready, they will snap and not be bendy. However, they should be hard enough to use as arms.
For the eyes, just chop a bit off a stick and use it as an eye.
Make the sponge
Place all the ingredients into the food processor and blitz until there are no lumps
Fill the cake mold – there is enough mix here for 4 trees
Bake at 160degC / 320degF (fan assisted) for 20-25 minutes. When it's ready it will spring back after pressing down lightly on the surface. Leave to cool
Make the frosting
Put a whole squash in the oven and bake at 160degC / 320degF (fan assisted) for approx. 30 minutes or until it softens. Leave to cool. You could use ready made pumpkin puree to skip this step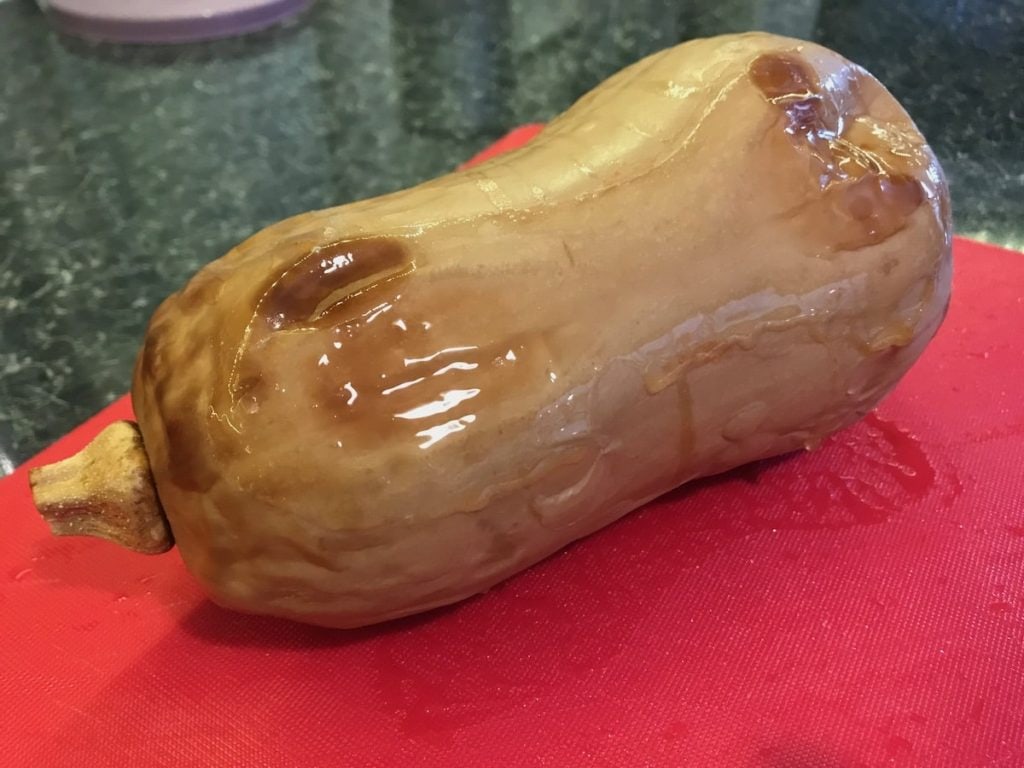 Scoop the flesh out and discard the skin.
Put all the frosting ingredients into the food processor and blend until creamy.
Check the consistency – I baked the squash, rather than steam it, to keep its water content to a minimum. If your squash has a high water content you will need to add more coconut flour / carob to absorb the moisture. The frosting needs to keep its shape when you make little peaks and troughs in it. If your frosting is too stiff, it won't come out of the nozzle easily. If it's too runny, it won't hold the 'hair' shape.
Keep the frosting in the fridge until you are ready to use it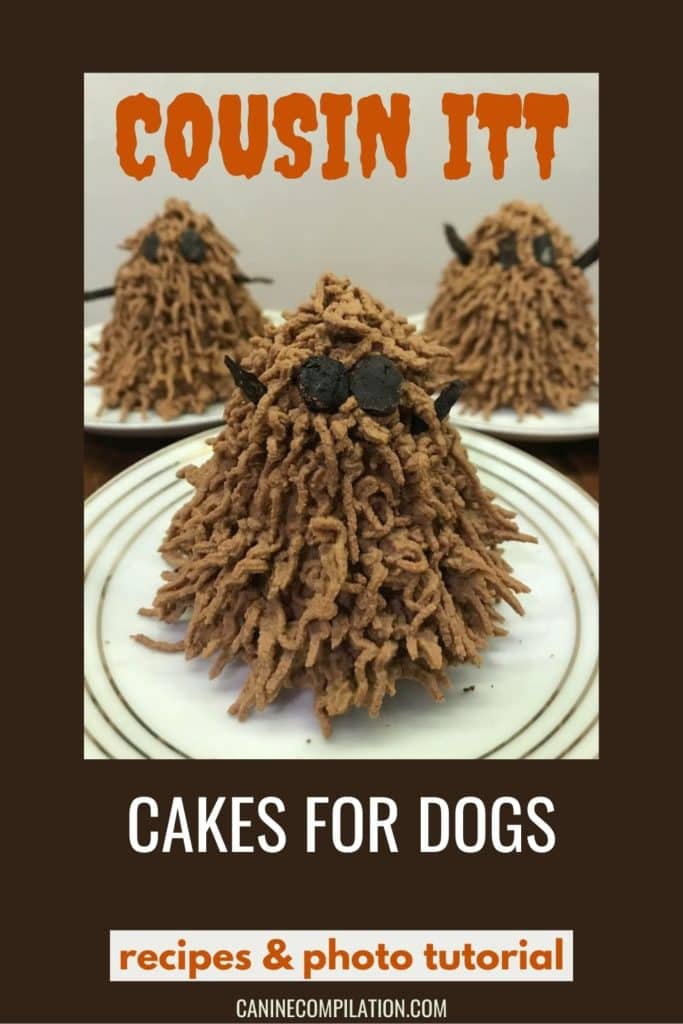 Make the cake!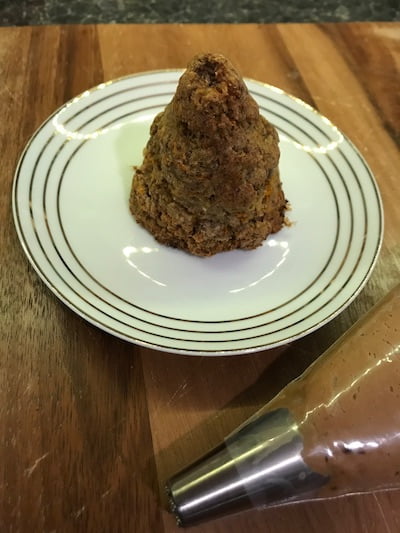 Put a blob of frosting on whichever plate/board you intend to serve the cake on (Fig 1). Press the tree shaped sponge into the frosting (Fig 2). This prevents it from sliding around while you work
Using a knife or spatula, cover this entire shape with a layer of frosting (fig 3). This is called the crumb coating and it's meant to 'seal' the sponge shape so that crumbs don't get into your decoration and mess it up. It's not important to smooth this out much as you'll be covering it with 'hair'
Put your grass piping nozzle into your piping bag. I used a disposable bag this time, so I had to snip the end off it (fig 4). The easiest way to fill it is to put it in a glass, with the nozzle on the bottom of the glass and the top of the piping bag folded over the outside of the glass (fig 5). Using a spatula, scrape the frosting into the bag, using the edge of the glass (fig 6). Half fill the bag with frosting.
Remove any air bubbles from the piping bag by gently pressing down from the nozzle towards the open end of the bag to push air pockets out (Fig 7)
Push the frosting up towards the tip of the bag to begin piping and twist the bag opening to stop the frosting from coming out (Fig 8)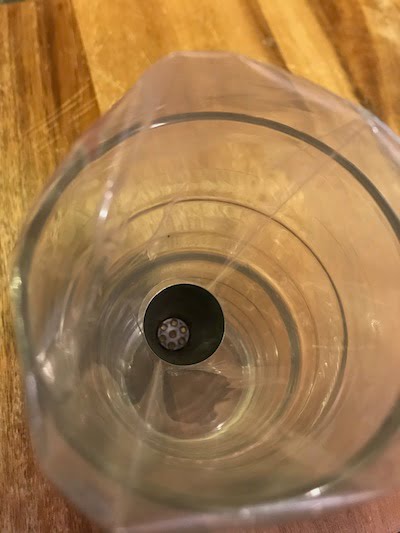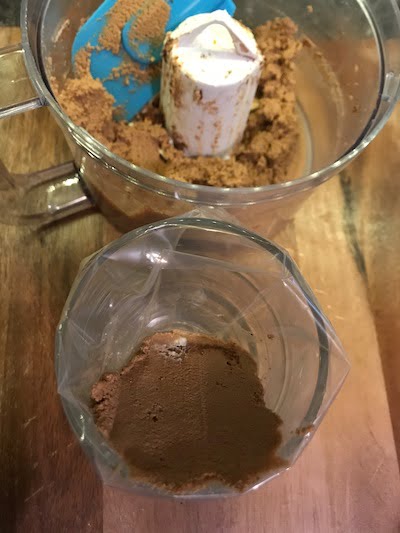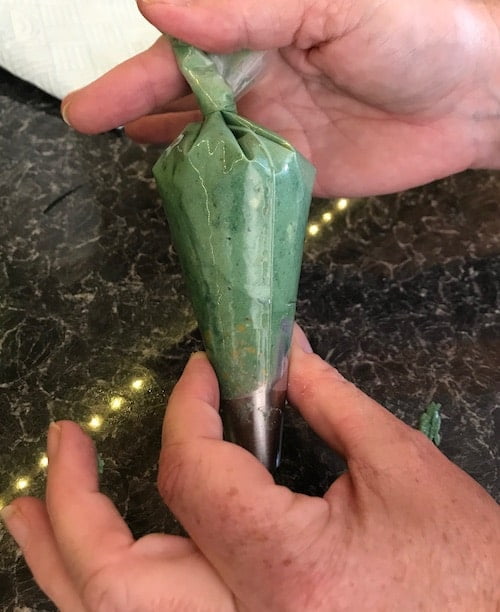 Don't worry that the frosting in the pictures above is green. I forgot to take photos of the carob frosting while making this cake, so I used these pictures from another cake. However, you could always make your frosting green to make some green ghosts! If you want to do that, add spirulina powder instead of carob. Be careful, a little spirulina goes a long way!
Make the hair strands
Note that this frosting stays soft, so make sure that wherever you store the cake between finishing it and giving it to your dog, it won't have anything pressed against it.
The consistency of your frosting is key here – too soft and the 'hair' will mush together. If it's too hard the 'hair' will crack and break off.
If you haven't used a grass piping nozzle before, practise on a flat surface, such as a plate or chopping board, before you get started on the cake. Whatever frosting you use to practise can be scraped up and popped back into the piping bag so there is no loss.
Hold the nozzle just above the surface of the cake, and while gently squeezing the bag, pull away in a straight line. Stop squeezing when you have little strands (hair)
If the frosting comes out in blobs and not little strands, you are either squeezing too hard, not pulling away enough, or the piping nozzle might be blocked. I had to clean a blockage out of mine as I hadn't blended the squash enough and a piece of squash skin had covered some of the nozzle holes in the bag
Once you feel confident enough, start on the cake. Begin at the base, where the cake meets the plate, and do a row of hair all the way around. I kept the first row quite short in length (Fig 9)
Repeat another row above this one (Fig 10) and keep going until you have covered its body (Fig 11). As I worked up the cake I gradually made the hair longer so it would lie over the top of previous strands, to make him look more like Cousin Itt.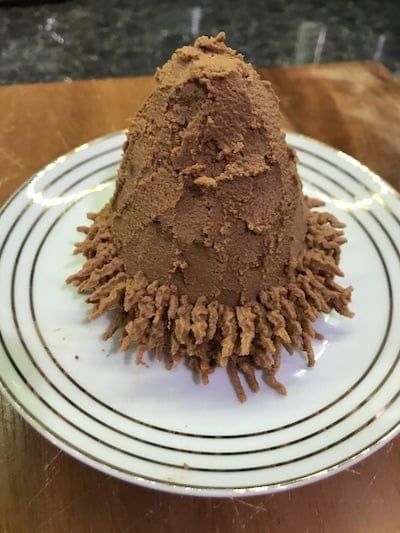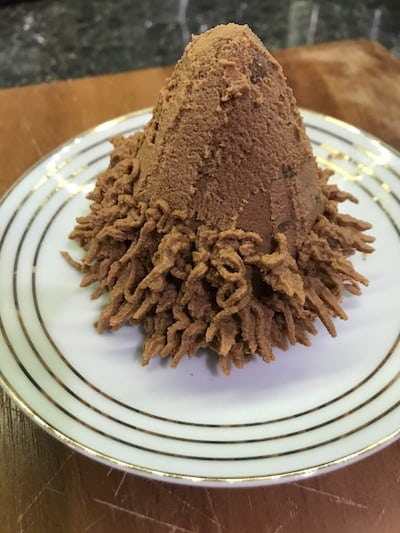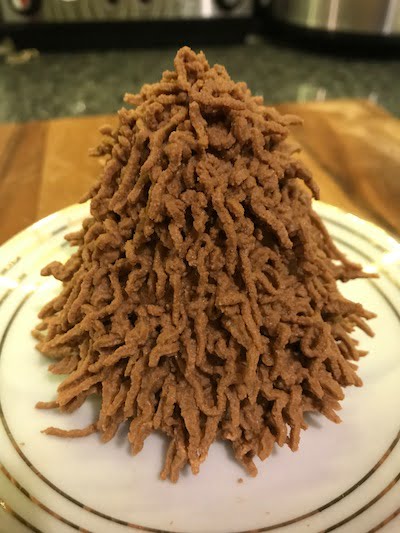 Don't worry if you go wrong! Just scrape off the hair strands you don't like, pop the frosting back in the piping bag and start again!
Add eyes and arms
These are just suggestions of eyes and arms of course, since Cousin Itt didn't show anything like that. I made a small hole in the side of his body with a skewer and then gently pushed the 'arm' in place. For the eyes, I just chopped up a piece of dehydrated liver into a rough oval and popped them into the frosting. There you have it, Cousin Itt version 2.0!
Store your gorgeous little spooks in the fridge until party time and watch how they quickly disappear!
Halloween party for dogs
To really get into Halloween mood, why not make your dog (and you) a bat bow tie. They are very quick to make, with no sewing.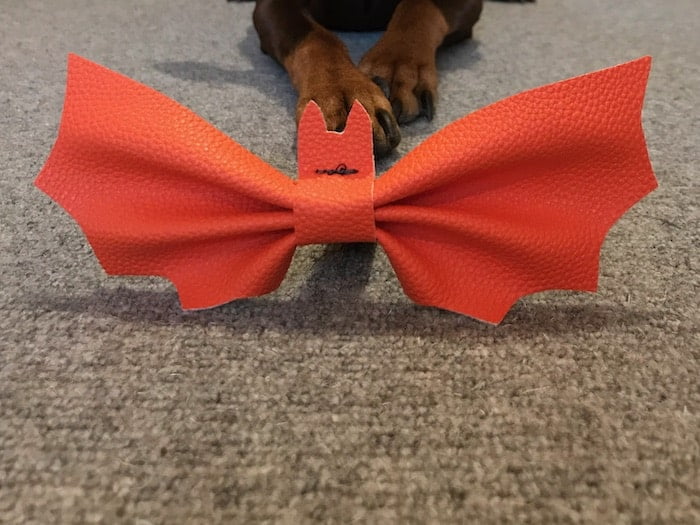 You could also whip up some matching bandanas and face masks (for the humans) in some cute Halloween fabric.
If you have some normal cupcakes, why not make some little bat or dog shaped cupcake toppers too…?
Here's my girl, sporting her new bat bow tie, chomping her Halloween cake.
Conclusion
Making a stunning Halloween cake for dogs is much easier than you think. Even if you've never used a grass piping nozzle before, after a little practice you will soon see that it's a simple technique. Both you and your dog will love the cakes!
Other recipes that might interest you, or rather, your dog!:
Hedgehog Celebration Cakes for Dogs (does not contain real hedgehogs!)
Birthday Cakes For Raw Fed Dogs
Cheese and Tuna Tiny Training Treats