These Adorable Christmas Tree Cakes For Dogs Don't Just Look Great – They Are Fun To Make And Super Healthy For Your Dog Too
Make some cute Christmas tree cakes for your dog with this step-by-step recipe. The trees look so good, you'll not want your dog to eat them! They are made with healthy seasonal ingredients, such as turkey and cranberry. This Christmas cake for dogs is just what your dog would like to find in its bowl at Christmas!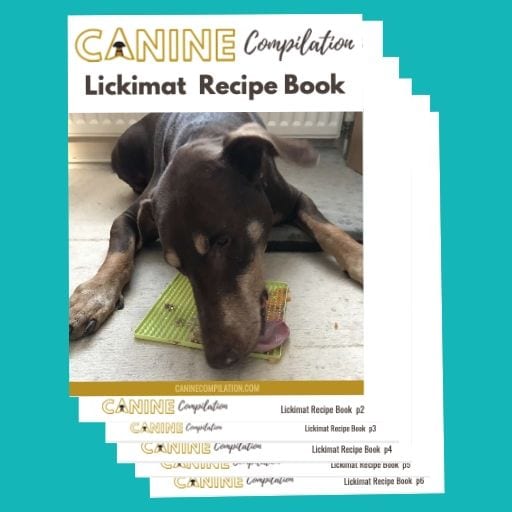 CHRISTMAS TREE CAKES FOR DOGS
The cakes have a turkey and cranberry 'sponge' cake centre, and is covered with a piped, cheese and spirulina frosting. Spirulina is easy to find online, in health food shops and even in some supermarkets.
If you don't have spirulina, but you do have kelp, you could use that instead. If you have neither, use some dog-safe, green icing colouring.
The cakes also have some small garland and bauble decorations made from carrots and cheese.
There is no sugar, or wheat flour. The cakes are gluten-free and high in protein.
HOW LONG DO CHRISTMAS CAKES FOR DOGS LAST?
Keep the cakes in the fridge and they'll stay fresh for 4-5 days.
RECIPE: CHRISTMAS TREE CAKE FOR DOGS
This recipe makes around 4 small Christmas tree cakes for dogs, if you use the same size mold (or shape by hand). Each tree measures approximately 10cm / 4″ high, including the star on top.
EQUIPMENT
To make these trees, you'll need a grass piping nozzle. I have to say, it's one of the cheapest, most versatile and most fun tools I have in my kitchen. I've used it for so many different effects.
Food processor
Baking tray
(Optional) silicone cake mold
(Optional) grinder for oats and almonds if you're not using ready made oatmeal or almond flour
INGREDIENTS
Carrot cake sponge
225gr / 1/2 pound turkey mince
100gr / 3.5oz grated or shredded carrots
70gr / 2.5oz oatmeal
70gr / 2.5oz ground almond (almond flour)
70gr / 2.5oz coconut flour
4 eggs
50gr / 1.8oz cranberries
1 banana
Frosting (this frosting stays soft)
200gr / 7oz low fat cream cheese
30gr / 1oz coconut flour
Spirulina (approx 1/2 – 1 teaspoon)
Decorations
thin carrot ribbons for garland decoration
hard cheese, such as cheddar, rolled into small 'baubles' and cut into a star shape
INSTRUCTIONS
MAKE THE CARROT CAKE SPONGE
Put all of the ingredients into a food processor and combine
Fill the tree shape cake molds. If you're not using molds, pour the mix into a baking tray
Bake at 160degC / 320degF (fan assisted) for 20-25 minutes. When it's ready it will spring back after pressing down lightly on the surface. Leave to cool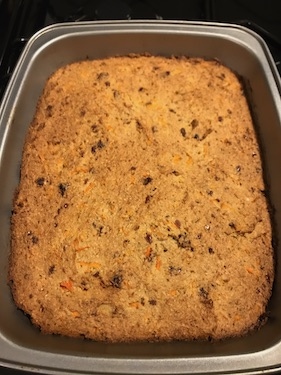 MAKE THE FROSTING
Combine the coconut flour and the cream cheese together by hand in a bowl. Add a little spirulina to colour it – be careful, a little goes a long way. Start with just half a teaspoon and add more if you want a deeper green. Once you have the desired colour, pop the frosting in the fridge until you're ready to do the tree leaves.
MAKE THE DECORATIONS
THE BAUBLES: Chop up some hard cheese – I used cheddar – into small cubes. Mine measured approx. 5mm / 1/4″. Roll each cube into a ball between your thumb and index finger.
Prepare enough of these 'baubles' to decorate your trees. I like my tree decorations to be quite minimal, but that's not everyone's taste – you might prefer to put lots of baubles on your trees!
THE GARLANDS: Using a potato peeler, make thin ribbons of carrots. It's best to keep these thin and narrow, not chunky. You might need to tidy the garland up a bit by cutting away any wavy bits – try to get it as straight and thin as you can.
Keep the baubles and garlands in the fridge until you are ready to decorate the trees.
MAKE THE TREE SHAPES
If you don't have a tree mold, you will need to shape some small cones by hand. Once the sponge cake has cooled, take some of the sponge from the baking tray and squish it in your hands into a cone shape. Don't worry if it's not a perfect cone – very few trees are perfectly shaped, plus you will be covering it with frosting. I made mine approx 9cm / 3.5″ tall
DECORATE THE TREES
Cover the tree / cone with a layer of cream cheese frosting. This is the crumb coating and its purpose is to stop little bits of sponge coming away and ruining your frosting work later. This layer shouldn't be too thick – it's just enough to cover the sponge. It doesn't need to be too smooth either, since you're about to cover it with 'leaves' (see picture below)
Put a blob of frosting on the plate or whatever other surface you plan to present the cake on. Press the tree down onto the blob – this will stop it moving around while you work on it.
Put the rest of the frosting into a piping bag with the grass piping nozzle fitted. Gently press down and push from the tip towards the open end of the bag to push out any air bubbles – this will reduce the chance of the frosting suddenly spurting out while you're piping. Twist the open end round (see pictures below)
If you haven't used a piping nozzle before, it's worth practising on a clean surface first. Once you feel ready, scrape up the frosting you used to practice with and put it back in the piping bag.
Pipe the 'leaves' of the tree onto the cone shape: starting at the base of the cone, position the piping tip so it's almost touching the cone. Squeeze gently and pull away at the same time. Stop squeezing once you have the length of leaves that you want.
Go all the way around the base, then start on the next row up. Make the leaves fairly long so that they flop down and slightly cover the top of the row below. Continue all the way up the cone until it is covered.
Gently push one of the baubles into the tree and from there, also press into the frosting one end of a piece of garland. Let the garland hang down in a loop, and press the other end into the frosting further around the tree. I cut my garlands into lengths of 4-5cm for the lowest decorations and made them increasingly shorter as I worked up the tree (see picture below)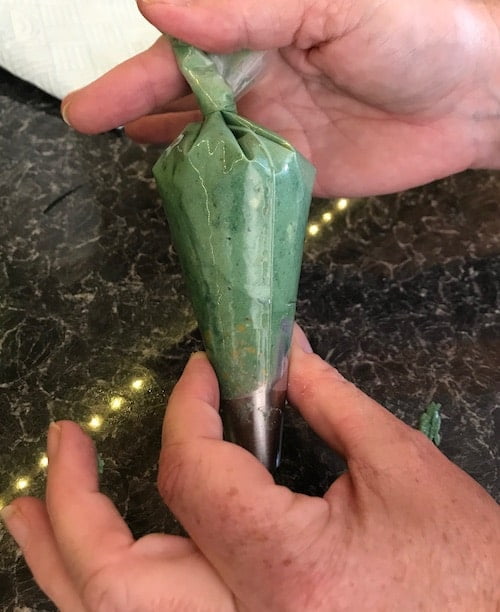 Once the tree is finished, store it in the fridge until party time. Don't forget to take a video of your dog enjoying his special Christmas tree cake!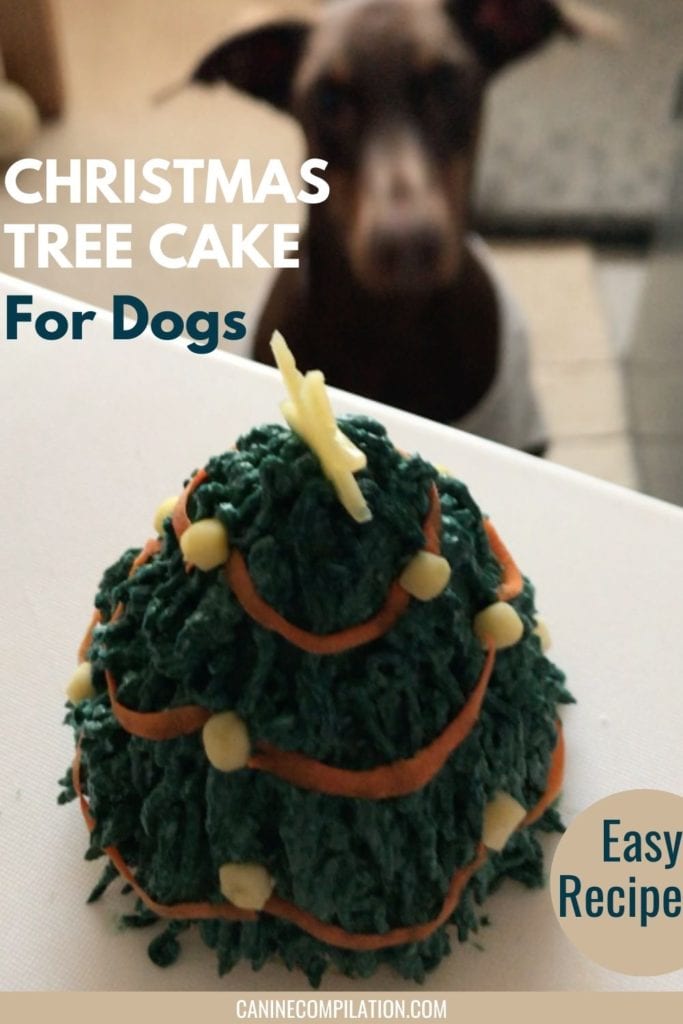 CONCLUSION
Once you've got the knack of using a piping nozzle, you'll find that decorating this Christmas tree cake for dogs can be done in less than 10 minutes. It's made of super healthy ingredients that will delight your dog.
What delicious Christmas goodies do you have planned for your dog?
OTHER RECIPES THAT MIGHT INTEREST YOU
Snowman Holiday Cakes For Dogs
Spooky Spectre Halloween Cakes
Hedgehog Celebration Cakes for Dogs (does not contain real hedgehogs!)
Birthday Cakes For Raw Fed Dogs
Cheese and Tuna Tiny Training Treats