Is yogurt OK for my dog? Can I feed my dog some yogurt now and then or should she have it every day?
If you have a dog, you might be wondering if yogurt is okay for them to eat. Dogs can enjoy the same benefits from yogurt that humans do! Yogurt contains probiotics and other healthy bacteria that help maintain good digestive health. We will discuss the health benefits and the risks of giving your dog yogurt, as well as different ideas for how to give your dog yogurt, including dog treat recipes.
This article may contain affiliate links. As an Associate with Amazon and other companies, we may earn commissions from qualifying purchases. Don't worry, there's no extra cost to you!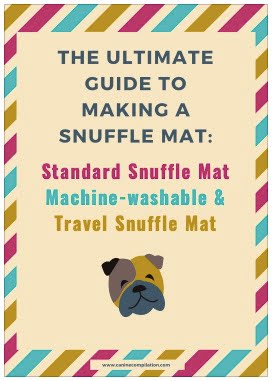 IS YOGURT GOOD FOR DOGS?
Technically, dogs can eat yogurt. A small number of dogs are lactose intolerant, however. Lactose is a sugar found in milk and dairy products which is not as easily digested by dogs.
Dogs that have a lactose intolerance will not be able to eat yogurt without some side effects such as gas, bloating or diarrhea. However, the risks are usually low if your dog is otherwise healthy and doesn't suffer from chronic problems.
Most pet parents (me included) say that their dogs love yogurt and they're able to feed it without any problems at all!
THE HEALTH BENEFITS OF YOGURT
Yoghurt is a healthy, fermented milk product, but only certain types contain probiotics. Probiotics are "good bacteria" in the digestive system that help maintain health and support digestion. They have a proven health benefit and can be beneficial for your dog.
In addition to yogurt's high levels of calcium which make it good for bone density, yogurt also contains potassium and protein, making it a nutritious snack.
Yogurt is rich in:
protein
calcium
potassium
probiotics that promote a healthy digestive system and boost the immune system.
DIFFERENT TYPES OF YOGURT
Keep in mind not all yogurts are great for dogs. Some yogurt has live cultures in it. If you plan to give yoghurt to your pet, make sure it has live cultures in order to really benefit from the probiotics. Look at the label on the yogurt – it should say something like 'Contains live, active cultures'. If it doesn't, it's likely that the live microorganisms were destroyed when the yogurt was being fermented.
CAN DOGS HAVE GREEK YOGURT?
Greek yogurt is a great option because it tends to have much more protein and less sugar than regular yogurt. It's also lower in lactose.
WHAT ARE PROBIOTICS, AND WHAT CAN THEY DO FOR MY DOG?
Probiotics are a type of healthy bacteria that help rebalance the gut.
Probiotics can be found in yogurt, pickles and kefir.
Live cultures are important because they help your dog maintain a healthy digestive tract, which helps to keep the bad bacteria at bay.
WHAT KIND OF YOGURT IS OK FOR MY DOG?
Be mindful of what type of yoghurt you give your dog. Flavoured yogurts should be avoided because they may contain sugar, sweetener or artificial flavours. For the same reason, low fat or 'diet' yogurts should also be avoided.
Some yogurts may contain fruit too. If it is 100% natural, that could be fantastic for your dog – just make sure it doesn't have anything like grapes or raisins, which are toxic to dogs.
The safest option if you are thinking about giving yogurt to your pet, is to make sure that the yoghurt is plain and contains live cultures.
HOW MUCH YOGURT CAN I GIVE MY DOG?
The amount of yoghurt you can give to your dog will depend on the size and weight of your pet. My doberman has a generous tablespoon of yogurt or kefir every day.
Typically, a tablespoon is fine for most dogs – just be mindful that very small dogs should be fed less, and lactose intolerant dogs should avoid yogurt altogether.
Start with a small amount – perhaps just a teaspoon – if your dog hasn't had yogurt before. That way you can watch out for any negative reactions such as vomiting or diarrhea.
IDEAS FOR HOW TO FEED YOUR DOG YOGURT
If your dog isn't used to eating dairy products, make sure to feed yogurt in moderation to begin with, since it can lead to an upset stomach if given too much at once.
A PLAIN YOGURT TREAT
I give my dog kefir or Greek yogurt every day. I pop a spoonful in her LickiMat Wobble – a special lickimat in the shape of a bowl. This lickimat is fantastic for liquid food and it keeps her occupied for ages!
THE LICKIMAT WOBBLE – GREAT FOR LIQUID FOOD
The LickiMat Wobble has all the regular benefits of a lickimat, with a couple of additional features.
Adds an element of movement, and therefore challenge
Great for liquids
I find that this is the simplest way to feed yogurt. The LickiMat Wobble also makes a great base to make a cake for your dog – see this tutorial.
AS A DIP
I make a big batch of dehydrated meat treats for my dog every week and yogurt makes a fantastic 'dip' for dehydrated meat treats. Whilst I'm enjoying my carrot sticks and hummus, she can have her chicken jerky dipped in Greek yogurt!
IN THEIR DINNER
You could also mix yogurt directly into your dog's dinner.
IN CAKES FOR DOGS
I do also use yogurt in some of my dog treats and dog cakes. It can be mixed with other ingredients to create frosting for cakes, for instance.
Of course, if you choose to add it to something cooked, it will lose some of its nutrients, as does any cooked food.
IN FROZEN TREATS
It can be blended with other ingredients and frozen into pupsicles and frozen dog treats.
WHAT ARE THE RISKS OF GIVING MY DOG YOGURT?
There are some risks associated with giving your dog yogurt – namely stomach upset from being unable to tolerate lactose, or if you overfeed them.
You might also see soft stools, or an increased level of flatulence if yogurt doesn't agree with your dog!
HOW CAN I TELL IF MY DOG IS LACTOSE INTOLERANT?
Dogs that are lactose intolerant will display symptoms of an upset stomach, such as vomiting and diarrhea.
They may also experience a type of bloating known as 'dairy bloat', when gas levels increase in the stomach and intestines.
Excessive flatulence might also be another indication that your pup is lactose intolerant.
If your dog has any of these signs, it's best if you talk to your vet before giving them yogurt again. You might want to have an allergy test done to confirm whether or not your dog is lactose intolerant.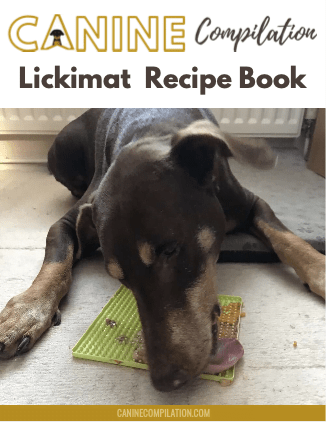 CONCLUSION
Yogurt is not just for people! Dogs can enjoy the probiotics and protein found in this food too. However there are risks involved with giving it to them, namely for dogs that are lactose intolerant. 
Yogurt is a great way to get probiotics into our furry friends and help them live healthier lives just like we do! What's been your experience? Have you given any yogurts to your pup? How did they react? Let us know in the comments below!