Share The Love With Your Four-Legged Loved One This Valentines
Whether you're used to making pupcakes, or just trying it for the first time, these pupcakes for Valentines day are simple to make and will delight your dog! The healthy, dog-safe sponge base is covered with a simple frosting that you can pipe on or spread. Add some cute little gummy bones to decorate and your pup will feel so appreciated and loved.
Affiliate Disclosure: As an Associate with Amazon and other companies, we may earn commissions from qualifying purchases. Don't worry, there's no extra cost to you!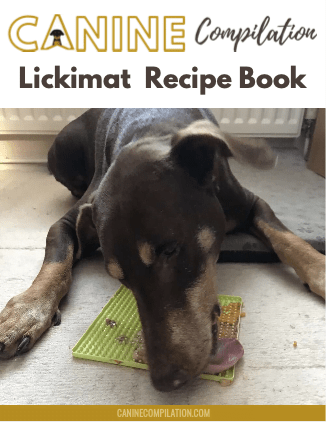 VALENTINES PUPCAKES FOR DOGS RECIPE
This recipe for Valentines pupcakes makes 8 fairy cake sized cakes. Since there is no baking powder in this recipe, the spongecake will not rise. It will keep the shape it has when you put it in the oven to bake, so try to smooth the cake mix out a little in the cupcake cases.
I used little strawberry bone-shaped gummies on the pupcakes as decoration, and they are great to give as treats on their own too. Gummies are one of the simplest treats you can make for dogs and are especially good for dogs that have sore mouths or sensitive teeth.
WHAT YOU WILL NEED
A food processor / blender
Weighing scales
Paper cupcake cases
Piping bag
Small saucepan
Measuring jug
Mixing bowl
Silicone molds for the small gummy bones
SPONGECAKE INGREDIENTS
125gr / 5 oz oatmeal
50gr / 2 oz beetroot
1 large egg
85gr / 3oz yogurt: Greek style is better as it is lower in lactose. If you don't have Greek, use a plain, unsweetened yogurt.
FROSTING / DECORATION INGREDIENTS
100gr / 4oz low fat cream cheese
2 tbs Greek yogurt
30gr / 1oz coconut flour
Optional: a slice of beetroot, used to colour the frosting. Leave out if you want white frosting
If you plan to decorate with a heart, like in the photo, slice a couple of strawberries
BONE SHAPED GUMMIES INGREDIENTS
12g gelatine
1 cup chopped strawberries
150ml liquid – this could be bone broth, whey, or just water. Get the instructions for how to make bone broth. I always have some frozen bone broth on hand for treat making
I highly recommend that you use an unsweetened, unflavoured gelatine like this one
SPONGECAKE: INSTRUCTIONS
Preheat the oven to 180 deg C / gas mark 4.
Blend the ingredients together in a food processor
Pop the cupcake cases into a muffin tin – this helps them keep their shape as they cook
Smooth the cake mixture out into paper cupcake cases and bake for 180 deg C / gas mark 4 for 20 minutes
Leave to cool
FROSTING: INSTRUCTIONS
Blend the frosting ingredients together in a food processor until smooth
It should stand up in peaks and hold its shape. If it is too soft, add more coconut flour, bit by bit, until the frosting is thick enough to pipe
Put the frosting into a piping bag and leave in the fridge until ready to use. I just used a standard star piping nozzle, but you can use whichever piping nozzle you prefer
GUMMIES: INSTRUCTIONS
Put the chopped strawberries in the measuring jug – you will be adding the liquid up to the 180ml mark, so don't add more strawberries than this level
Add enough liquid to fill up to 180ml
Put the liquid and strawberries into the blender / food processor and blend until it resembles a smoothie
Pour the mix into a small saucepan. Sprinkle the gelatine over the top and stir it in.
Heat until it comes to the boil, stirring continuously, then remove it immediately from the heat
Pour the mix into the silicone molds
Put the mold in the fridge so the gummies can cool for a couple of hours, or until set.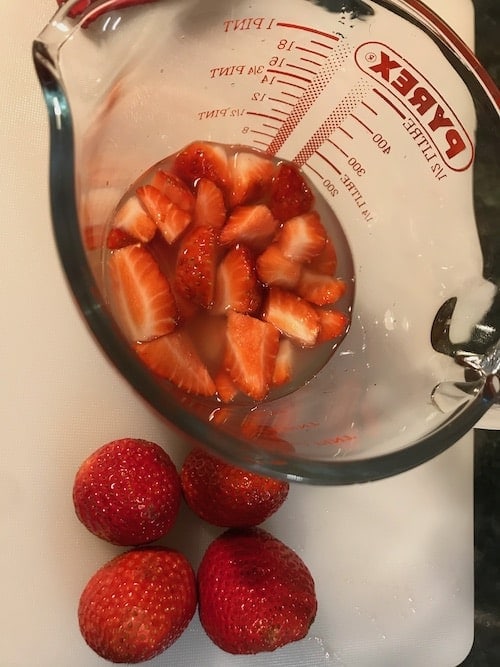 PUT THE CUPCAKES TOGETHER
Once the different elements are ready, it's time to make the pupcakes!
Pipe the frosting onto the cake bases in a spiral, covering the whole of the surface of the sponge. If you prefer not to pipe it, just spread the frosting over the top of each spongecake with a knife or spatula
Cut a heart shape into the strawberry slices
Pop a strawberry heart and a gummy bone onto each pupcake.
Done!
BENEFITS OF THESE INGREDIENTS FOR DOGS
Oatmeal. Oats offer plenty of fibre and are rich in B vitamins.
Yogurt is a good source of protein and calcium.
Strawberries are good for dogs: they offer lots of fibre and vitamin C.
Eggs are a protein powerhouse. Read more about the benefits of eggs for dogs in this article.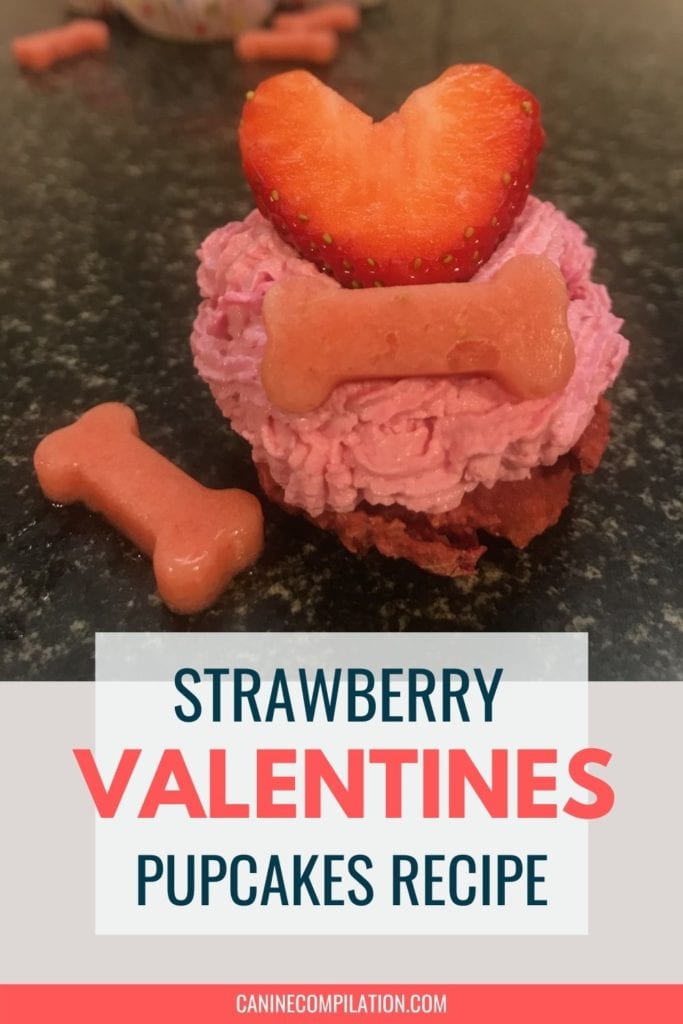 CONCLUSION
These Valentines pupcakes look super cute and they are the perfect, healthy gift to make for your dog.
OTHER DOG TREAT RECIPES
If you enjoyed making these pupcakes and strawberry gummies for dogs, take a look at some of our other recipes for dog treats, cakes for dogs and gummies for dogs:
Hedgehog celebration cakes for dogs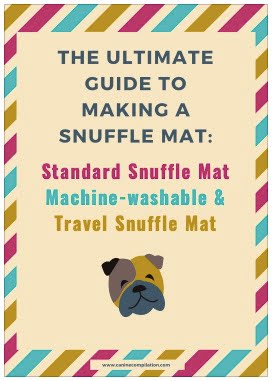 Refs