Pumpkin is a great fruit (yep, technically not a vegetable as it contains seeds and grows from a flower). It's highly nutritious and easy to cook. What's more, it's great for us and our dogs – it can help with many common problems such as diarrhea and internal parasites.
You might not go out of your way to feed your dog pumpkin, but if you're cooking one there'll be lots to spare, so here are some ways to use up leftover pumpkin by sharing it with your dog!
Of course, the simplest option is a pumpkin dog food supplement – just add some pumpkin to your dog's dinner. I often cook pumpkin and other squash, which means my dog gets it in her food regularly. Squash makes a good alternative to pumpkin for dogs.
You can also make pumpkin dog treats. Check out the fantastic pumpkin dog treat recipes we have for you – or rather, for your pup!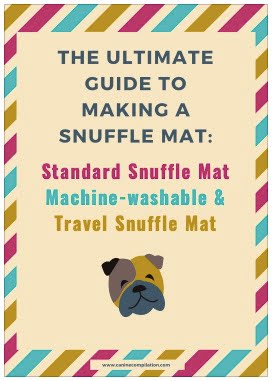 This post may contain affiliate links which means I receive a small commission at no cost to you when you make a purchase. As an Amazon Associate, I earn from qualifying purchases.
WHY BOTHER EATING PUMPKIN? HEALTH BENEFITS OF PUMPKIN FOR DOGS (AND US HUMANS)
Pumpkin is full of vitamins, minerals and fibre. It's a super nutritious, low-calorie food – not just the flesh, but the seeds too.
Just 245 gr (1 cup) of cooked pumpkin provides:
Calories: 49
Fat: 0.2 grams
Protein: 2 grams
Carbs: 12 grams
Fiber: 3 grams
Vitamin A: 245% of the Reference Daily Intake (RDI)
Vitamin C: 19% of the RDI
Potassium: 16% of the RDI
Copper: 11% of the RDI
Manganese: 11% of the RDI
Vitamin B2: 11% of the RDI
Vitamin E: 10% of the RDI
Iron: 8% of the RDI
HIGH IN ANTIOXIDANTS
The alpha-carotene, beta-carotene and beta-cryptoxanthin in pumpkins function as antioxidants. Antioxidants may protect your cells from free radicals damaging them and studies have shown that antioxidants can lower the risk of certain cancers and other illnesses.
GOOD FOR WEIGHT LOSS
Because pumpkin is highly nutritious but low in calories, you can eat more of it than other sources of carbohydrates (like potato, for example). Its high fibre content helps to curb your appetite too.
PUMPKIN AND WHY IT IS ESPECIALLY GOOD FOR DOGS
Apart from the general health benefits of pumpkin for dogs, there are several ways pumpkin can specifically help your dog.
PUMPKIN FOR DOGS ON A KIBBLE DIET
Because pumpkin is 94% water, it's a fantastic way to increase the moisture in a kibble diet.
PUMPKIN FOR DOGS GLANDS
Pumpkin can be effective in helping to prevent anal gland irritation. By increasing the fibre in a dog's diet, it will help bulk up stools and encourage the anal glands to express themselves naturally.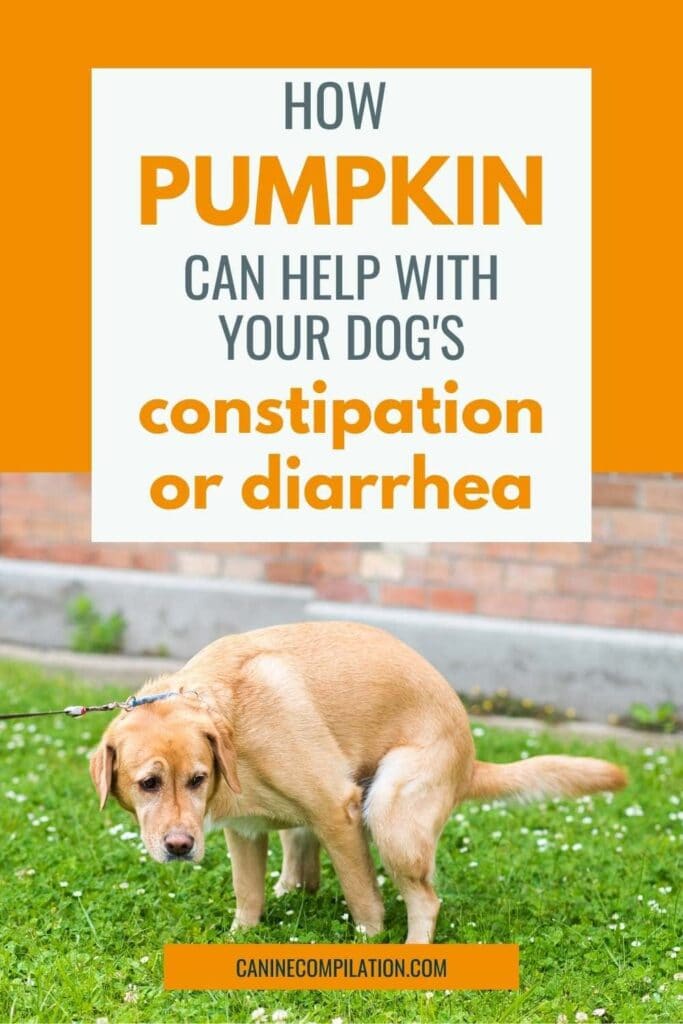 PUMPKIN IS GOOD FOR BOTH CONSTIPATION AND DIARRHOEA
Dogs often have toileting problems. Did you know that diarrhoea is the most common reason for a visit to the vet? Because the fibre in pumpkin can help create more solid stools, feeding pure pumpkin for dogs with diarrhea should help create more solid poop.
Is canned pumpkin good for diarrhea in dogs? Yes, you can use freshly cooked or canned pumpkin, but in the case of canned, make sure it's 100% pure pumpkin with no added ingredients.
Bear in mind though that there might be an underlying health reason why your dog has diarrhea. If that's the case, trying to stop the diarrhea by giving her pumpkin isn't going to get to the bottom of the problem.
Equally, and rather confusingly, pumpkin is also good for constipation, helping to move food along the digestive tract. For more information on how to treat constipation in dogs, see this article.
However, if the constipation is caused by an existing high-fibre diet, adding more fibre is not likely to help. A high fibre diet needs to be balanced with plenty of water. If your dog isn't drinking enough water, try adding bone broth to her kibble – see how to make bone broth in this article.
In general, pumpkin functions as a great pre-biotic, encouraging healthy gut bacteria and improved digestion.
PUMPKIN SEEDS BENEFITS FOR DOGS
Baked pumpkin seeds are beneficial for our health, of course, but are especially good for our dogs' health. They're loaded with protein, amino acids, fibre, iron, copper, phosphorus and magnesium, calcium, zinc, potassium, folic acid and niacin. They're rich in Omega-3 fatty acids.
PUMPKIN SEEDS FOR GIARDIA IN DOGS
Apart from their nutrients, pumpkin seeds also have a functional benefit – you might already know about pumpkin seeds for deworming dogs naturally. The amino acid, cucurbitin, paralyses and eliminates the worms from a dog's digestive tract. One study showed that squash and pumpkin seed extracts can kill giardia parasites in 48 hours. Get more information about how to naturally manage worms in your dog in this article.
PUMPKIN FOR IBS IN DOGS
If your dog suffers from IBS (Irritable Bowel Syndrome), adding pumpkin to her diet can help by adding fibre, which helps food move down the digestive tract. However, your vet will advise you if feeding pumpkin is a good idea or not, given that IBS in dogs can be a symptom of different underlying conditions.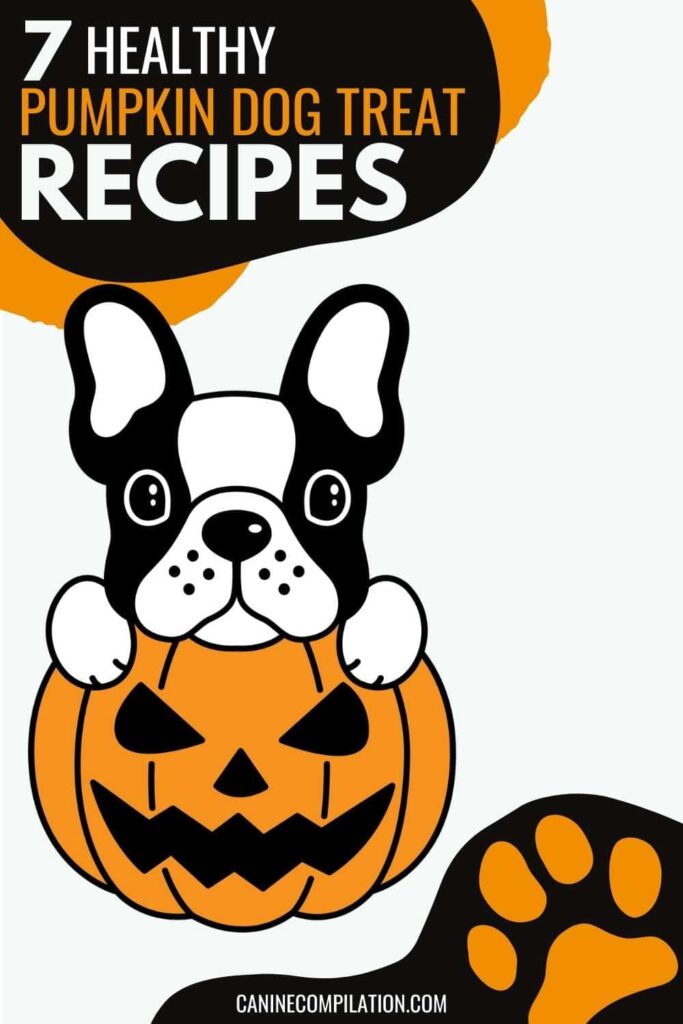 HOW TO CUT UP A PUMPKIN TO COOK IT
I cook pumpkin and other types of squash every week. I prefer to bake it over other cooking methods.
I used to struggle to cut pumpkin up in order to bake it, but I've found the easiest way is this:
Cut a hole in the top, just as you might if you were going to make a pumpkin lantern
Scoop out the stringy sludge and seeds. Don't throw away the seeds. You can cook and eat the seeds, but throw the stringy bits in the compost bin. Raw, organic pumpkin seeds for dogs are great too
Pop the lid back on to the pumpkin
Make space in your oven and bake it whole till it softens
Once cool, remove the skin (more fodder for the worm bin) and chop the flesh up unto chunks.
I find baking it like this saves me time and is safer. Trying to cut up a pumpkin into pieces when it's raw is hard work and potentially dangerous if the knife slips. There's always too much pumpkin to use all at once so I often freeze some of the cooked pumpkin to use later.
HOW TO USE PUMPKIN FOR DOGS?
You can prepare pumpkin yourself, or buy canned pumpkin to give to your pet.
CAN DOGS EAT RAW PUMPKIN?
In theory they can, but if you plan to give raw pumpkin, grate or shred it first. Otherwise, it will be very hard for your dog to digest it. Chunks of raw pumpkin could present a choking hazard too.
PUMPKIN PULP FOR DOGS
The easiest way to add pumpkin to your dog's diet is to bake or steam the pulp first. You can then either add chopped up cubes of pumpkin to your dog's dinner, or puree it.
There's always lots of pumpkin from one fruit, so just freeze whatever you don't use. Either freeze the puree in ice cube trays or freeze chopped up cubes.
BOILED PUMPKIN: HOW LONG TO BOIL PUMPKIN FOR DOGS?
Take a whole pumpkin and remove the seeds, then slice it into big chunks. Put the chunks in a pot of boiling water and boil for 20 to 30 minutes or until it's tender.
Of all the ways to cook pumpkin, boiling it loses more nutrients than anything else.
PUREED, OR MASHED PUMPKIN FOR DOGS
This is one of the ways I often give my girl pumpkin. I spread a little pumpkin puree onto a lickimat and let her at it. Mashed pumpkin makes an excellent lickimat topping. You can mix it with a little ground meat, yogurt or kefir if your pup is a picky eater. See more lickimat topping ideas here.
IS DEHYDRATED PUMPKIN GOOD FOR DOGS?
Yes, absolutely dogs can eat dried pumpkin. Check out this article for how to prepare dehydrated pumpkin dog treats. If your pup likes fruit and veg, pumpkin jerky for dogs makes for excellent treats.
FROZEN PUMPKIN FOR DOGS
My super picky pup wouldn't touch a piece of pure pumpkin with a barge pole – I have to sneak it into her food by mixing it with other things. Some dogs though love it as it is. If you freeze pumpkin into little cubes, it can make excellent healthy treats, straight from the freezer.
HOW TO GRIND PUMPKIN SEEDS FOR DOGS
I have a small nut / coffee grinder that is spectacular for grinding pumpkin seeds. I use this little mini food processor every week to prepare supplements and treats for my dog. It's not expensive and it makes life much easier.
A blender you can also use as a grinder is such a useful tool to have for making treats.
As well as using it for your own needs, like making smoothies or grinding coffee beans, it's perfect for grinding oats, nuts, seeds and even dried fruit for dog treat recipes.
Just a warning, don't try to grind too many seeds at once or it'll take longer and you risk overheating the grinder's motor.
HOW MUCH PUMPKIN TO GIVE A DOG?
As with any food, too much of it will most likely lead to stomach upsets. If your pup's never had pumpkin before, start with a small amount.
Feed pumpkin flesh at 1 tsp per 10 pounds of body weight. Seeds can be fed at 1/4 tsp per 10 pounds of body weight. In general, it's not recommended to give your dog more than 10% of her diet in treats or fruit/veg.
PUMPKIN DOG TREAT RECIPES
We've got the best pumpkin treats for dogs recipes here. From easy pumpkin treats for dogs to special, celebration cakes, we've got you covered.
Pumpkins and Halloween, a classic combination! Why not try making these gorgeous little pupcakes styled on Cousin IT from the Addams Family? Pumpkin is one of the main ingredients.
These easy to make pupcakes are based on the popular liver cake for dogs, but with pumpkin as a principal ingredient.
One of the simplest and also healthiest ways to feed pumpkin is to prepare pumpkin jerky. Get the instructions here.
Another really simple option is to make pumpkin puree and use it as a lickimat topping – see lots of lickimat topping ideas here.
Pumpkin bites for dogs -these easy-to-make dog biscuits have just 3 ingredients, one of which is pumpkin!
Steamed pumpkin or squash feature in these beautiful yet simple dog birt or celebration cakes.
FUN PUMPKIN DOGS CLOTHING
Do you love to get your dog in on the action at holiday times? If you're looking for some fantastic Fall or Thanksgiving inspired dogwear, how about a bandana for dogs and pumpkin face?
For Halloween, try our easy, DIY bat-shaped bowtie for dogs. You don't need any sewing skills for this one!
For a simple DIY dog bowtie (not bat-shaped), get the instructions here – they're easy to make and you can use some pretty pumpkin or Halloween fabric.
FAQ
CONCLUSION
Is pumpkin good for dogs? Absolutely! For most dogs it has lots of health benefits and there are several different ways to add it to your dog's diet, such as in some of the many dog treats and dog cake recipes we included. What pumpkin-based food do you plan to make for your wonderful dog?