Want to Get Rid of the Stinky Dog Smell From Your House, Car… Or Your Dog? Try These Tried and Tested Tips and Products
Some dog smells are wonderful – take the smell of a new puppy, for instance. If they sold that smell in fragranced candles we'd all have candles in every room. However, not all dog smells are so appealing. Some dogs smell more than others and the smells can range from a bit whiffy to downright unbearable!
And what pet parent doesn't want to be rid of bad dog smells and keep their dog from stinking? If dog odor elimination is a problem in your home, you're not alone. Most of us experience it at one point or another. From a stinky couch or car, to accidents on the carpet, or, that delightful wet dog smell after a walk, eliminating dog odors from the house is a big concern for many pet parents.
Whether you're looking for a DIY, natural dog odor eliminator or the best commercial product available, we've got you covered. We'll go over some of the common reasons that dogs smell bad and then share simple strategies to keep your dog, home and car smelling beautiful. Finally, we'll look at natural products you can use to get rid of musty dog smells and recommend the top pet odor eliminator products you can buy.
This article may contain affiliate links. As an Associate with Amazon and other companies, we may earn a commission if you click and purchase with one of our links. There's no extra cost to you. Thanks!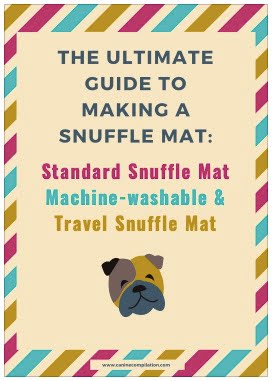 WHY DOES MY DOG SMELL?
There are lots of reasons why your dog may be stinking up the place, including illness, being dirty, certain medical conditions, and diet. All dogs naturally have a dog odor, they're dogs! But when that doggy smell starts to build up or linger, we need to do something about it.
SKIN PROBLEMS
Several skin diseases can make your dog smell bad. If the sebaceous glands are overactive, producing too much sebum, dogs can suffer from oily skin, or rough, dandruff-like skin, hair loss and clogged hair follicles. This skin disease is called seborrhea and it can be very smelly, especially if it's due to a fungal infection.
Dermatitis and allergies can also produce similar symptoms, again resulting in an unpleasant smell. That smell of course gets transferred to the furniture and rooms that your dog lives in.
Unfortunately, there is no magic dog-odor-eliminator product that can solve all of these problems. This type of dog smell is best treated with a combination of methods – daily brushing, regular bathing with a gentle dog shampoo and regular cleaning of dog beds/sofa covers.
In the above cases, daily brushing alone will make a big difference in the quality of your dog's coat and cut down the smell by removing old, dead skin cells, oil build-up and dander.
Bacterial skin infections such as pyoderma are common in dogs with allergies or other conditions that cause their immune system to be out of whack. The result is an overgrowth of bacteria on the dog's skin which can lead to a bad smell and a whole host of other symptoms, including swelling and ulcers. Antibiotics and regular baths with medicated shampoos are often prescribed in this case.
EARS
If dog skin infections are the problem, your dog may be having repeated issues with his ears. Bacterial and yeast infections are very common in dogs' ears and can be particularly smelly.
A build-up of wax in your dog's ears is another cause of unpleasant smells.
If you're not sure why your dog's ears smell bad, get her checked by a vet so you can identify what the problem is and the correct way to treat it. Most likely it will involve cleaning the ears, something you can learn to do yourself.
You can avoid many ear problems by keeping your dog's ears clean and making sure they are always dried properly after your dog gets wet. Bacteria just loves to build up in moist spots like ears.
DOG DENTAL PROBLEMS
If your dog has a bad smell coming from his mouth, it's time to take him for a dental check-up. It could be caused by several different things.
Regular teeth cleaning, using dog dental chew toys and adding a natural seaweed supplement all help to keep your dog's teeth in great shape – see this article for more details on dog dental health.
HAVE YOU EVER WISHED YOU COULD JUST CALL A VET WHEN YOU HAVE A QUESTION ABOUT YOUR DOG?

Now you can! Vidivet is like having a vet at your fingertips, 24/7.

Get personalised advice from a real vet, whenever you need it. Send a text, audio message or video, or organise a 1-2-1 video call with one of the vets.

There are plans to suit every pet parent's budget, and even a free trial. What do you have to lose?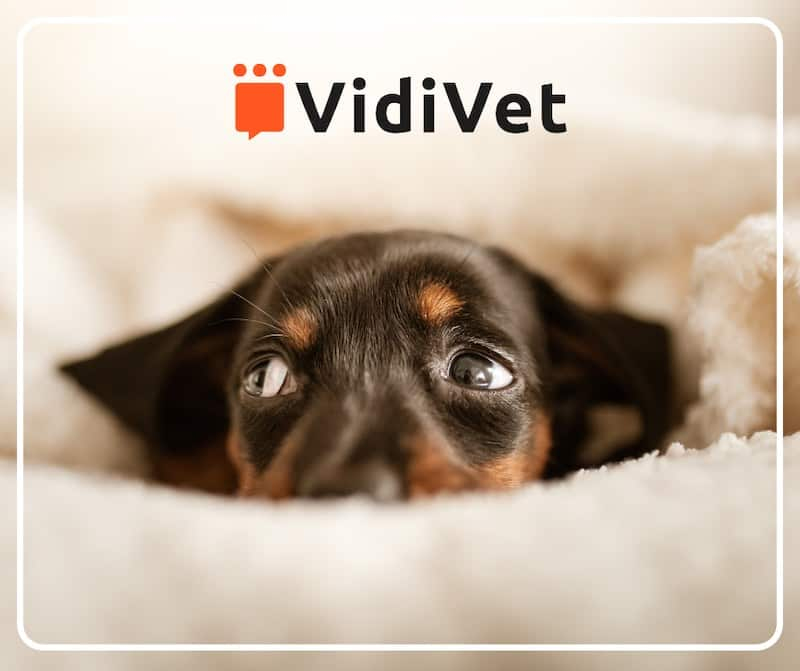 YOUR DOG IS IN HEAT
Sometimes dogs in heat can have a stronger body odor. This isn't the case with every dog though.
YOUR DOG IS DIRTY
Rolling in poop, playing in mud, or just getting a little mucky on a walk might make your pup smell more 'doggy'! My girl likes to start every day off with a nice long roll in the grass. We live in the countryside so who knows what she's massaging into her back – squirrels, hedgehogs, badgers, moles and foxes all frequent the garden so it could be anything.
Rolling in fox poo seems to be a universal dog activity, and I don't even try to stop her doing it. Yes, it honks. But it's also totally natural behaviour.
Instead, I keep dog wipes by the door and I give her a quick wipe down. For most days, that's enough.
DIET
A dog's diet has a big impact on how they smell. Lots of pet parents report an improvement in this when they feed a raw diet. I too feed raw, but I know that not every dog dad or mom wants to.
If you suspect your dog's diet might be causing bad smells – especially in the case of gassy dogs – try switching her to another diet. If she's not eating the best quality food, her coat might also suffer. Are her fur and skin dull and dry, or silky and shiny? Apart from looking unhealthy, a poor coat can give off an unpleasant smell too.
GLANDS
You'll know when your dog's anal glands get clogged and compacted. These little glands, located at either side of the anus, are the bane of many a pet parent's life.
Signs your dog may need his glands expressed are lots of licking around his butt, scooting or dragging his butt along the ground, not to mention that rather revolting smell coming from his back end…
Your dog needs a little help expelling the stinky dog oil trapped inside his glands. You can do it yourself – ask your vet or groomer to show you how. If this seems too gross for you, pay them to do it. Honestly, they're very experienced at it and will probably do it in a faster, less painful way.
Some dogs suffer from it more than others though so to save your wallet you might need to learn how to deal with it yourself.
HOW TO MAKE YOUR DOG SMELL BETTER
Some of the above problems can be resolved by keeping your pooch clean.
REGULAR BRUSHING
Regular brushing not only helps to control bad doggy smells, it also helps keep your dog's skin and fur in good shape. Brushing removes dead hair, flaky skin and excess oil, all things that combine to create that very dog smell we're trying to avoid.
Some dogs need to be brushed more than others. I can sometimes get away with just once a week.
My girl sleeps on my bed, so brushing her helps reduce the number of hairs on the blanket. When I notice she has that unwelcome dog 'aroma', I brush her down with some of my DIY dry dog shampoo recipe. It absorbs the excess oils, helps protect her against fleas AND it smells lovely. It takes just seconds too, which is welcome as I'm quite a lazy dog mom! Get the recipe here.
DON'T LET YOUR DOG STAY WET
If your dog gets wet out on a walk, you can really cut down on bad dog smells by drying her off properly. Even just letting your pup run into the house with wet paws adds to the wet dog smell in your house. Avoid it by keeping little paw wipes or towels at the door and quickly dry off paws before she runs to her bed.
Bacteria is never happier than in warm, wet dog fur. Stop it building up by thoroughly drying your dog off after she gets wet. Don't forget her ears!
CLEAN DOGGY 'STUFF'
Have you ever taken your dog's collar off and smelled it? It stinks, it really does!
Keep smells down by regular washing or cleaning toys, bowls, collars, leashes, dog coats and dog beds.
Whatever kind of dog bed you have, it should have removable covers and/or be machine washable – it just doesn't make sense to have a dog bed that you can't properly clean. The best dog bed odor eliminator is simply to wash it! Add half a cup of vinegar to the washing machine cycle to get rid of the doggy smell. See this article for more information on dog beds.
BATH YOUR DOG
Some dogs need to be bathed more often than others. I have a dobermann, and she has very short fur. Keeping a dog like her clean is way easier than say, a long-haired dog that drools down her jowls, gets mud in her coat and whose ears dangle in her food. I still have to deal with those things on my girl, but they wipe up in seconds, often not even requiring a bath.
WHAT KILLS DEAD ANIMAL SMELL
However, one big problem I do have to manage – and you may too most likely – is the smell after she's rolled in something. My girl LOVES to roll in fox and badger poo. Oh and sometimes dead animals too. Yuk.
Because my girl is short-haired, I can sometimes get away with using pet wipes to get rid of the dead animal or poo smell from her fur. That doesn't always cut it though, so of course, from time to time you need to properly bath your dog. See this article on bathing your dog for more info.
CLEANING IN-BETWEEN BATHING
For in between those baths though, I have an arsenal of quick-to-use tools. These things are especially useful to have in your car if you drive your pup to her walk.
This is what I have in my Clean Dog Tool Kit:
THE BEST PAW CLEANER
After any walk, your dog's paws will get dirty. If they've been in mud or they have long fur, cleaning their paws can be a tedious task. Not with this fabulous little tool though! It's a fantastic no-fuss solution to dirty paws.
Just fill the tub with warm water and pop a paw in at a time. Soft silicone bristles gently dislodge muck from your pup's paws.

It comes apart to clean really easily too.
HOW TO REMOVE PET ODOR FROM FURNITURE
Remove any linen covers, including sofa cushion covers, bedspreads and pillowcases. Don't forget to clean your dog's bed too!
To help protect my bedlinen and sofa, I put a throw over each of them. The throw gets all the hairs and dirt, saving my furniture. I then wash the throws on a higher temperature, and I was them separate from other laundry.
If you follow this technique and don't overfill the washing machine, it'll be easier to get rid of lingering bad smells and not have dog hair permanently stuck to your bed linen!
NATURAL PRODUCTS TO ELIMINATE DOG ODOR: VINEGAR
I prefer to use natural products and not chemicals for this kind of cleaning job because my dog is in contact with these surfaces all the time – the sofa, the bed, the floors – and I don't want the harmful chemicals in many cleaning products to affect her.
Apple cider vinegar (ACV) is an essential supply in my house. I add a capful to my dog's dinner every day to help deter fleas and ticks, as well as it being good for her health in other ways.
When used for cleaning, vinegar can also deodorize unpleasant odors, help dislodge the dog hairs from the fabric, and kill many germs and bacteria.
I recommend you add half a cup of apple cider vinegar (ACV) or cleaning vinegar to the rinse cycle. Don't worry, your washing won't come out of the machine smelling like a vinegar bottle!
Once you've got the linen on a wash cycle, vacuum down into the crevices and creases of the sofas and chairs to remove any built-up fur. You might even need to steam clean the furniture – some carpet cleaners have a furniture attachment.
NATURAL PRODUCTS TO GET RID OF DOG SMELL: BAKING SODA (US) / BICARBONATE OF SODA (UK)
Let's introduce another natural product that we can use in the fight against the dreaded doggy smell: Baking Soda / Bicarbonate of Soda. It has antibacterial properties and can help absorb bad odors.
To get rid of lingering smells, sprinkle some bicarb / baking soda on the upholstery and the carpets or rugs too. I make a 50/50 mix of bicarb with diatomaceous earth (DE) so it also helps combat pests like fleas or ticks. Leave the powder for as long as you can – overnight if possible – to absorb smells, then vacuum clean.
If your dog sleeps on your bed, don't forget to pull the mattress off the bed base, vacuum it and clean thoroughly under the bed too. If you plan to sprinkle baking soda here too, do this job first thing in the morning to give the baking soda time to absorb the smells.
HOW TO REMOVE GENERAL PET ODOR FROM CARPETS AND RUGS
Carpeted floors are harder to handle of course. It's worth investing in a carpet cleaner if you have dogs and carpets in the same house! If your budget doesn't stretch to buying a carpet cleaner, for occasional deep-clean sessions you could always rent a carpet cleaner. Alternatively, ask around family and friends – someone may have one they can lend you.
Having a powerful vacuum cleaner is essential in any home with a pet, especially if you also have carpets. I love my Shark Liftaway vacuum. It's so powerful I have to turn down the suction power sometimes. However, even the best vacuum will perform poorly if you don't clean and replace the filters when necessary. They soon clog up with dust and dirt which ends up churning bad odours back into your home. Not helpful!
Deodorizing carpet powders can help remove dog smells from your carpet. However, not all products are pet-friendly. In fact, some cleaning products can make your fur baby very ill, so be sure to check anything before you use it.
HOW TO REMOVE PET ODOR FROM HARD FLOORS
For wood, lino or tiled floors, mop often. A steam mop is another great investment, killing off bacteria too.
For manual mopping, half a cup of vinegar in a gallon of water makes a fantastic floor cleaner. Cleaning vinegar is better here than any other kind of vinegar as it has a higher acidity percentage. It will leave your house smelling a little of vinegar though, but that has to better than smelling of dog, right? To reduce the vinegar smell, add a few drops of dog-safe essential oil to the bucket.
HOW TO GET RID OF PET ACCIDENT SMELLS
Puppies, sick dogs, older dogs… sooner or later your fur baby is going to have a little accident. It might be a toileting accident, vomit, or even blood.
Whatever it is, mopping up accidents and cleaning them thoroughly as soon as they happen will help to avoid longer-lasting bad odors. Both vinegar solutions and enzyme cleaners are really effective at cutting through stains and odors.
DOG URINE ODOR REMOVER HOME REMEDY OPTIONS
On fabric, carpets and rugs, you'll have to work as fast as you can to mop up the mess before it soaks even further into the carpet. Use paper towels or an old towel (I have a pile of old towels that I use to dry off the dogs, for instance) and pat the area dry. If the towel gets wet, replace it with a dry towel to continue patting the spot dry. If you have a wet/dry vacuum, use that after you've blotted up most of the liquid.
Next, get out the good old vinegar again. Make up a 1:1 vinegar/water solution and wet the soiled area liberally with it. This will make sure the underside of the carpet will be reached too. The acid in the vinegar helps to break down the stain. Leave it to work for 5 minutes. Alternatively, you could use an enzyme cleaner instead of a vinegar solution.
Blot it dry with an old towel or paper towels. Sprinkle some baking soda on it to absorb any remaining odor and leave it overnight / all day before vacuuming.
On a hard floor like lino, tiles or wood, mop up the mess with paper towels. Once it's dry, spray the entire area with either an enzyme cleaner and leave it for 10 minutes before wiping it up, or, scrub it with a vinegar/water solution of 1 part vinegar and 1 part water. Be sure to really clean into cracks and grooves, or grout if the floor is tiled.
DOG VOMIT STAIN AND ODOR REMOVER HOME REMEDY
I had a really stubborn carpet stain where my pup vomited months ago. I wasn't around to clean it all up at the time, and it left a mark that I couldn't remove with commercial carpet cleaning products. I tried zillions of them, to no avail. So, when researching this post I decided to do an experiment – who doesn't love an experiment?
I wanted to see if vinegar would work where commercial products failed, and whether there was any difference in adding baking soda or not. I treated the stain differently in 3 sections, separated with a tooth pick in the pictures.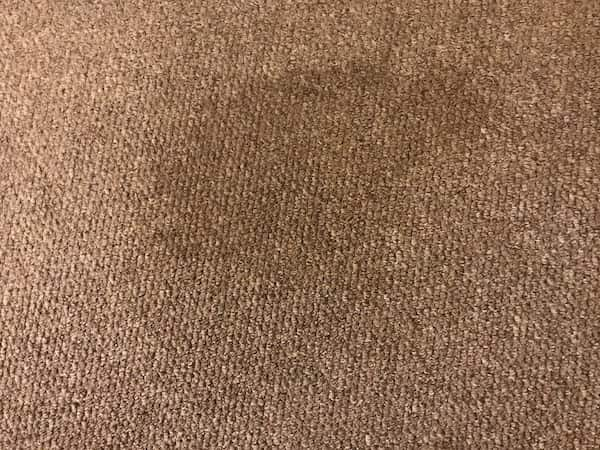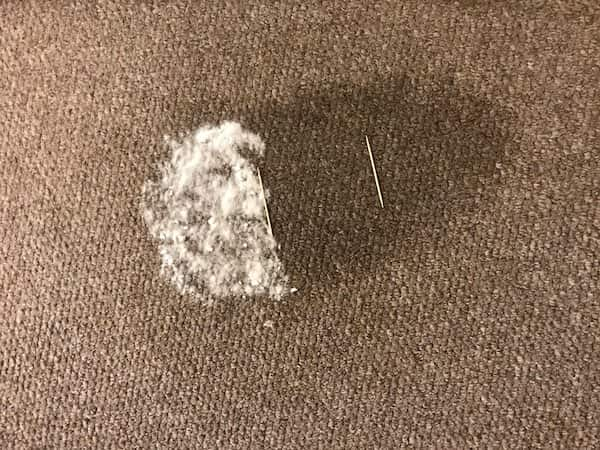 I prepared a 50/50 vinegar solution and doused the whole stain. In section one I added baking soda immediately. I added bicarb to section 2 after 5 mins. Section 3 had no bicarb at all. 10 mins after soaking it with vinegar solution, I scrubbed it, then blotted it dry. I left it overnight to dry out.
I can't tell you how delighted I was to see that it worked well! There was one small area that was still stained (in the upper right corner of photo 6) – this was in the section that had no baking soda applied.
If you have an old carpet stain from a pet accident, try this method! Please note though that both vinegar and baking soda can lighten fabrics, so you might want to do a small patch test on a hidden area of carpet first – the last thing you want is to clean your carpet stain but leave a lighter patch in its place!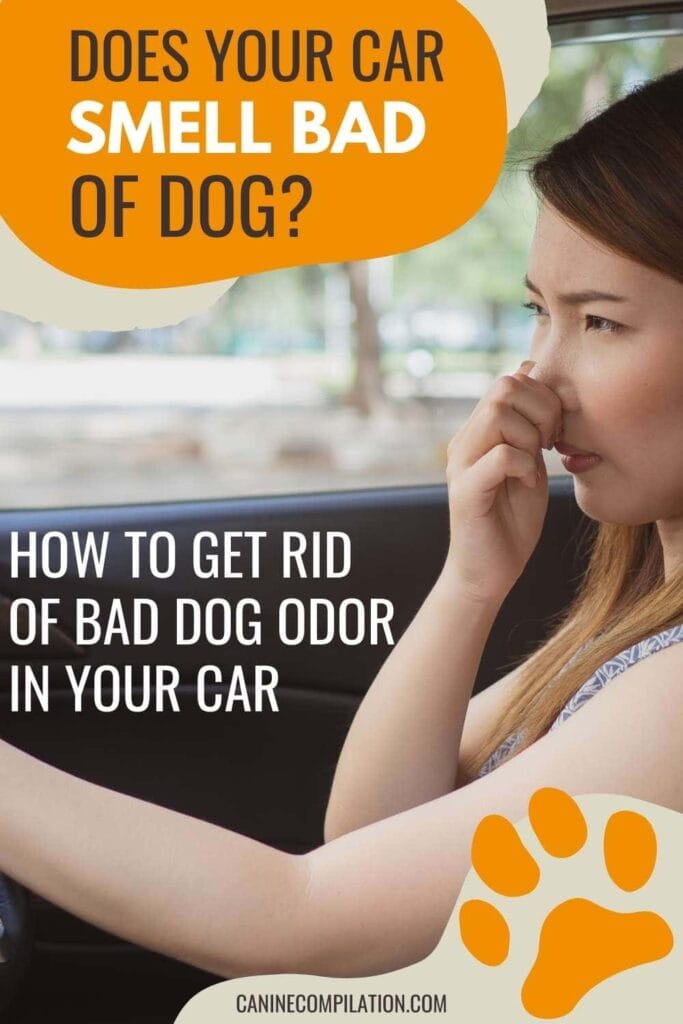 HOW TO GET RID OF DOG SMELL FROM YOUR CAR
Obviously, the first thing to do is a thorough clean. Remove all the mats and carpeting that you can and get down into the crevices with a vacuum upholstery attachment – dog hairs collect in the seat folds really quickly.
Once the car is clean, use a pet-friendly, odor-eliminating enzyme cleaner on the upholstery to cut through stains and odors. Alternatively, you could sprinkle baking soda and then vacuum it up – this will help with odor elimination but won't get rid of any stains.
Unless it's freezing outside, one of the simplest, most effective – not to mention cheapest – ways to improve the smell of your home or car is to open the windows.
If you can still detect a musty dog smell after all that, get the air filter replaced too – clogged up filters will make the car smell worse when you turn on the fan or A/C.
After the car has been cleaned, I spray a watered-down essential oil solution on the upholstery (using only dog-safe oils of course). If you prefer a ready-made freshener, go with a pet-friendly one like Febreze Pet Odor Freshener.
ADD A NICER SMELL TO YOUR HOME
I use a nebulising oil burner in my home, using only dog-safe essential oils. Not all dogs are the same though, so whatever product you choose to try, monitor your pet to see if she has a reaction to it or tries to avoid being near it. You can see more information about dog-safe essential oils in this article.
THE BEST DOG ODOR ELIMINATOR PRODUCTS TO BUY AND HOW THEY WORK
WHAT IS THE BEST PET ODOR ELIMINATOR?
The best dog odor eliminators you can buy are enzyme cleaners. Instead of just masking smells under perfume scents, an enzyme cleaner uses 'good' bacteria to break down odors and stains, leaving behind no smell at all.
For the creme de la creme enzyme cleaner, go for Angry Orange – it has a slight orange smell to it and is made from natural ingredients – nothing that could harm your precious pet.
A budget option, yet still a very effective cleaner and odor eliminator, is Simple Solutions. Again, it's pet friendly and is the highest-rated enzyme cleaner for pet stains and smells on Amazon.
If you want something to just freshen up the smell, go for a pet-friendly product like Febreze Fabric Pet Odor Eliminator. Bear in mind though that just like us, our dogs can be sensitive to certain products too – if you see that your dog tries to escape the room when you use one of these products, find something else. Something about it clearly doesn't agree with him!
Now your house and car should be nice and clean, and smelling wonderful. Just in time to take your dog for a walk and start the whole cycle all over again!