Burning essential oils in a burner or diffuser can make a home smell so lovely – something especially appreciated in a home where there is a fur-baby in residence. Whilst there are many oils that are beneficial to us and our dogs, not all essential oils are safe for dogs.
With the rise in popularity of oil burners and diffusers, there have been an increasing number of cases of dogs presenting with adverse reactions. Some pet parents have been confounded as to why their dogs seemed to be confused, unaware of their surroundings, lacking coordination and even sometimes, unsure of who their owners were.
This article may contain affiliate links. As an Associate with Amazon and other companies, we may earn a commission if you click and purchase with one of our links. There's no extra cost to you. Thanks!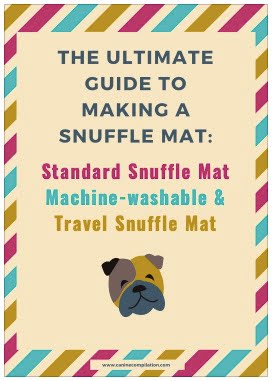 ESSENTIAL OILS THAT ARE BAD FOR DOGS
Some essential oils are toxic to dogs, so please, avoid using the following in oil burners and diffusers if you have a dog in your home:
Anise (Pimpinella anisum)
Birch (Betula)
Bitter Almond (Prunus dulcis)
Boldo (Peumus boldus)
Calamus (Acorus calamus)
Camphor (Cinnamomum camphora)
Cassia (Cassia fistula)
Chenopodium (Chenopodium album)
Cloves (Syzygium aromaticum)
Garlic
Goosefoot (Chenopodium murale)
Horseradish (Armoracia rusticana)
Hyssop (Hyssopus sp. with the exception of Decumbens)
Juniper (Juniperus sp. with the exception of Juniper Berry)
Mugwort (Artemisia vulgaris)
Mustard (Brassica juncea)
Oregano (Origanum vulgare)
Pennyroyal (Mentha pulegium)
Red or White Thyme
Rue (Ruta graveolens)
Santalina (Santolina chamaecyparissus)
Sassafras (Sassafras albidum)
Savory (Satureja)
Tansy (Tanacetum vulgare)
Tea Tree Oil (Melaleuca alternifolia)
Terebinth (Pistacia palaestina)
Thuja (Thuja occidentalis)
Wintergreen (Gaultheria procumbens)
Wormwood (Artemisia absinthium)
Yarrow (Achillea millefolium)
ESSENTIAL OILS YOU CAN USE WITH DOGS
So, now you've ruled out any essential oils that are known to be bad for dogs. You might want to know which ones are generally accepted as dog-safe, and even, beneficial to our dogs.
DOG-SAFE ESSENTIAL OILS FOR OIL BURNERS / DIFFUSERS / NEBULISING DIFFUSERS
These essential oils have been used safely with dogs by practitioners for years:
Carrot Seed
Cedarwood Atlas
Chamomile, German
Chamomile, Roman
Clary Sage
Geranium
Ginger
Helichrysum
Mandarin, Green
Marjaram, Sweet
Myrrh
Niaouli
Orange, Sweet
Rose
Thyme Chemotypes
Valerian
Let's not forget that dogs have highly sensitive olfactory systems compared to us humble humans. If a scent seems strong to us, imagine that smell intensified dozens of times – it's easy to see why certain scents could be too much for our pups.
So, even when using oils that are considered to be safe, start gently with any new oil – every dog is different and what is OK for some might be uncomfortable for others.
Here are some of the signs that your dog is upset by the essential oil that you're using: trying to leave the room where the oil burner is; whining; panting; rubbing their face on furniture / carpets.
OIL BURNER – VS – NEBULISING DIFFUSER?
A little note on burning essential oils in burners and diffusers: whilst they will certainly improve the smell, this is not the most effective way to create a therapeutic atmosphere in the home. A nebulising diffuser is much more effective at dispersing essential oils into the air.
I used oil burners for years but found that the water reservoir always ran out before the candle, and it ended up burning a little pool of scorched oils in the bottom of the dish. What's more, living in England I really don't need to humidify my home even more – there is plenty of humidity in this country already!
I now have a nebulising diffuser and find it far superior to an oil burner. Firstly, I can program it (it's electric) so it comes on and off when I want. Also, since it uses no water, it doesn't humidify the air. It's small and unobtrusive, and pretty rugged since unlike other nebulisers, it doesn't have exposed glass parts.
THE BEST COMPACT NEBULISER DIFFUSER
This is exactly the same as the model I have. It's a fantastic little thing, and so much better than faffing with traditional oil burners
More importantly though, it is more efficient at transporting the essential oil through my home. Burners rely on heat to evaporate essential oils, but this is not as efficient at yielding the oil's properties as a nebuliser is. A nebuliser has a tiny air pump that ionises the essential oil into the air.
There are some very beautiful nebulisers on the market now, some built with lovely wooden elements and soft lighting.
Ceramic and wood nebuliser
Traditional style nebuliser
ESSENTIAL OILS FOR CALMING NERVOUS DOGS
There are many other benefits to using essential oils in the home – not just to get rid of the doggy smell!
If your dog gets nervous during certain events, for instance, when visitors come, during storms or fireworks etc., then using these essential oils can have a calming effect on them and can be used in burners and diffusers.
Chamomile
Lavender (Lavendula angustifolia)
Neroli (Citrus aurantium
Petitgrain (Citrus aurantium)
Roman Chamomile (Anthemis nobilis)
Sweet Marjoram (Origanum marjorana)
Sweet Orange (Citrus sinensis)
Valerian (Valeriana officinalis)
Vetiver (Vetivera zizanoides)
You might be wondering why Petitgrain and Neroli have the same Latin name – they come from the same plant but Petitgrain comes from the leaves and twigs whereas Neroli is from the flowers.
For more tips on how to calm dogs that are nervous around loud noises such as fireworks and storms, see this article.
Grisha Stewart's Dog Training And Behaviour School
DOG BEHAVIOUR PROBLEMS?
NEED TO UP YOUR DOG TRAINING?
Get access to hundreds of hours of video classes, eBooks, special events and live sessions, covering most aspects of dog training and behaviour:
puppy training
dog reactivity, aggression, resource guarding
dog confidence, fearful dogs
loose leash walking
ESSENTIAL OILS FOR DOG MASSAGE
If you plan to give your dog a massage, or if she is having treatment that she finds stressful, such as grooming, you could use these same calming essential oils in your burner to help relax her. See how to massage your dog in this article.
ESSENTIAL OILS FOR FLEA AND TICK CONTROL
We can use the smell of some essential oils to help repel fleas and ticks. Whilst it won't kill the pests, the smell of these oils is unpleasant to either fleas or ticks.
Cedarwood Atlas (repels fleas)
Eucalytus Radiata (repels fleas)
Geranium (repels ticks)
Grapefruit (Citrus Paradisi) (repels fleas)
See this article for more information on how to combat fleas and ticks naturally, and get some DIY topical spray recipes using essential oils here.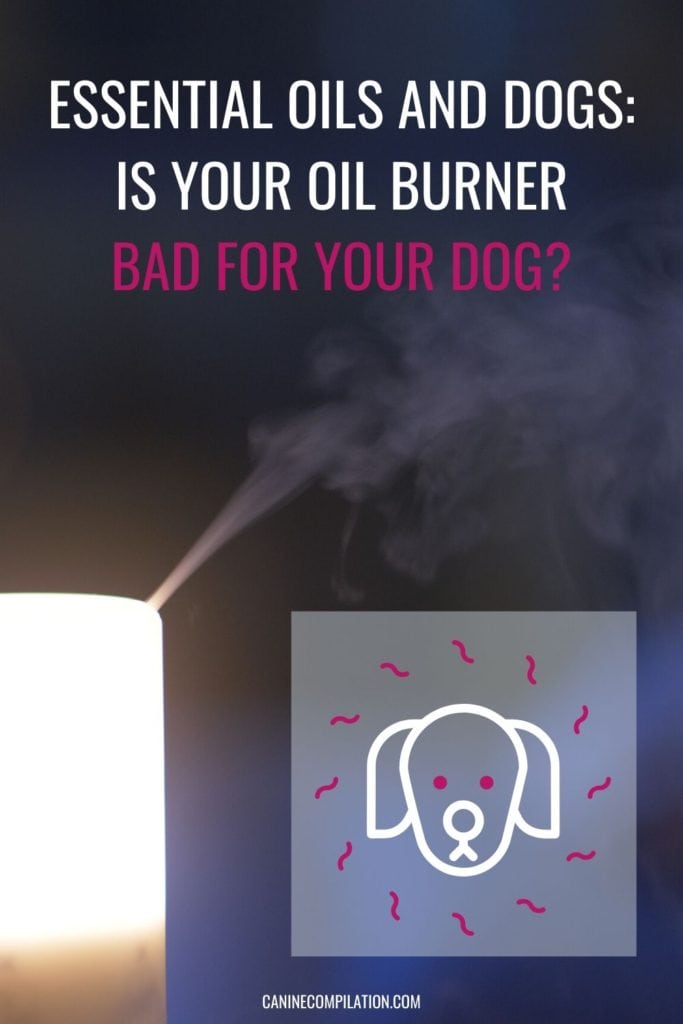 OTHER HOMEMADE PRODUCTS USING ESSENTIAL OILS
There are so many fantastic uses for dog-safe essential oils – try our dog shampoo and nose / paw balm recipes.
If you are unsure about the use of essential oils with your dog, get advice from a holistic veterinarian.

CONCLUSION
Using essential oils in burners or diffusers offers us many benefits, including improving the smell in our homes, repelling parasites and calming nervous dogs. We need to be careful though in how we use them, and which we use. Not all dogs like essential oils and some may react adversely to them.
WANT TO KNOW MORE?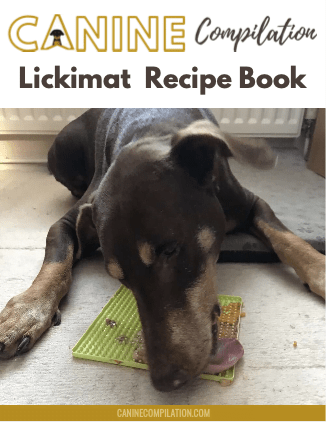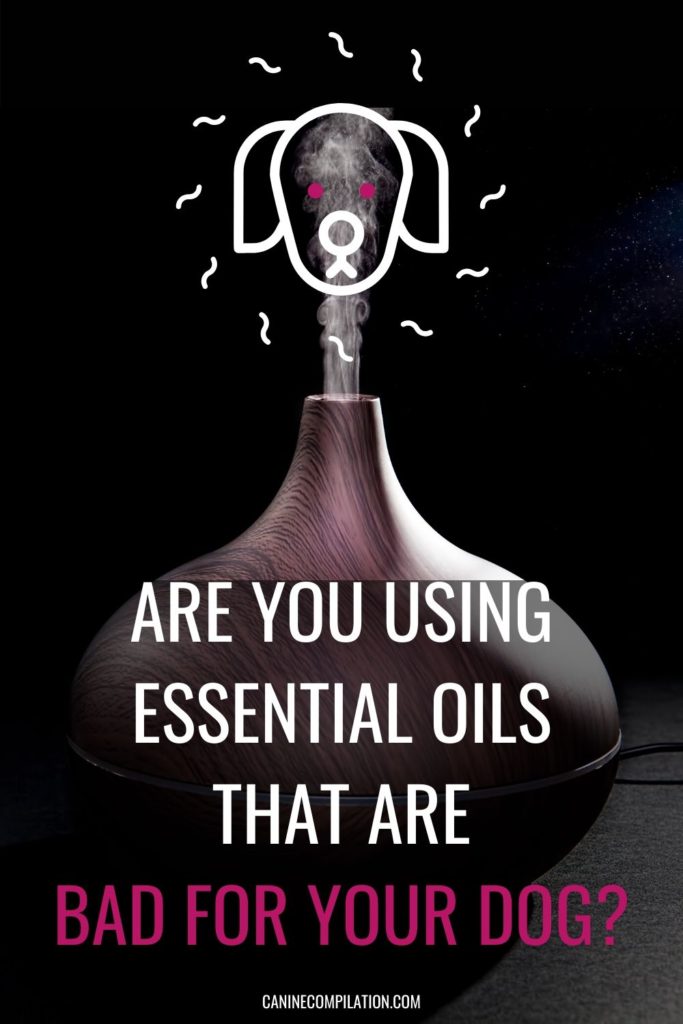 Further reading and resources:
SpOil Your Pet by Mia Frezzo DVM and Jan Jeremiah, MSc,
Holistic Aromatherapy for Pets by Kristen Leigh Bell
Animal Desk Reference, Essential Oils for Animals by Melissa Shelton DVM, Holistic Veterinarian