The Ultimate Guide To Snuffle Mats: How To Make Them
(Plus Washable And Travel Snuffle Mat Instructions!)
Dogs love to sniff around, and sniffing is a great form of enrichment and entertainment for them. Snuffle mats provide a really cheap and effective way to keep our dogs happily occupied by sniffing. You could buy a snuffle mat of course, but they are soooo easy to make. Plus, it's a great way to use up any scraps of fabric you might have lying around. So why not follow these 3 simple steps and make a snuffle mat for your dog!
This article may contain affiliate links. As an Associate with Amazon and other companies, we may earn a commission if you click and purchase with one of our links. There's no extra cost to you. Thanks!
WHAT ARE SNUFFLE MATS?
Snuffle mats are also CALLED enrichment mats, sniffle mats and sniff mats. The idea is that you hide food (usually small dog treats) in the fabric of the mat so that your dog has to use his nose to sniff out the goodies.
HOW MUCH FABRIC DO I NEED FOR A SNUFFLE MAT?
The amount of fabric you need depends on how long and how wide you cut the strips, and how big a mat you make. To make a standard mat which measures 40x40cm, I used various scraps of fleece that would have been about 1m x 1m in total.
Every dog is different though, so if your dog is very laid back, add fewer strips of fabric so the snuffle mat isn't too dense. If, on the other hand, your dog loves to sniff around and loves a challenge, add more strips to make it thicker and harder work. 
WHAT FABRIC WORKS BEST FOR SNUFFLE MATS?
Fleece fabric is a good choice because it doesn't fray. You can also use old t-shirts or blankets.
It's easy to make a snuffle mat, though it takes a few hours to knot fabric strips together. If you'd rather just buy one (they're not expensive), there's a great selection on Amazon and Chewy.
WHY ARE SNUFFLE MATS GOOD FOR DOGS?
Snuffle mats are a fabulous way to let your dog do something it needs to do – sniff. Snuffle mats and scent games indoors are perfect for rainy days, and for older dogs with reduced mobility and dogs who spend a lot of time on their own. Scent games are mentally stimulating for dogs, so whatever age yours is, she will love snuffling around in her snuffle mat.
Snuffle mats are a perfect element to include in enrichment Free Work – you can read how to do enrichment Free Work, how it can benefit your dog and how you can understand your dog better through Free Work, in this article.
Grisha Stewart's Dog Training And Behaviour School
DOG BEHAVIOUR PROBLEMS?
NEED TO UP YOUR DOG TRAINING?
Get access to hundreds of hours of video classes, eBooks, special events and live sessions, covering most aspects of dog training and behaviour:
puppy training
dog reactivity, aggression, resource guarding
dog confidence, fearful dogs
loose leash walking
SNUFFLE MATS AND OLDER DOGS
If you have a senior dog, especially one that has hind leg stiffness or soreness, or hip problems for example, consider whether to put the mat directly on the floor for your dog to eat from, or on a raised surface. If you put it on a slightly higher level, such as on a low box, or step, you will avoid putting pressure on your dog's neck and shoulders, which travels back along into his hips. However, if your pooch is like mine, and plays with the mat when he's lying down, there's no need to raise it up.
The snuffle mat is so easy to use anywhere, it allows you to encourage your dog's movement from one room to another, or from the house to the garden for example. Just pick it up and refill it somewhere else!
HOW TO MAKE A SNUFFLE MAT FOR YOUR DOG IN 3 STEPS
You can easily make a snuffle mat yourself. This one uses recycled materials you probably have in your house. All you need are 3 things:
any kind of mat with holes – like a sink mat, an outdoor mat, or even some mesh or grid. I've even used some flexible garden trellis
polar fleece, scraps of fabric or old blankets
sharp scissors
For a machine washable snuffle mat, go to the instructions below.
STEP 1: PREPARE THE BASE
Cut the base for the mat down to the required size – this step is unnecessary if you plan to use the whole of a rubber door or sink mat. Beware though, it might take you some time to make a larger mat.
I love to recycle, so rather than buy a new door or sink mat for this project, I used some plastic garden trellis on a roll that I had leftover. I cut it down to 40cm x 40cm.
STEP 2: CUT THE FABRIC STRIPS
Cut the fabric into strips – the size will depend on what type of mat you want. If the holes on your base are large, make the strips as wide as the holes. I cut mine roughly 2 cm wide and 20cm long. Don't worry at all about being precise. It's best to avoid using fabric that will fray at the edges – that's why fleece is so good for snuffle mats.
STEP 3: KNOT THE STRIPS
Push a strip of fabric down through a hole and back up again through the next hole. Tie it off with a double knot (a single knot would come undone over time). Continue along a row until you've tied off the first row of holes.
You might find it easier to simply thread the strips through the holes and knot them off once you have an entire row lined up.
Repeat this process in the next row until the whole mat is covered. You will have lots of tied-off ends sticking up. You might choose to tie 2 strips to each grid hole, if the holes are quite large. You can see in the photo above that I tied a first knot on the vertical and another knot on the horizontal, ie 2 knots in the same grid hole. This isn't necessary, but it means that my snuffle mat will be nice and full – the treats will stay well hidden and not fall through any gaps.
It might take a while to tie the entire mat. I did mine while watching 4 episodes of Dr. Who – a little bit of healthy habit stacking! (Read more about healthy habits here if you're interested).
Et Voila! You have now made your beloved fur-baby a wonderful, fun gift. Dig out the dog treats, hide some in the mat, and let your mutt sniff away to his heart's content.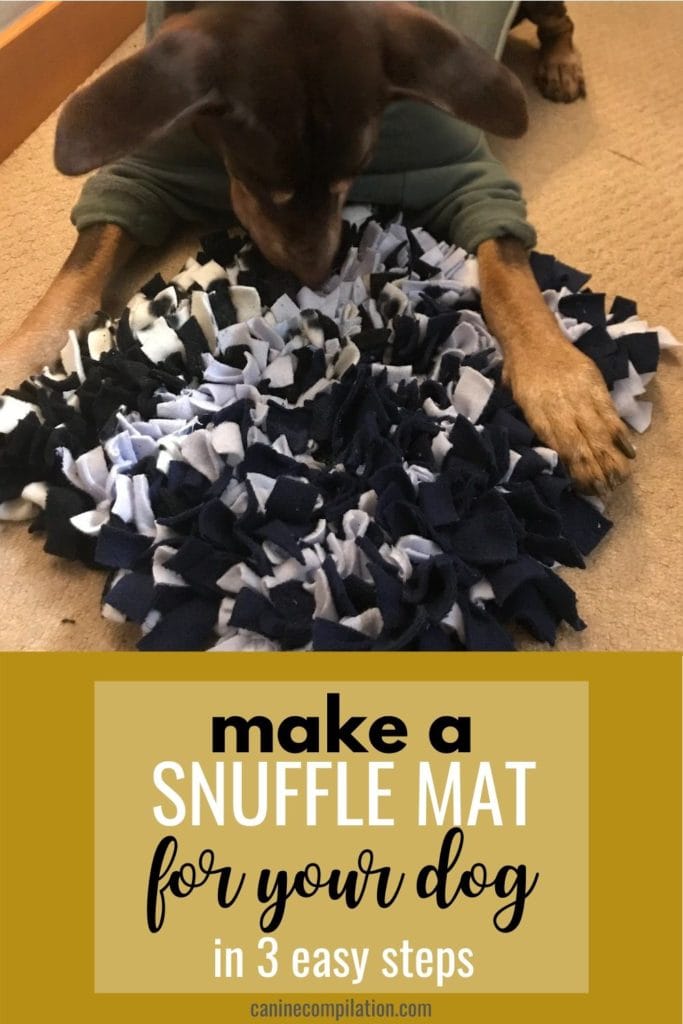 HOW TO USE A SNUFFLE MAT
If your dog has never used a snuffle mat before, don't leave him alone with it. You might have to help him 'learn' how to use it.
Sprinkle some treats into the folds of fabric in the mat.
Some dogs try to pick the mat up so you'll need to show him to leave it on the floor and just sniff it. If he gets too excited, only give it to him when he's calm, such as after a long walk.
Once he's found all the treats, take the mat away. If you leave it out, there's a risk your dog will destroy it, or worse, eat it. No one wants to spend the weekend at the vet because the dog ate his toys…
HOW TO MAKE A MACHINE WASHABLE SNUFFLE MAT
To make a DIY snuffle mat (washable), there are a couple of options:
1 Make a standard snuffle mat following the instructions above, but using a piece of non-slip rug backing or a sink mat for your base. These are widely available and very cheap. I recommend these, as they are machine washable:
So long as your chosen base can be washed in your machine, you can use it to make a DIY washable snuffle mat.
If whatever backing you buy has a small grid-size, you may find that each hole is not big enough to pass a strip of fabric through. With a little cajoling, it might stretch enough, enlarging the hole to let you push the fabric strip through. If not, try snipping one side of a grid hole to join it with the next hole, thereby making it twice as big as it was. As long as you don't cut though one continuous line of mesh, it should stay strong enough.
2 How to make a snuffle mat without rubber mat: Sew it! You don't need to be a seamstress to whip up a machine washable snuffle mat. It's so simple to sew a snuffle mat you can pull it together in the space of an evening. In fact, I find the sewn mats faster to make than the knotted version. Instead of a rubber mat base and knotted strips, use a fabric base and sewn strips. You could use the same fleece for the base as for the strips, or use a tougher fabric on the base.
You can get detailed instructions on how to make a sewn, machine-washable snuffle mat in our free, 5 page downloadable guide – just complete your details in the box below and you will be sent the guide straight away.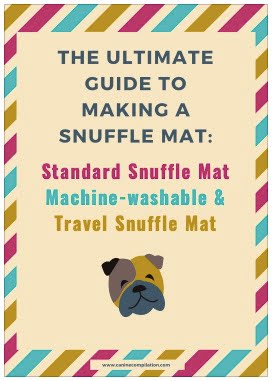 HOW TO MAKE A MACHINE WASHABLE, TRAVEL SNUFFLE MAT
Added Bonus! You can go one step further and make a portable, travel snuffle mat – this is a great item to be able to take ready loaded with treats with you on a walk, or to a place such as the vets where you know your dog may benefit from a relaxing, distracting activity.
You can see one of my dogs, Toxa, trying out a travel snuffle mat for the first time. The details for how to make the travel mat are included in the downloadable guide – just pop your details in the email subscription box above.
CAN YOU USE A SNUFFLE MAT FOR RAW FOOD?
The standard fleece snuffle mat is NOT at all suitable for wet, sticky food. However… being a raw feeder myself, I found a solution to this! Check out my fantastic silicone snuffle mat for raw food diets tutorial here.
WHAT DO YOU PUT IN A SNUFFLE MAT?
You can of course just buy treats to put in the snuffle mat. However, since you're reading about how to make the mat yourself, I figure you might also be interested in making your own treats.
DIY DOG TREATS FOR SNUFFLE MATS
Why not try these easy-to-make dog treat recipes that are perfect for snuffle mats – they are both oven baked so won't leave a dirty mess in the snuffle mat. And yes, they have been tested on animals, lots of times, to great enjoyment!
FAQ ABOUT DIY SNUFFLE MATS FOR DOGS
How do you make homemade snuffle mats?
Follow the 3 easy steps above – use a machine washable base (fabric, or a rubber or silicone mat), cut strips of fleece or blanket, knot the strips onto the base.
What material is used for snuffle mats?
Fleece fabric is commonly used for the upper part as it doesn't fray. A suitable machine washable base is needed, such as a rug backing mesh, or a silicone or rubber bath or sink mat.
What's the purpose of a snuffle mat?
A snuffle mat allows treats or bits of food to be hidden in the folds of the fabric. Your dog then sniffs out the pieces of food. It is an enriching activity for dogs
How do you make a snuffle mat without a rubber base?
You can use a piece of fabric for the base: it could be the same fabric as you use for the strips, or something different. See the steps above for how to make a sewn snuffle mat with just fabric
How do snuffle mats work?
A snuffle mat is something you hide treats in so that your dog has to sniff to find them. The treats get hidden in the folds of the fabric that the mat is made from. This makes it a mentally stimulating challenge for your dog.
Are snuffle mats good?
Dogs love to sniff: what's more, sniffing is good for them and helps relive tension. By putting food or treats in a snuffle mat, your dog gets to do what he does best – sniff – and is engages and stimulated at the same time. Snuffle mats can also slow down fast eaters.
THE NEXT STEP…
A classic snuffle mat – hide dog treats in the folds of the fabric to give your dog endless fun! Stimulate your dog's natural sniffing instincts by mimicking the hunt for food. Made from non-toxic and safe materials.
CONCLUSION
It's really simple to make a snuffle mat DIY and washable version. If you are happy to sew, you can make a fantastic little hand-held snuffle mat that is perfect for on-the-road events like visits to the vets.