This healthy dog treats recipe is not only super easy to make, but also super healthy.

If you have ever worried about the rubbish that goes into processed food for humans, imagine the crap they put into dog treats! These fruity oat balls really are super easy to make. There are 3 basic ingredients: fruit, oats and flour.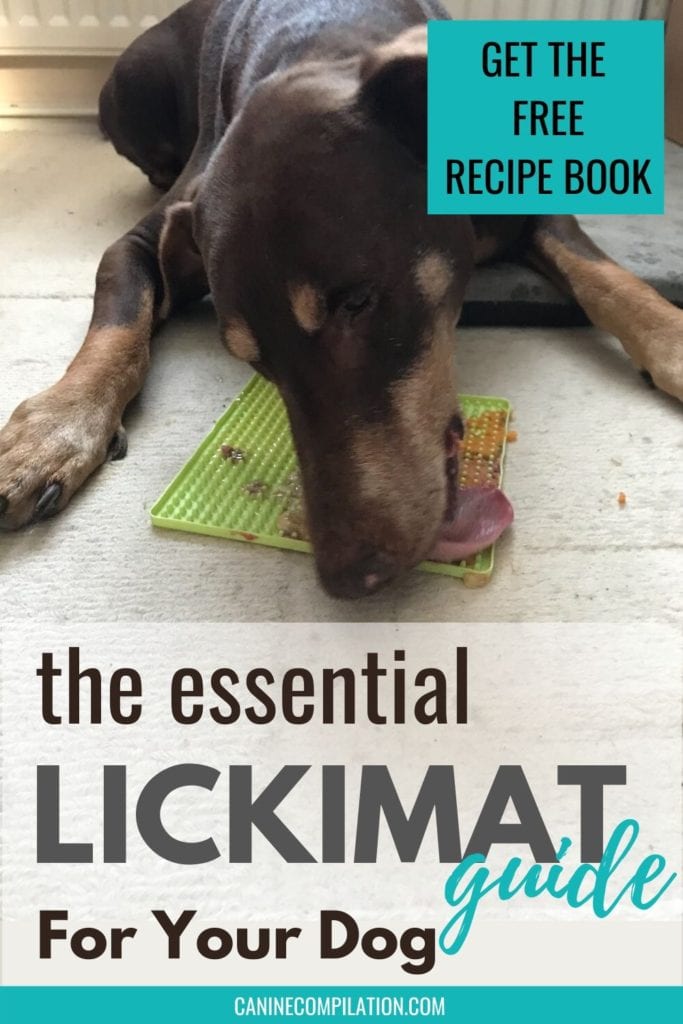 The oats will provide your pooch with:
vitamin B and linoleic acid (omega 6) to help keep their skin & coat healthy
a source of energy
various nutrients
a general nerve tonic
a good source of soluble fibre
a good source of protein
For the fruit, I use whatever I have in at the time: it could be all one type, eg all apple. I used 3 different types to use up what was left in the fridge. If you would like to understand some of the benefits of feeding fruit to your fur baby , this article is very explanatory.
I have been cooking healthy dog treats for my pooches for years. They are quite fussy and won't eat everything, but this one is a firm favourite, at least it is with my two! Let me know what your pup thinks of them – leave a comment below.
Once cooked, they will keep for a week in a sealed container in the fridge.
If you make this healthy dog treats recipe, let me know how it turned out. Better still, send me a picture of your pup enjoying them! If you like cooking treats for your fur-baby, try some of my other recipes for dogs.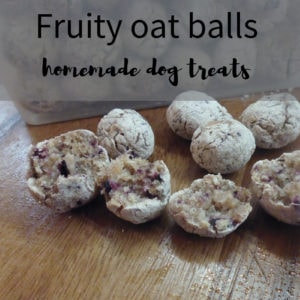 Fruity Oat Balls
This is a super easy, 3 ingredient recipe to make treats for your 'fur' legged friend. If like me you don't always eat your bananas before they go soft, this is the perfect recipe to use them up. 
Ingredients
100

gr

banana

40

gr

blueberries

35

gr

apple sauce

100

gr

oats

50

gr

plain flour

use gluten free if necessary
Instructions
Preheat the oven to 170deg C

Blend the fruit in a blender or food processor until it is puree consistency

In a large bowl, mix the fruit puree into the oats

Add half the flour to the mix. Depending on how fine the oats are, you might not need to add all the flour. Very fine oatmeal will soak up more of the puree and so less flour will be needed. I use medium size oat flakes, so I needed to use all the flour. If your pooch has a gluten allergy, just use gluten free flour here. You want to end up with a dough-like consistency.

Turn the dough out onto a floured surface and break it up into little pieces, rolling them between your hands to make small balls approx. 2ch in diameter. If you find the dough sticks to your hands, roll the pieces in flour to coat them. 

Place all the balls on a baking tray. You shouldn't need to grease it first. Bake in the oven at 170deg C for 25-30 minutes, giving the tray a shake halfway though the cooking time.

Once cooked and cooled, try them out on your test subjects. My 2 beasts LOVED them!
Notes
The fruit in this recipe can be swapped for other fruit: if you don't have blueberries, you could do all banana for instance.
I used up the remains of a jar of apple sauce. If I hadn't had any, I could have added chopped apple.