Planning To Have Your Dog At Your Wedding? Read This Letter From A Dog To His Parents To Get All The Essential Tips You Need For A Fur-Friendly Wedding!
Planning a wedding can be stressful enough without the added pressure of trying to figure out how to include your four-legged friend.
We're here to help you plan the perfect dog-friendly wedding that will make your guests and fur babies happy! You want your dog by your side on your big day. There are some things to consider when making them part of the ceremony. Whether you want to include your dog in your ceremony or just need some tips on how to keep them entertained during the reception, we've got you covered.
It doesn't matter if they're just there as a guest or are going to be the best man, bridesmaid or ring bearer – we've got all the information you'll need in order to plan a pet friendly wedding with ease.
This article may contain affiliate links. As an Associate with Amazon and other companies, we may earn commissions from qualifying purchases. Don't worry, there's no extra cost to you!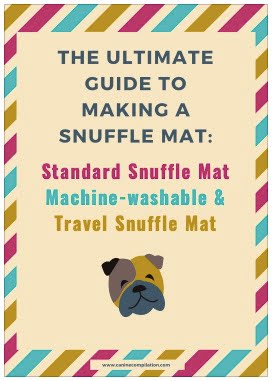 HOW TO PLAN A DOG-FRIENDLY WEDDING: A DOG'S REQUESTS
Here's a letter from my friend's dog Max: he sent it to her when she was preparing for her wedding. Max tells it pretty well…
Hey wonderful pet parents, it's me, your loving fur-baby! I'm so excited you're getting married! Of course I want to be part of your big day! I love you so much that I'll do anything for you. But before we get going on the planning process, there are a few things you should know about what I'm going to need during this important event.
So can we plan this wedding together?
WEDDING DAY DOG CARER
First things first, there is NO ONE better than you for looking after me. But… You're going to be pretty busy on the day so I think it's best if you assigned someone to help you look after me. This person has to be totally dedicated to me and my needs on the big day.
I also want them to be available for some time before the wedding starts, so I don't feel left out.
Could it be Auntie Sue? She knows me really well and I feel safe with her. She's also a better choice than Uncle Alan, because although he's great fun and I love playing with him, he gets a bit forgetful after a couple of glasses of wine (not to mention the falling over).
You might want to give Auntie Sue some advice on how to handle any potential mishaps too.
A DOG-FRIENDLY WEDDING VENUE
So where are we holding this event? It's important to know that not all places are dog friendly. Be sure to find out if they provide water bowls for dogs, or will we need to take our own?
What's the space like inside the venue? Will it have nice, soft carpets for my paws or those awful, super-shiny ceramic tiles that I slide all over the place on?
And outside, will there be a nearby, safe grassy spot for when I need to take a pee-pee break? Please make sure there are no poisonous plants in the garden, or make sure that Auntie Sue knows which ones they are and stops me chowing down on them!
I would love to be able to go to the venue with you before the big day so I can get to know it and scout it out. That way I'll be calmer on the wedding day as it won't be a totally new place.
PRE-WEDDING REHEARSAL
Let's identify any potential hiccups ahead of the big day so we can be ready for them.
If I'm not the only canine guest, let's make sure we invite the others to the wedding rehearsal too. You know I'm a friendly guy, but I'd like to know everyone who's coming to my parents' wedding and check them out!
I know you don't want to make a fuss out of this, but I need to know my role during the actual ceremony. Can we work with your officiant to come up with some kind of signal for when it's time?
RING BEARING DUTIES
I'm honoured you've chosen me to be the best man and ring-bearer. But please, can we talk about what I should do during this critical moment?
It's important that I don't get distracted and take off after a squirrel or cat! You know how easily my attention span wanders. And if there are other dogs around, it'll be sooooo hard for me to focus, especially if there's a nice, foxy lady on the guest list.
Will I have the ring tied to my collar? What if it gets wet if I need to get a drink before the ceremony? What if I wet my fur and the ring falls off? How will that look to your guests?
We'll all be on all-fours, looking in the grass for the ring. It sounds like fun to me, but I'm not sure you'll want that on your wedding day. You might get grass stains on your beautiful dress and I'm pretty sure you're not supposed to get the dress dirty til AFTER the wedding…
A DESIGNATED DOG-ONLY AREA
I can't stress this enough. If it all gets too much for me, or if I'm tired, or just want a quick nap, I need a safe place that is JUST FOR ME: no kids coming into my safe place, no friendly adults who want to pat my head.
Weddings can be overwhelming and I want to be super well behaved, so please make sure you take my crate or dog bed and identify a little protected area to put it where no one will bother me.
As soon as I've rested I'll be right back out there, enjoying the fun with you!
THE WEATHER
Yes, we do need to think about the weather, and not just because it will affect your lovely wedding photos.
If it's hot, I'll need a cool place to rest and get away from it all, not to mention plenty of fresh, cold water to drink. Maybe we can take my cooling mats and have them in my DOG-ONLY quiet space?
Plant-Based and Compostable Wipes for Dogs
These unscented, plant-based wipes are hypoallergenic and are suitable for your dog's face, body, paws, or bum!
Cooling Mat
Self cooling gel pad
If it rains, you'll need to provide Auntie Sue with some little towels to wipe my paws after I've been outside for a toilet break – you don't want me jumping up to greet the guests and leaving muddy paw prints on their clothes!
Maybe we should also take my raincoat in case of bad weather?
MY COSTUME
OK, I get it, I have to look smart, but my fur is going to get really hot in that suit with all those flowers on it. I know you're going to want me to be the most stylish dog at your wedding, so I'll need a way for my fur and skin to breathe.
I'm also not sure how much walking around there will be in that suit. It might get really tiring!
Can we maybe let me have a change of clothes – perhaps a sleek, oversized bow-tie for most of the day and only the full costume for the ring-bearing bit?
PRACTICAL 3-IN-1 TUXEDO SUIT SET
This suit set is comprised of Tuxedo Jacket, Detachable Bandana, Collar and Bow Tie. They can be used together or separately
Made of soft polyester and cotton fabric
Hook & Loop straps around the neck and chest ensure adjustability and comfortable fit, as well as easy removal
All sized available, from small to XXL
D-shaped ring on the back of the Vest is for leash attachment
SEATING ARRANGEMENTS
Where will I stand during the ceremony? Will I be able to see you? You know I don't like it if I don't have you in my sights 24/7!
THE RECEPTION
And can we please talk about what happens after the wedding ceremony bit is over, during the reception?
How about we do a 'Meet and Greet' as everyone comes in? Once they've hugged you or shaken hands, they can say hello to me too. I don't always feel like greeting people, so I might change my mind on the day – please don't be disappointed if I decide I'd rather slink off to my bed for a bit.
Can I stand next to you during all those tedious speeches? They'll go so much faster if I'm there next to you both to get some tummy tickles or ear scratches.
And what about the cake? I don't want to be left out, so please let me stand next to you as we cut it. I promise not to embarrass you by licking everybody's piece of cake!
DOG-SAFE FOOD
Besides, you're always telling me that lots of hooman food is poisonous for me, so what do you have planned for me?
You know I can't resist a sausage, even though they're toxic for me with all those juicy onion bits in them. If a hooman offers me a bit of their food, how can I resist? Maybe you need to let everyone know that I'm only allowed MY SPECIAL FOOD?
You'll have people who will try to sneak me food off their plate (with not-so-great results). Perhaps we can put a sign on each table, with a little bowl of things that I am allowed to eat. Or maybe we just tell everyone "DON'T FEED THE DOG".
Of course, we could just make ALL the party food dog-safe, but that doesn't sound very exciting for you. I know you like the idea of a big, sugary cake, but that would play havoc with my tummy.
Remember what happened last time I had all that rich and fattening party food and I got pancreatitis? That really wasn't fun.
How about you get your towering masterpiece of a cake, and I get dog-safe cupcakes? Mine could even have little bones on them so everyone knows they're just for me.
THE PARTY
I can also help make a grand entrance for your first dance and make sure no one steals our spotlight! We'll need some creative choreography but that's not such an issue if I'm in charge. You might have to rein me in a bit!
Once the party is in full swing, will anyone get upset if I jump around a bit too?
You know how much trouble I can get into with so many people around! My recall skills are sometimes a bit patchy – you might never see me again if you don't assign me a dedicated carer for the day.
BASIC, YOU KNOW, NEEDS…
Toilet time. Make sure my wedding day carer has a good supply of poop bags and that she knows my signal for needing to go!
Drink. Please don't forget about water for me. I wouldn't mind some of those delicious ice pops for pups that you sometimes make me either! You could prepare some frozen treats in dog bowls before the big day and we can leave them around the venue for me to search out.
Heat. Can I have some shade? It's hard to find a shady spot in the middle of summer. I'm quite happy to take shelter under a table but the last time I did that Grandma nearly swallowed her false teeth when I suddenly licked her feet.
Toys. Providing me with some toys so I don't get bored is a great idea. Just be careful to explain to your little nephew that he can't try to take my special toy off me, you know I don't like to share certain things. Better still, if there's anything I'm likely to guard, let's just leave it at home. We don't want anyone's back getting up on such an important day.
THE GUESTS
CANINE GUESTS
I want my well-behaved dog friends to be able to join me. Can I invite a friend? Or will we all get too excited and cause a distraction? I know this is an important day for you both so I don't want to ruin it.
HOOMAN GUESTS
Let's talk about the hooman guests. Can you make sure that they are all okay with dogs being there – if they're not, then it won't work out well for anyone involved! I don't want to embarrass you, so how will we handle it if I get excited when meeting new people?
We still have time for you to teach me the "Shhhh!" command so I know when to stop barking if I get too excited. We could also work on our communication so I know when I'm not supposed to jump up on people…
Grisha Stewart's Dog Training And Behaviour School
DOG BEHAVIOUR PROBLEMS?
NEED TO UP YOUR DOG TRAINING?
Get access to hundreds of hours of video classes, eBooks, special events and live sessions, covering most aspects of dog training and behaviour:
puppy training
dog reactivity, aggression, resource guarding
dog confidence, fearful dogs
loose leash walking
It might seem a bit extreme, but let's create a list of all the people you want to invite, and then cross off anyone who doesn't like dogs! No? Well at least, let's sit them near the back of the room, far away from me!
Either way, I think it's a good idea to warn your guests that I'll be there. There might be other people like Uncle Alan, who is allergic to dogs. I know he loves me so he always takes an anti-histamine tablet when he comes to visit.
PHOTOGRAPHS
I'd really like to meet the photographer before the wedding and see if she likes me. Does she know I don't like the camera flash very much? Did you tell her I can do cool tricks that will look great in the pictures?
Speaking of photos, are you putting my photo on your invitations? Or on the wedding favour bags? You know I'll make everything look gorgeous…!
DECORATIONS
I'm a dog, so I don't always know what's good and bad for me. That means I might see some beautiful flowers hanging on the back of the chairs and think they're for me. No biggy, so long as they're not toxic.
And what about those bunting flag thingies, they're great fun to jump up and grab hold of. Put them high up out of my way! Table cloths are fair game though, I love the way they waft around with the breeze.
You know me better than anyone, and you love me with all your heart, so I'm sure you'll think of ways to protect me from your decorations, and the decorations from me!
I'm so excited about this wedding!
All my love, Max xx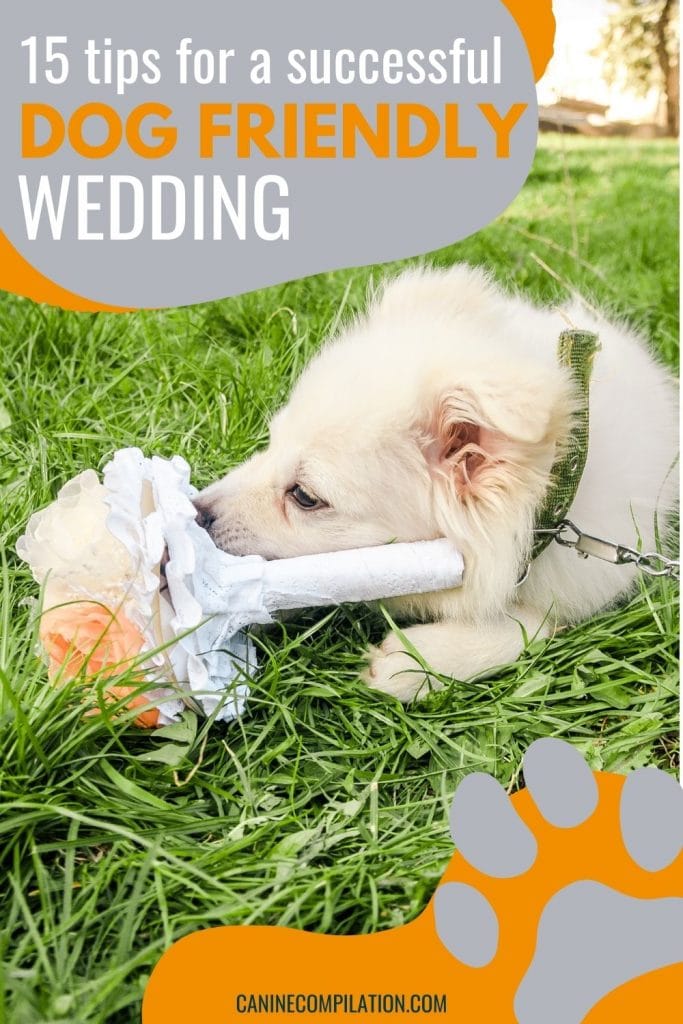 CONCLUSION
Planning is the key to a successful event, no matter what it may be. The same goes for your pup! It's important that you plan ahead in order to ensure your wedding day runs smoothly and all of your guests, including your fur baby, have an enjoyable time there. Your dog may have a few requirements that need to be met when planning out this special occasion! We hope these tips helped and will ensure you'll have nothing but happy faces on your big day.