Dogs Love Big Juicy Marrow Bones: Understand The Pros And Cons
There are so many differing opinions in the dog world about the safety of giving a dog marrowbone – or any bone for that matter. We all agree on one thing: NEVER give your dog cooked bone. Raw bones though, are another thing altogether.
This article may contain affiliate links. As an Associate with Amazon and other companies, we may earn commissions from qualifying purchases. Don't worry, there's no extra cost to you!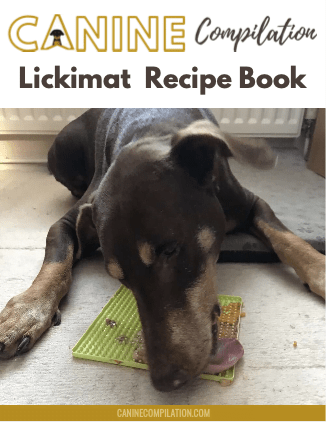 WHAT KIND OF BONES ARE SAFE FOR DOGS?
Ask one vet or pet nutritionist and they will say that raw bones are perfectly safe if you follow some simple guidelines. Others, however, still believe that dogs shouldn't have any bones at all.
Let's take a look at the arguments, for and against. Spoiler alert: I DO give my dogs certain raw bones, including marrow bone.
WHY SHOULD I GIVE MY DOG BONE MARROW?
In favour of giving dogs raw bones, is the argument that dogs in the wild will eat an entire animal. This results in a balanced diet and the process of gnawing on bones keeps the teeth clean too.
Bones contain many of the essential nutrients that a dog needs, such as phosphorous and calcium.
Marrow bones are higher in fat and calories than bones with no bone marrow. Bone marrow contains decent amounts of protein and vitamin B12, as well as several other nutrients that are thought to promote good skin health and reduce joint pain.
POTENTIAL PROBLEMS GIVING A DOG BONE MARROW
The arguments against bone marrow for dogs – against any bones for dogs in fact – are based on the risk that your dog might harm himself when eating a bone.
Larger, hard bones such as weight-bearing bones are too hard for dogs to eat, and may break or fracture their teeth. For this reason, even advocates of giving dogs raw bones warn you not to feed heavy beef leg bones, or hip bones, for example.
Another argument against marrowbone for dogs is that small bits of bone could splinter off and potentially cause internal damage to your dog's mouth, throat or intestines.
Get the right size bone for your dog. Bones that are too small may present a choking hazard to a dog, whereas one that is too big might be too much for your dog's teeth and result in a fracture or break.
Finally, if your dog is on a low calorie diet, or has kidney problems, steer clear of marrowbone.
HOW TO PREPARE MARROW BONES FOR DOGS
If you choose to give your dog marrow bones, make sure that you can supervise him. As soon as he has licked out the bone marrow from the middle of the bone, throw the bone away. Don't leave him to gnaw away on it.
DO DOG MARROW BONES GO BAD?
Any fresh food can go bad, especially in a warm environment. If your dog hasn't finished licking out the bone marrow within one day of giving him the bone, throw it away. Bones that are left to dry out present a great risk of splintering and having flies lay their eggs there.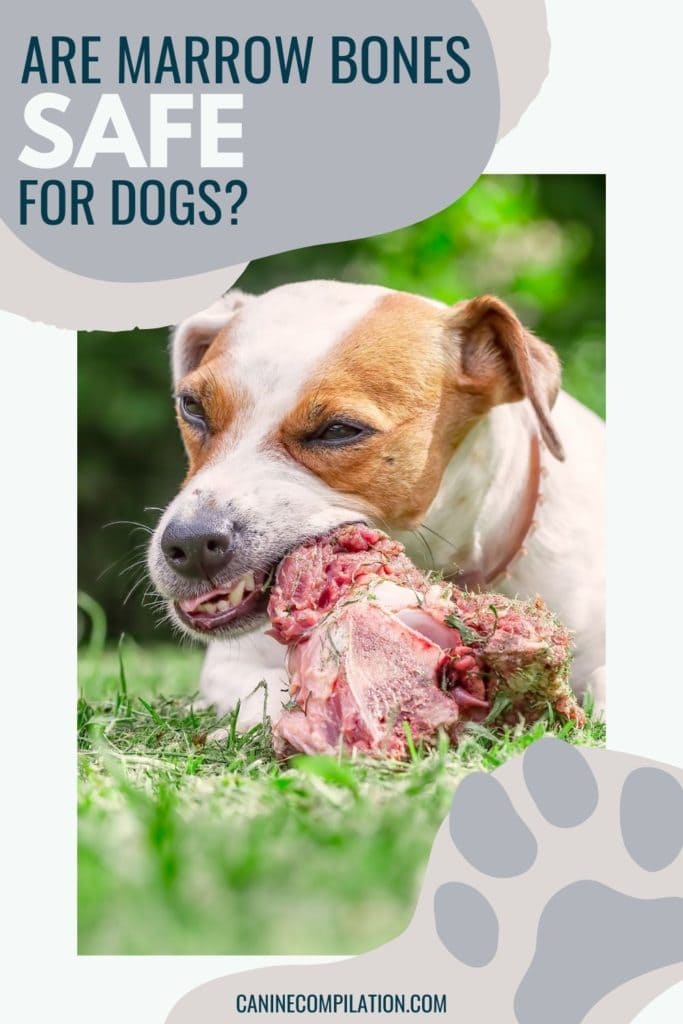 FROZEN MARROW BONES FOR DOGS
Marrow bones can be frozen – just follow the same safety guidelines as for fresh bones.
WHERE TO BUY MARROW BONES FOR DOGS
Here in the UK, independent butchers tend to have marrow bones and they often give them away for free. Avoid the larger marrow bones which might be too hard for your dog's teeth.
ALTERNATIVES TO MARROW BONES
I know that my dogs absolutely love to get fresh bones and would choose licking out bone marrow over other activities any day of the week. However, I can't supervise them with a bone every day, so I offer them other things they can chew. If it's the chewing that your dog likes to do, consider what else you can give him.
My favourite option for my dogs is a teeth cleaning toy that has a reservoir space in it to put something yummy, like homemade pate for dogs or squeezy cheese. I fill the reservoir and they chew away for ages on this toy. It's one of the best toys I've ever bought. The chewing action helps keep their teeth clean, as the toy has little bristles that scrape the teeth.
Food-based alternatives to marrow bones for dogs include antlers, rabbit ears and dried, crunchy fish skin. My dogs love all of these 'treats', and thankfully, all three of these treats help keep my dogs' teeth clean.
HOW DO YOU COOK MARROW BONES FOR DOGS?
You don't, unless you are making a bone broth. Making bone broth is the only way to give your dog the benefits of a cooked bone but you DO NOT feed your dog the actual bone – just the liquid that it has been cooked in.
HELPFUL ADVICE IF YOU GIVE YOUR DOG MARROW BONES
Raw bones are messy things. Unless you want to be scrubbing blood and saliva stains from your carpets or furniture, be sure to give your dog her bone somewhere you can clean up easily afterwards, for example, on a tiled or lino floor, or even better, outside in the garden.
EAT BONES OUTSIDE
You might be worried that the bone will get dirt on it outside, and you're right. Surprisingly, eating the bone in the garden where it will come into contact with elements in the soil is good for your dog!
DO NOT LEAVE YOUR DOG UNATTENDED WHEN EATING BONES
No matter what your dog is eating – whether it be a small treat or a full meal in their bowl – it is never a good idea to leave a dog unattended when it is eating. Even dogs that don't wolf down their food can suffer choking hazards, as can we.
RESOURCE GUARDING
I have 2 dogs and I have to be careful when I give them bones. 10% of their daily diet is bones, but the bone is ground into a mince as part of their food. They only get an actual bone once a month or so, and when they do, it's like Christmas has arrived early.
I have to make sure that my older dog doesn't steal my girl's bone too. Thankfully, she always gives in to him and they've never fought, but if you have more than one dog, you might need to careful about where you leave them with their bones. If you can separate them, this would be safer.
THROW THE BONES AWAY AFTER 1 DAY
Raw bones are not meant to be left around forever. As they age, they dry out, and this can present serious health problems. Just as with cooked bones, dry bones are more likely to splinter, potentially causing internal damage when eaten. Let your dog enjoy his bone the day you give it to him, then toss it in the bin.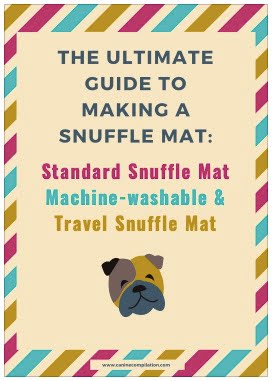 FAQ ABOUT MARROW BONES AND DOGS
Can dogs eat marrow bones?
Yes they can, but there are certain risks which you should take into account so that your dog can eat the bone safely.
Can dogs eat marrow bones raw?
Dogs should only eat marrow bones raw: once a bone is cooked, it is very dangerous for a dog to eat it.
How often can dogs eat marrowbones?
It's probably better to consider giving your dog marrow bone as an occasional treat rather than a daily dietary option. Marrow bone is high in calories and can result in upset tummies when too much is eaten.
Can dogs eat marrowbones cooked / Should marrow bones be cooked for dogs?
Absolutely not.
Are marrow bones bad for dogs?
Marrow bones offer some excellent nutrients for dogs. They can only be considered 'bad' in as much as there are certain risks which you should take into account so that your dog can eat the bone safely.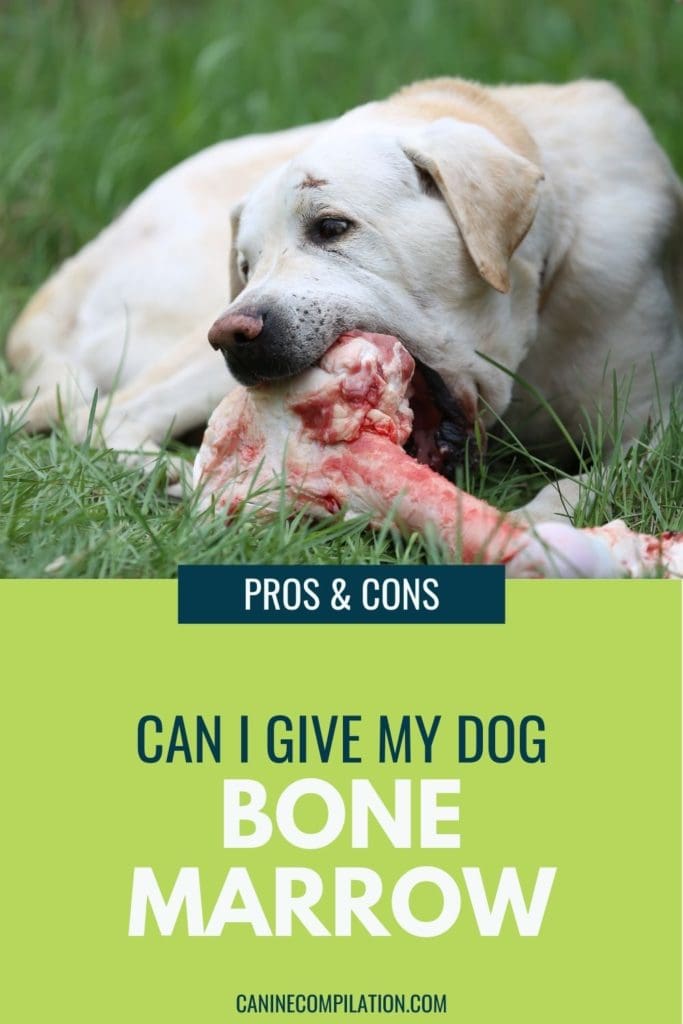 References