Are You About To Go Back To Work? Worried How It Will Affect Your Dog? Get 9 Ideas For Pet Products And Gadgets To Help You (And Your Dog) With Separation
Now that lockdown restrictions are easing up, many people are returning to their places of work. During the months when we were all working from home, our dogs have been blissfully happy with 24/7 company and care. You might be concerned about how your dog will manage, being left at home alone, when you go back to work.
This article may contain affiliate links. As an Associate with Amazon and other companies, we may earn commissions from qualifying purchases. Don't worry, there's no extra cost to you!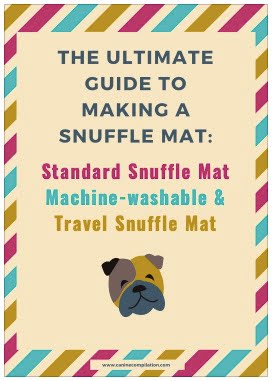 Whether you got your dog as a puppy during the pandemic, or whether you had your dog pre-COVID, the last few months of lockdown mean that your pup is most likely not used to being left on his own much at all, let alone for several hours at a time.
Consequently, the end of lockdown restrictions also marks the end of a happy period for many dogs who will now have to face long hours on their own at home. Some will manage this OK, but sadly others won't. Some dogs will be very bored, which could lead to destruction and restlessness, and others might really suffer separation anxiety.
In an ideal world, to try to avoid your dog suffering as a result of being left alone, you might consider doggy daycare, getting in a dog walker, or working with a dog behaviourist to assist your dog.
You might also be wondering what gadgets you can buy that will help your dog and in turn, let you know that all is OK back at home.
From things to calm or entertain, to things that monitor, here's a round up of the best bits of kit to keep an eye on and look after your dog while you're out at work.
ACTIVITY TRACKERS
The Tractive GPS is the best selling activity tracker, and with reason. It has an impressive array of functions.
For the stay-at-home dog, you might use an activity tracker to see whether your dog is at rest or running zoomies around the house all day. Perhaps your dog has access to your garden during the day? If so, you can use the virtual fence feature so that you know if your dog is in the house or outside.
It can be used throughout the USA, Canada and in 150 other countries. All the features can be managed via the free Tractive GPS app for iOS and Android, or in any browser.
MOST POPULAR ACTIVITY TRACKER
LIVE TRACKING & LOCATION HISTORY – Follow your furry friend's every step in real-time on your phone. See where your dog has been and what they've been up to.
VIRTUAL FENCE – Mark safe spaces, like your garden, and know the moment your dog leaves one – and when they come back safely.
ALL-DAY ACTIVITY MONITORING – Track active time, rest and calories burned. Set fitness goals. Keep your buddy in great shape with Tractive GPS for dogs.
SMALL, LIGHTWEIGHT & 100% WATERPROOF – Running through the forest, rolling in the mud or a dip in the lake are no problem for Tractive.
SUBSCRIPTION PLAN NEEDED –
PET CAMERAS
Installing cameras at home is a great idea, for lots of reasons.
HOME SECURITY CAMERAS
With all the dog thefts these days, I installed cameras around my home for peace of mind. I installed Blink cameras as they were super easy to install and set up, and they include audio. I can check them on my phone if I'm out of the house, and I can add to the system with more cameras at a later date if I wish.
The Blink system allows you to include interior cameras, but even better than having a camera, how about a camera that has the ability to dispense treats?
CAMERAS WITH TREAT DISPENSER
That's exactly what the Furbo does. Be careful you don't dish out treats for naughty behaviour though!
FURBO CAMERA AND TREAT DISPENSER
Livestream video and night vision lets you check on your pet on your phone, day or night
Easy set up
2 way audio
Barking alert
Toss treats via the app
CALMING BEDS
There are so many 'calming beds' on the market right now. Making sure that your dog has a comfy, safe and secure place to rest while you're out will encourage her to sleep and relax in her bed.
If you're in the UK, I highly recommend the Topology range of dog beds. The bed base has a "premium memory foam mattress that moulds around your dog's body and gives unparalleled support for a deep, dreamy sleep". The hard-wearing fabric around the mattress can be removed and washed.
There are 5 different toppers to choose from, so there's sure to be something suitable for your dog. The toppers are detachable and machine washable.
You can also choose from a range of stylish feet, allowing you to raise the bed. This avoids drafts so your pup is cosier and more comfortable.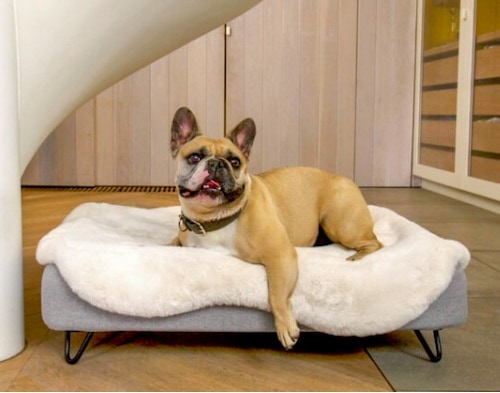 If you're not fortunate enough to get a Topology bed for your pooch, these calming beds are widely available:
BEST CIRCULAR CALMING DOG BED
This round dog bed gets top ratings from other pet parents and offers all the main features of an excellent calming dog bed
Super comfy
Reduces anxiety
Encourages deeper sleep
4cm vegan fur cover
Removable, machine washable cover
Superior body support
BEST RECTANGULAR CALMING DOG BED
A rectangular calming dog bed offers many of the same features as a round bed, though they don't tend to be covered with fake fur
Super comfy
Reduces anxiety
Encourages deeper sleep
Removable, machine washable cover
Superior body support on memory foam base
PUZZLES AND ENRICHMENT TOYS
Puzzles for dogs are fantastic things to offer your dog, but NOT when you leave them home alone, unsupervised.
I've heard countless stories of dogs that are determined chewers and rip their toys apart. The last thing you want is to rush your beloved dog to the vet as soon as you get home one night, because he ate parts of a toy. I love these enrichment activities for my dogs, but I don't leave them unsupervised.
Many pet parents swear by filled kongs to keep their dogs entertained when they're left alone. I give my girl kongs too, and she loves them. However, although you can get a super tough kong for more aggressive chewers, I would still exercise caution.
There have been rare cases reported of accidents with kongs: as the dog licks out the kong, a vacuum can be formed if the air hole in the tip is blocked. Consequently the tongue gets stuck in the toy. Whilst there have been less than a handful of these cases, and thousands of pets enjoy kongs every day (including mine), I would NEVER leave my girl with her kong if I'm not there.
If your dog likes to play with toys, but doesn't destroy everything in sight, a tough, rugged toy could be one solution.
When it comes to toys, think of your dog as if she were a small toddler: would you leave your toddler (dog) alone with a particular toy? Could she swallow part of it, choke on it, or get any body part stuck in it?
AUTOMATIC FEEDERS
An alternative to leaving your dog with a filled kong is an automatic feeder. You can program an automatic feeder to come on while you are out.
Most automatic pet feeders are designed to handle dry food such as kibble. However, if you get a revolving auto feeder like this one, you can also put moist food in it, such as raw food or canned dog food.
MOST PRACTICAL AUTOMATIC PET FEEDER
Suitable for wet or dry food
5 compartments for meals or treats
Timer for 4 meals
Food tray is dishwasher safe
Each compartment holds up to 1 cup of food
Recess beneath food bowl for ice pack, to keep food cool
However, if having flexibility over exactly when to feed your dog is important, a smart pet feeder that you can control from an app on your phone might be just the ticket. The downside of this is that it only handles dry food. However, you can make up hundreds of tiny training treats, that are suitable for feeders, using this recipe.
SMART PET FEEDER
Suitable for dry food
Programmable timer for planned meal times, or use the app for manual food release
Holds up to 4L of food
Triangular shape fits neatly into a corner
Easy to clean food bowl
ANTI-CHEW DISTRACTIONS
Does your dog treat your sofa as if it were just an oversized chew toy?
Whilst there are many anti-chew sprays on the market, I question just how useful they are. Do you really want to go around the house spraying everything, just in case your dog chews it? Also, from the comments some pet parents have made, it's clear that the sprays are not super effective against determined chewers.
Clearly, it would be better to provide your dog with something that she wants to chew MORE than your furniture or shoes.
Some chews are very long lasting and can keep dogs occupied and entertained for some time. These include antlers and yak bars. With both these items, once there is very little left of them, remove them so your dog doesn't swallow the last little bit whole. If you don't want to buy yak bars, you could have a go at making you own – follow this step-by-step tutorial.
DOG TREATS
A great, versatile treat, especially for warmer months, are frozen treats. You can prepare a large frozen block treat to leave in your dog's bowl when you go out. Your dog will be kept busy for a while licking at the treat.
The beauty of frozen treats is that you can use just about anything that's dog-safe as ingredients, and they can be really simple and quick to prepare. Here are some frozen treat ideas – just make them up in molds or even tupperwares. Once frozen, they can be popped out and dropped into your dog's bowl.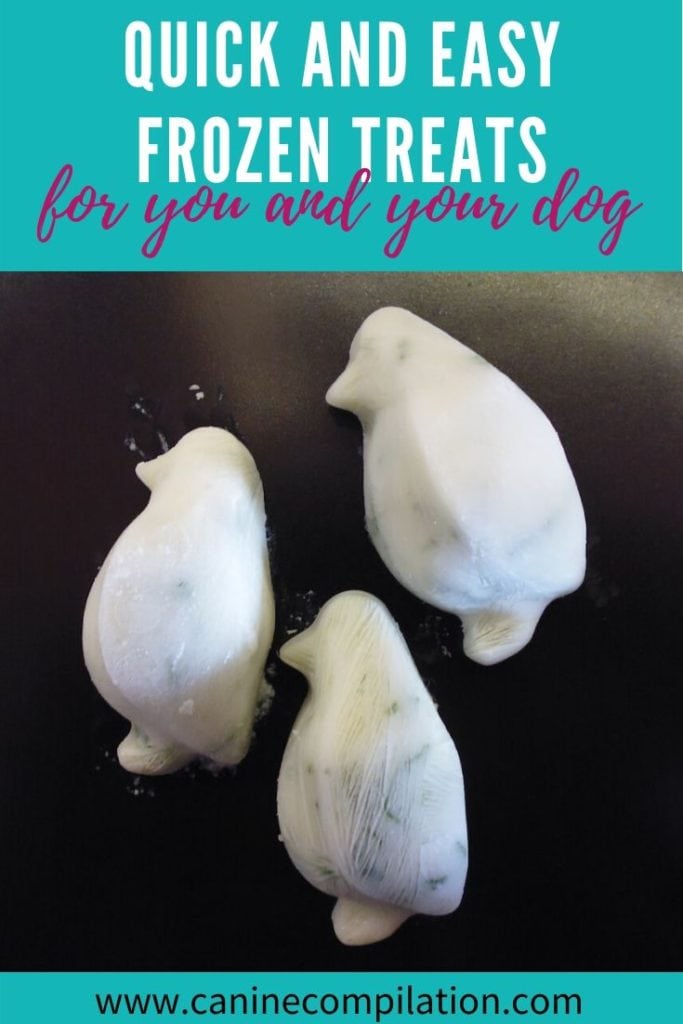 MUSIC AND TV
Some dogs love to watch TV. If yours does, consider leaving her with the TV on while you're out. There are even special TV programs made just for dogs!
Take a look at Relax My Dog, for instance, which provides "virtual walks"for dogs along with a calming soundtrack.
DogTV features dogs doing different things, accompanied by soothing music.
I am one of the few people in the world who doesn't have a TV, and even if I did, my girl doesn't watch TV either! However, she does respond well to calming music and I often turn to calming music for her fear of fireworks. I put Spotify's iCalmDog playlist on for her and she snuggles up.
She used to be gripped by fear, but we've worked hard at helping her with this and she is now much more relaxed – see how you can help a dog with fear of fireworks in this article.
ADAPTIL
Many pet parents turn to Adaptil for help in the run up to celebrations that usually involve fireworks. Adaptil products help to calm dogs, and so could be useful as part of your approach to keeping your dog less stressed when she's on her own.
TRAINING
It has to be said that training is not going to provide the fastest relief, but it will offer a better long term option for you and your dog. If you can, find a local trainer to work with, who can help you and your dog through any separation anxiety struggles you might be having.
If face-to-face training isn't the best option for you, how about online courses? Grisha Stewart has an impressive collection of classes, with a variety of well-known and respected dog training professionals.
Grisha Stewart's Dog Training And Behaviour School
DOG BEHAVIOUR PROBLEMS?
NEED TO UP YOUR DOG TRAINING?
Get access to hundreds of hours of video classes, eBooks, special events and live sessions, covering most aspects of dog training and behaviour:
puppy training
dog reactivity, aggression, resource guarding
dog confidence, fearful dogs
loose leash walking
CONCLUSION
If you're no longer able to be at home with your dog most days, there are things you can do to help him manage the longer periods of being on his own. This can include doggy daycare or a dog walker. In addition, there are lots of gadgets and products you can get that will help your dog, or help you monitor what's happening back at home.