Are You Risking Your Dog's Health By The Type Of Flooring You Have? Find Out How To Best Protect Your Dog From Accidents AND Have Great Floors
When we think about the best flooring for dogs, we are often referring to the best flooring from our perspective, as pet parents. Most of us have no idea how important flooring for dogs is from the dog's point of view until we get an older, or disabled dog.
For ourselves, we consider aspects such as comfort, scratch resistance and hygiene, when fitting new flooring in a home with a dog in it.
We gleefully watch our puppies slide along our sparkly, new ceramic tiles as they chase their toys, and we think how cute it is.
In the past couple of years though, I have come to understand that we aren't doing our dogs any favours by having slippy floors that dogs can slide along. Even very young dogs can injure themselves by slipping or falling, but slippy floor surfaces present much greater risks for dogs with arthritis or a disability.
This article will look at the best flooring for dogs from both perspectives – ours, and our dogs'.
This article may contain affiliate links. As an Associate with Amazon and other companies, we may earn commissions from qualifying purchases. Don't worry, there's no extra cost to you!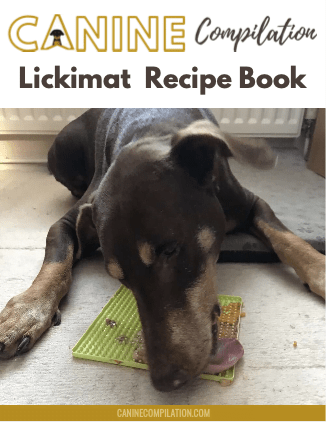 WORST FLOORING FOR DOGS
Dogs love carpets. They are cosy, and much softer and warmer than any hard floor.
They are also much easier for a dog to walk on and far less slippy than a hard floor.
However, from our point of view, having carpets and dogs is not a great combination. Carpets are hard to clean, and they trap dirt, bugs and hair – even if you do have a kick-ass vacuum cleaner as I do.
If you intend to fit carpets so that your flooring is less slippery for your dog, bear in mind the pile length. A short pile can still be quite slippy for a dog: my elderly boy often finds it difficult to find his feet on the short, hard-wearing carpet at my mother's place.
The longer pile in my own lounge though is another matter: he is visibly more stable on a slightly longer pile.
In a cold climate such as the UK, where I am, no carpets at all makes for a very cold home, unless you have underfloor heating throughout. No one wants carpet in their kitchens though, as that would make keeping the place hygienic very difficult.
The problem is that any hard surface such as solid wood, laminate or tiles is a dreadful surface for a dog to walk on. So what's the solution?
RUGS NOT DRUGS
One effective compromise is to have washable, non-slip rugs on top of an easy-clean floor in the kitchen, hall and bathroom, with carpets in the bedrooms.
By laying non-slip rugs in the kitchen, your dog is less likely to fall and injure himself, and you can still keep the place clean.
'Rugs not drugs' is a phrase often used by CAM, a group of vets and related professionals that advise pet parents on how to best care for dogs with arthritis. Rather than risk your dog falling on slippery floors and then needing medication for pain relief etcetera, using rugs round the home helps prevents accidents and therefore better protects your pet.
BEST FLOORING FOR CLEANING WHEN YOU HAVE DOGS
Having installed just about every type of flooring in various houses in the past, I have found the best surface for safety, durability AND cleaning is a rubberised surface.
Rubber flooring used to be clunky and ugly, but there are some beautiful, industrial rubber floors nowadays that would grace any kitchen or bathroom floor. They are extremely hard-wearing, waterproof and super easy to clean, not to mention environmentally friendly and non-toxic.
Note: there are lots of textured, rubber floors – some even have cute paw prints. However, bear in mind that the more intricate the pattern, the harder it will be to clean, as dirt will collect in the crevices.
A rubber floor would be fantastic for an entry way or boot room, where hygiene is not as important as in the kitchen or bathroom. You can buy it by the sheet, or in tiles.
You can rubber sheeting by the meter (on the roll), or in tiles. Something like this is non-slip for us and our 4-legged friends, and is easy to clean.
A good alternative to rubber, but with the benefit of a greater range of colours and patterns, is lino or linoleum.
Lino is longer-lasting than vinyl, and made from natural products. It's anti-microbial, and not as cold to the touch as vinyl. It is more expensive than vinyl though, so if you are on a tight budget, vinyl is the next best option.
Highly polished ceramic floors are super easy to clean – and look absolutely gorgeous – but they are not only slippery for our dogs, but for us too. I think they're the closest thing to an ice rink that you could fit in your home! I installed these in my last home and wouldn't ever have them again. They are also very cold unless you have underfloor heating.
IS VINYL OR LAMINATE BETTER FOR DOGS?
A good quality, thick vinyl floor is a close second to rubber. It is more economical that a proper rubber floor, but offers similar benefits, such as being waterproof, easy to clean and scratch resistant.
Laminate flooring is not suitable for dogs from a safety point of view: they really struggle to get their footing on it. Although many modern laminate floors have an easy-clean surface, they are not non-slip.
Even laminate floors that are advertised as non-slip might be fine for us humans, but that's not the case for dogs. Remember, non-slip for feet is not the same as non-slip for paws.
Besides, you might find that a laminate floor advertised at being non-slip has a grainy texture: that same grain collects tiny dirt particles and will eventually need to be scrubbed to get it clean.
WILL DOG PEE RUIN LAMINATE OR VINYL PLANKS?
Whatever flooring you have, if your dog has a toileting accident, it's important to clean it up immediately to avoid staining, bad smells and mold.
If your pooch pees on a tile floor and the pee soaks into the grout, over time it may lead to softening the grout, discolouring it AND leaving a nasty smell, not to mention the bacteria that will be trapped in there.
The same is true for laminate and vinyl planks – any pee that drips down into the joints results in potential damage to the floor, as well as bad smells and mold.
The best flooring for dogs that pee or poop is rubber sheeting, lino or vinyl.
PLANNING AHEAD: BEST FLOORING FOR PUPPIES AND OLDER DOGS
If you are planning to get a puppy AND you're about to replace your flooring, it's worth installing something that will be suitable for the lifetime of your dog. This can provide protection against early toileting accidents as well as prevent slips and accidents as your dog ages.
I would argue that a rubber, lino or vinyl floor would be the best option in this case. Non-slip, washable rugs could be added to make the flooring softer or more comfortable for bare feet and dogs that need additional support.
If you're not remodelling, or if you're renting, a cheap and effective hack is to use carpet offcuts. Puppies don't pee indoors forever, so whilst it might not be the prettiest option, laying carpet offcuts around the home when you get a puppy can save the flooring underneath. You can get offcuts for free on Freecycle all the time.
This is exactly the strategy I'm using in my current home, but not due to a puppy. One of my dogs has a neurological illness – Wobblers – and he does have the occasional toileting accident in the home. If it makes too much of a mess, I throw away the carpet offcut and put another down.
It also makes it much easier for him to get his footing as he moves around the house.
CONCLUSION
The worst – or best – flooring for dogs depends on whether you are the dog, or the human occupant of the home! An all-round winner is rubber sheet flooring which is super easy to clean and non-slip.