So my lovely fur-baby daughter, Toxa, turned 6 this week. To celebrate, I decided to make her a birthday cake. If you'd like to make your pooch happy on its birthday, try this easy cupcake recipe for dogs. Not only is it easy, it's healthy too – only the best ingredients for my baby! Your dog will love these cupcakes as they are. But by adding some squirty cream and fruit on top to make them even more special, your pup will adore you (and its delicious birthday cake) .
When I was little and it was my birthday, my Mum used to buy a little something for my brother too, so he didn't feel left out that I was opening lots of presents when he had nothing. Did that happen to you? Well it's a practice I continue with my little ones, so although it was Toxa's birthday, as well as the cakes they both got teddy bears. Unfortunately Mino is a bit bossy so not only did he have his cake and eat it, he also ended up with both of the bears…
As you can see, my gorgeous girl loved her birthday cupcakes. It was such a quick and easy recipe to make for her, and I love to see her happy! She wolfed it down so fast, my camera speed couldn't keep up with her…
If you make this easy, birthday cupcake recipe for dogs, let me know how it turned out. Better still, send me a picture of your pup enjoying them! If you like cooking treats for your fur-baby, try some of my other recipes for dogs.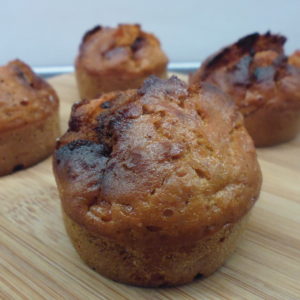 Birthday cupcakes for your dog – easy, healthy recipe
If you'd like to make your dog happy on its birthday, make it these delicious cupcakes. The recipe is easy, and the ingredients are healthy. Your dog will love these cupcakes, and love you for making them!
Ingredients  
90

gr

wholemeal flour

or gluten free

30

gr

oats

90

gr

carrot

grated

30

ml

honey

25

ml

apple sauce

1

egg

2

tsp

vegetable oil

60

ml

water
Instructions 
Preheat your oven to 180 deg C /gas mark 4

Combine the flour and oats in a mixing bowl

Finely grate the carrots – the easiest and fastest way to do this is in a food processor.

In a separate bowl, mix together the carrots, honey, apple sauce, egg and oil.

Fold the dry ingredients into the wet. You will need to add some water to make the dough workable. I have found that the exact amount of water required varies according to how fine your oatmeal is. You want to end up with a cake dough-like consistency..

Pour the dough into cupcake moulds. This recipe makes 5 cupcakes. I always use silicone moulds since it is so easy to pop the cupcakes out once they're cooked. DON'T use paper cupcake liners for these cupcakes – you don't want your puppy eating paper!

Your dog will love these cupcakes as they are, but If you want to decorate them, try adding some cream and fruit as a topping (I used squirty cream and blueberries here). Or you could add a blob of unsweetened apple sauce.

Store the cakes in an airtight container in the fridge for up to a week (yeah, right, like they're going to last that long with Fido around…)
Notes
If you don't have wholemeal flour available, plain flour will work just fine. If your dog has a gluten allergy, use gluten free flour instead of wholemeal.
The carrots could be replaced with another veggy option, for instance, squash or sweet potato.
This recipe makes 5 cupcakes.