Looking For The Best Small Breed Dog? Check Out This List Of Different Breeds And Their Characteristics To See Which Is Best For You
Small in size, but bursting with personality, there are many small breeds of dogs that make wonderful pets.
This article may contain affiliate links. As an Associate with Amazon and other companies, we may earn commissions from qualifying purchases. Don't worry, there's no extra cost to you!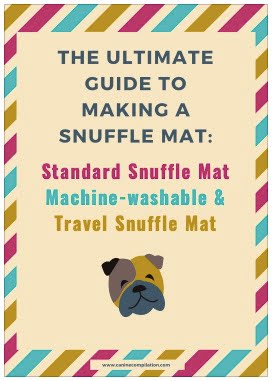 Pet owners enjoy having small dogs for a variety of reasons. They do well in smaller living quarters and many make great lapdogs. Another benefit is that there's still room left on the couch after they lay down, not to mention, if you let them sleep on the bed with you!
Small breed dogs tend to have a longer life span than large dogs too, which adds to the appeal of owning a small dog.
BEAGLE – ADAPTABLE SMALL BREED DOG
With a long history of charming people with its friendliness and sweetness, the Beagle is one of America's favourite dogs. These extremely tolerant dogs are excellent with children. They come in two heights, and weight sizes, with the smaller size being 10 – 13 inches and weighing 18 – 20 pounds and the larger size being 13 – 15 inches and weighing 20 – 30 pounds. Beagles usually live 12 – 15 years.
BICHON FRISE – A NON SHEDDING SMALL BREED
Bichon Frises are obedient, social dogs who delight in playing. Very affectionate, the Bichon Frise can grow to 9 1/2 – 11 1/2 inches and reach an adult weight of 7 – 12 pounds. They are eager to please and love human companionship. Bichon Frises get along well with other animals. This adaptable dog usually lives for 12 – 15 years.
CAVALIER KING CHARLES SPANIEL – A GREAT COMPANION
Living to please its owner, the Cavalier King Charles Spaniel is an extremely devoted, affectionate, and friendly dog. Suitable for many lifestyles, the Cavalier King Charles Spaniel weighs in at 13 – 18 pounds and reaches a height of 12 – 13 inches. Loving to curl up in its owner's lap, a Cavalier King Charles is happiest when by its pet parent's side. They don't like being left alone. The Cavalier King Charles Spaniel's life expectancy is 9 – 14 years.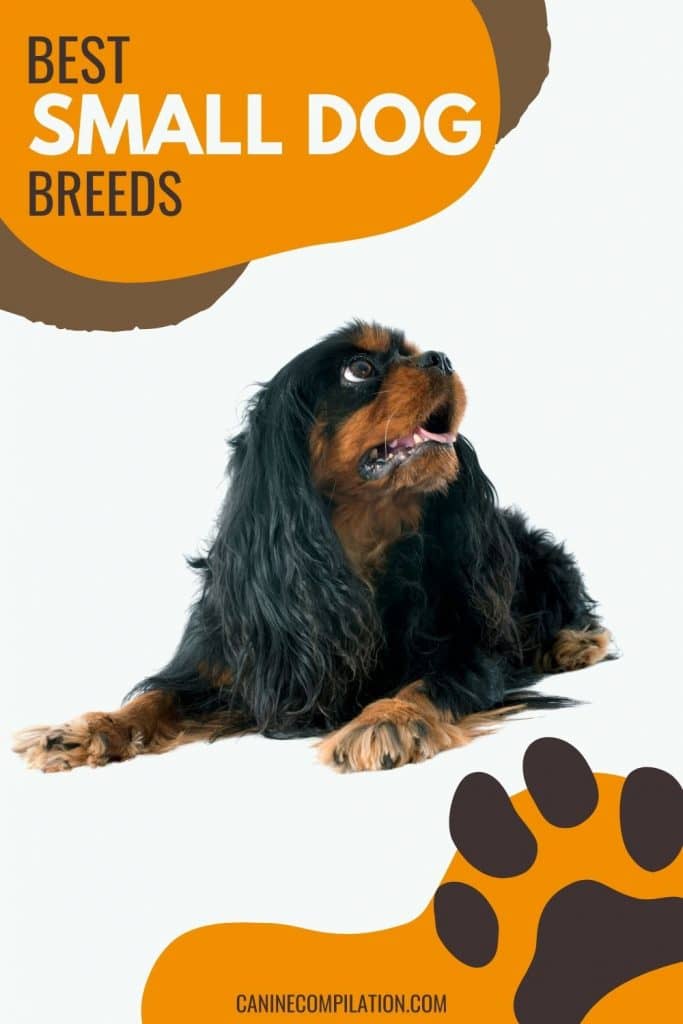 COCKER SPANIEL – A HAPPY SMALL DOG
My favourite small breed dog is the Cocker Spaniel. It's the largest small breed dog on this list. It's also one of the friendliest and most affectionate breeds of small dogs. Cockers always seem to be in a good mood!
Living 12 – 15 years, Cocker Spaniels are sweet and happy dogs who love everyone. Weighing 24 – 28 pounds, Cocker Spaniels grow to 13.5 – 15.5 inches. For exercise, Cocker Spaniels love to run free in the countryside but are just as happy to go for a walk.
However, cockers aren't the best dog for you if you're looking for a low energy breed. I was out with my mother in the car recently and we found a Cocker running loose around the streets. The poor baby was terrified, with cars zooming all around him. We managed to get him on a lead and took him to the nearest vet so they could see if he was microchipped.
In the short drive to the vet (15 minutes at most) my mother had already fallen in love with him and was hoping he wouldn't be claimed. I had to to warn her off though: my mother needs a quiet, low energy dog that wouldn't miss its exercise sometimes, and wouldn't be as active as Cockers are. (In case you are wondering what happened to the little fella, he was thankfully chipped and his owners came right out to get him).
MINIATURE POODLE – AN INTELLIGENT SMALL DOG
Very intelligent and playful, Miniature Poodles are easy to train and interact well with people and other dogs. Standing 10 – 15 inches as adults and weighing 12 – 18 pounds, Miniature Poodles have a life expectancy of 13 – 15 years. Excellent with children, these small, obedient watchdogs require proper grooming.
PAPILLON – A GENTLE LAPDOG
The dainty little Papillon is devoted, eager to please, and easily trained. Papillons are considered to be one of the most obedient of the toy breeds. These playful lapdogs weigh 4 – 9 pounds and stand at the height of 8 – 11 inches. Papillons are friendly with strangers and other dogs. They make a good watchdog and are also good with children. They have a life span of 12 – 15 years.
A friend of mine has 3 papillons and she does competition level agility with them. For little dogs they pack quite a punch!
PUG – A SMALL BREED WITH LOTS OF PERSONALITY
Pugs are easy-going, playful, and funny. Their average height is 10 – 11 inches, with their average weight being 14 – 18 pounds. Grooming is minimal, although their facial wrinkles need to be cleaned out. Pugs are quite affectionate, do well with children, and make good watchdogs. They don't like spending time alone though. Being flat-faced, they do have particular health issues to look out for. They have a life span of 12 – 15 years.
SHIH TZU – A GREAT WATCHDOG SMALL BREED
Shih Tzus are outgoing, playful companions that are great lapdogs. Quite friendly and sweet, Shih Tzus are about 8 – 11 inches tall and weigh 9 – 16 pounds. Shih Tzus do not necessarily require a lot of exercises; a short walk or some indoor games should meet its daily exercise requirements. They are tough little dogs who have a life span of 11 – 14 years.
Being long-haired, it needs regular grooming. Apart from its grooming requirements though, this could be the perfect dog for my mother!
COMPARISON TABLE OF BEST SMALL BREEDS OF DOG
| | | | | |
| --- | --- | --- | --- | --- |
| BREED | HEIGHT / WEIGHT | LIFE SPAN | CHARACTERISTICS | EXERCISE |
| Beagle | 10-15″, 18-30 Lbs | 12-15 years | friendly, sweet, good with kids | med-high |
| Bichon Frise | 9-12″, 7-12 Lbs | 12-15 years | obedient, social, playful | low |
| Cavalier King Charles Spaniel | 12-13″, 13-18 Lbs | 9-14 years | devoted, affectionate, friendly | low-med |
| Cocker Spaniel | 13-16″, 24-28 Lbs | 12-15 years | happy, affectionate, loving | med-high |
| Papillon | 8-11″, 4-9 Lbs | 12-15 years | easy to train, obedient, friendly | low-med |
| Poodle (miniature) | 10-15″, 12-18 Lbs | 13-15 years | easy to train, intelligent, good with kids. *Needs regular grooming! | med-high |
| Pug | 10-11″, 14-18 Lbs | 12-15 years | easy-going, playful, affectionate | med |
| Shih Tzu | 8-11″, 9-16 Lbs | 11-14 years | outgoing, sweet, playful. *Needs regular grooming! | low-med |
BEST CARRY BAGS FOR SMALL DOGS
One of the nicest things about having a smaller dog is that you can take it with you to so many places! You might not always want your tiny fur baby to walk all the time though, and there are many lovely small dog carriers and bags to solve this problem.
Also, people often assume that because a dog is small, it can be picked up any old how. Despite being small, there are still good techniques we should follow for picking up a small dog so that she is well protected and supported.
Grisha Stewart's Dog Training And Behaviour School
DOG BEHAVIOUR PROBLEMS?
NEED TO UP YOUR DOG TRAINING?
Get access to hundreds of hours of video classes, eBooks, special events and live sessions, covering most aspects of dog training and behaviour:
puppy training
dog reactivity, aggression, resource guarding
dog confidence, fearful dogs
loose leash walking
CONCLUSION
Dogs make the best companions, but finding the best small breed of dog is a challenge as there are so many fantastic breeds to choose from, and we all want different characteristics from our fur babies. Having a dog is a longtime commitment, so it's best to take some time to really see what breeds are out there and which breed best fits the bill.