Help! A Bee Has Stung My Dog
Spring and summer bring us so many fantastic things: new life buds and blooms, and the bees are busy flying from one flower to another, collecting nectar and pollen. This can also present potential problems of course, if your dog gets stung by a bee or wasp, or worse, is allergic to them.
This article may contain affiliate links. As an Associate with Amazon and other companies, we may earn commissions from qualifying purchases. Don't worry, there's no extra cost to you!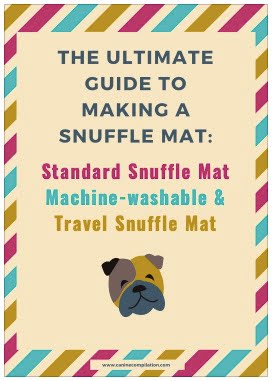 WHAT DO YOU DO IF YOUR DOG GETS STUNG BY A BEE OR WASP?
Firstly, it's worth noting that not all bees sting, and bee stings are different to wasp stings. Dogs (and people) that are allergic to bees might not be allergic to wasps, and vice versa.
Most stings in dogs are on the face, mouth or paws. Some dogs just love to chase insects, so it's understandable that this may lead to a sting in the mouth or on the face.
Usually, a bee sting will be uncomfortable for a while, with some localised swelling, and then the dog will fully recover, just like when we are stung by a bee.
REMOVE THE STINGER
If your dog is stung by a bee, and you happen to see where the bee sting took place, you might be able to pull out the bee's stinger, which will most likely still be in your dog's skin.
When female honey bees sting, their barb gets stuck in the skin of whoever they sting and consequently they die. (This is only if they sting mammals: honey bees can sting other insects and their barb does not get stuck in the other insect).
The stinger is tiny, but also full of venom, so if you can scrape it off with a fingernail, you'll stop any more venom going into your dog. Don't squeeze it though, or you risk squishing more venom into your dog.
I used to keep bees and I've been stung countless times. Whilst a bee sting can certainly hurt for a few minutes, the pain passes fairly quickly. It's also very easy to flick off a bee's stinger.
WASP STINGS
However, if your dog is stung by a wasp, there will be no barb left in your dog's skin. Whilst honey bees die after stinging mammals, wasps do not. Wasps can sting unlimited times and wasp stings are much more painful than bee stings.
SERIOUS REACTIONS
Some dogs (and some people) have a more serious reaction to a sting than others. It can result in serious swelling, especially when stung on the face.
There is a greater risk of complications if your dog swallows a bee or wasp. You won't know whether the insect will be able to sting your dog's esophagus on the way down. If it does, it could result in a lot of swelling and pain. You should call your vet immediately just in case treatment is needed.
SYMPTOMS OF A DOG BEE STING
How your dog reacts to a bee or wasp sting depends on where they are stung and whether they have an allergic reaction or not.
NORMAL REACTIONS
In most cases when a dog is stung, you can expect minor swelling to occur around the sting site. It may be a little painful and your dog will probably try to scratch, lick or bite the area.
If your dog was stung in her paw, she might not want to put any weight on it initially.
However, these symptoms should pass fairly quickly.
ALLERGIC REACTIONS
You might not know that your dog is allergic to either bees or wasps until she is stung by one. If you know that your dog has certain allergies, you might even have an epipen for her.
True allergies to bees are thankfully quite rare, both in dogs and humans. However, if your dog is unlucky enough to be allergic to bees, he or she will certainly need immediate veterinary attention after being stung. This might be an anti-histamine, or pain relief. In severe cases, hospitalisation will be needed.
SEVERE ALLERGIC REACTIONS
The symptoms of a severe allergic reaction include:
ANAPHYLACTIC SHOCK
Anaphylactic shock is a life-threatening allergic reaction. Whilst it can be deadly, most dogs suffering from anaphylactic shock will recover fully if they receive medication on time.
If your dog begins to vomit after being stung, and you also see other signs of a reaction, such as weakness, or difficulty breathing, you need to get her to the vet quickly.
One study showed that a dog who had received at least 10 bee stings went into anaphylactic shock, and then suffered acute kidney damage. The dog was rushed to the vet within 30 minutes of being stung, where thanks to days of intensive treatment, she was saved, though she had long term complications and health problems due to the kidney damage.
If you are concerned about your dog's reaction to a sting, you should call your vet immediately.
Some dogs do not react immediately to a sting – so if you know that your dog has been stung, even if she seems OK initially, keep an eye on her for any change in her condition.
TREATMENT: WHAT CAN I GIVE MY DOG FOR A BEE STING?
So, what's the best way to treat a dog stung by a bee or wasp? If the symptoms are mild, i.e. nothing more than a slightly red area where your dog was stung, try to find the stinger and remove it. If you can't, stop your dog from scratching as that might push venom further into her system.
You could put some ice on the area for a few minutes to calm it and reduce the swelling.
Though there is little research on home remedies for bee stings, anecdotal evidence supports using a baking soda paste to treat bee stings. Mix baking soda with water to make a thick paste. Spread the paste on the sting area to help reduce swelling and pain.
The symptoms should pass fairly quickly.
Although my dog was stung, he did not display a bad reaction. I do know several pet parents who have given their dogs anti-histamines for humans, to treat an insect in their dogs.
Obviously, human medication and dog medication is not the same, and not all human medication is safe for dogs. If you live a long way from a vet though, and your dog reacts to a sting, giving her an anti-histamine for humans may be an option that your vet approves of. Consult your vet to be sure.
However, if your dog reacts very badly to a sting, she may need urgent treatment. Phone ahead to your vet to advise them that you're on your way over and get immediate advice for anything you can do for her on the journey over to the vet.
HOW LONG WILL IT TAKE FOR MY DOG TO RECOVER FROM A BEE STING?
For most bee or wasp stings, the pain will die down after a few minutes, though the area may well stay a little swollen and red for a day or two.
HOW TO PREVENT DOG BEE STINGS
Let's face it, we can't protect our fur babies from everything, and if your dog steps on a bee and is stung, you can't prevent that. You can be prepared though for how to treat it if it happens.
Another difference between bees and wasps, is that wasps like to eat meat, whereas bees do not. Consequently, watch out for wasps hovering around any meaty bones you might give your dog in warmer months.
Stinging insects are attracted to fruit too, so if you have fruit trees in your garden, make sure you pick up any fallen fruit rather than leave it rotting on the ground.
A GOOD 'LEAVE' COMMAND
As for stings in the mouth, many of these can be prevented if you see your dog trying to catch an insect and stop her on time. For this, you need your dog to respond well to a 'LEAVE!' command. It's worth having a strong leave command for lots of reasons, not just bees and wasps.
My girl really loves to dart around after those big, annoying, summer flies, but thankfully she will respond to a LEAVE! command.
A GOOD RECALL
Likewise, having a good RECALL is essential to call your dog away from danger. A swarm of bees might seem really interesting to a curious dog, so make sure that you can call your dog back from exploring.
If your dog training has been a bit lacking recently, I can really recommend Grisha Stewart's Dog Training School. I've found many of the materials there very useful.
Grisha Stewart's Dog Training And Behaviour School
DOG BEHAVIOUR PROBLEMS?
NEED TO UP YOUR DOG TRAINING?
Get access to hundreds of hours of video classes, eBooks, special events and live sessions, covering most aspects of dog training and behaviour:
puppy training
dog reactivity, aggression, resource guarding
dog confidence, fearful dogs
loose leash walking
ARE BEE STINGS BAD FOR DOGS?
Bee stings have in fact been used for centuries to treat pain and arthritis in humans. More research needs to be done, but a few studies on humans, and anecdotal evidence show that as long as you're not allergic to bees, a bee sting may in fact be good for you!
Bee venom medicine isn't the only thing we get from bees – let's not forget the honey! Although it is high in calories, honey is also good for dogs if given in moderation.
CONCLUSION
Most stings are nothing more than a short term inconvenience, with some localised swelling and a little pain. However, some dogs will react adversely to a sting and need veterinary treatment. If you are at all worried about your dog's reaction to an insect sting, get her to the vet immediately to be on the safe side.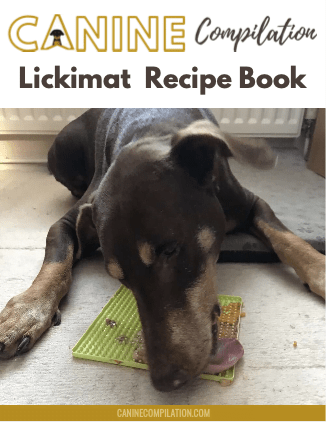 As always, this article is not intended to replace medical advice, but rather, to help you make informed decisions to improve your dog's health and wellbeing. Please, always seek your vet's opinion, especially in the case of your dog being ill.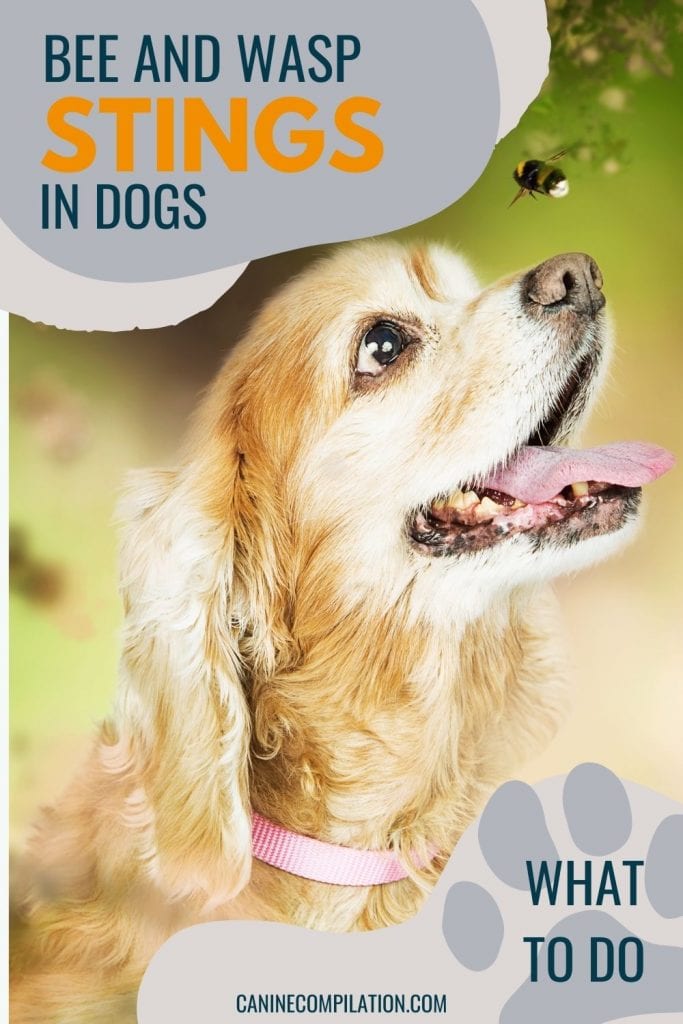 REFERENCES