I love advent calendars. I really used to look forward to them as a kid. In the past I've made advent calendars as Christmas presents for family and friends from fabric hanging calendars with small pockets, and tiny gifts in each pocket. This year I've decided to make an advent calendar for my dogs.
This is a 12 day advent calendar instead of the more common 24 day version. I was thinking of an old, English song we used to sing as kids – here's just the final part of it.
On the twelfth day of Christmas
my true love sent to me:
12 Drummers Drumming
Eleven Pipers Piping
Ten Lords a Leaping
Nine Ladies Dancing
Eight Maids a Milking
Seven Swans a Swimming
Six Geese a Laying
Five Golden Rings
Four Calling Birds
Three French Hens
Two Turtle Doves
and a Partridge in a Pear Tree
Here's a link to the entire song, if you'd like to see it
Clearly I'm not going to put several birds and people on my advent calendar, but some hand-made dog treats will fit in perfectly. Bought treats would do of course, but I love my fur-babies and they're worth the extra effort. Here's my Christmas Dinner recipe for dogs that makes super healthy and delicious treats for them.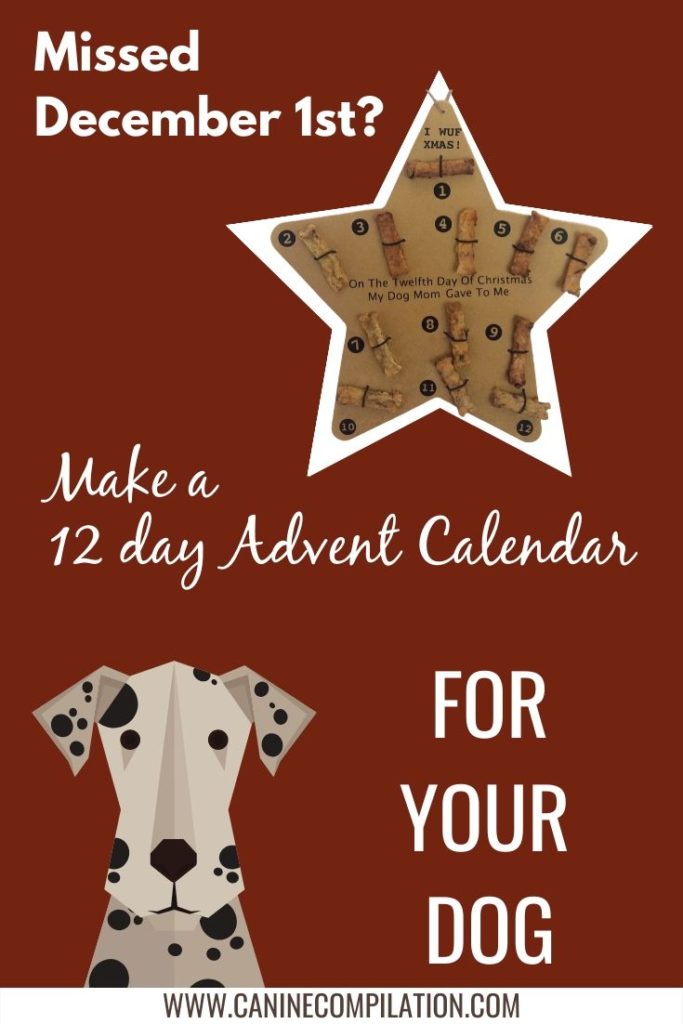 WHAT YOU WILL NEED:
Dog treats – or cat treats, if your pet is a cat. Home-made Christmas treats recipe here
A board – I used a wooden 12″ star that you can get very cheaply online but any shape board will do. You will be drilling small holes in it so get something firm.
Paint.
A marker or stickers for the numbers and text.
INSTRUCTIONS
1 Remove any hanging string that might be on your board, otherwise it will get painted – who knows, maybe you'd like to paint the string too? Or perhaps you'd prefer to replace it with something more elaborate?
2 Sand down the board if necessary. It wasn't in my case.
3 Prime it with white paint. Since my board was bare wood, I primed it with some white wood primer first so that the metallic gold paint I was due to use as the final colour would create a good solid cover. Let it dry.
4 The advent calendar will have 12 little treats on it, each held into place on the board under elastic thread. We will need 2 holes per bone, for the thread to loop through. I'm using a bone-shaped cookie cutter, but perhaps you plan to use a star or another shape? Whichever shape you're using, measure across it so that you know how far apart you need to drill the holes.
5 On the board, work out where each treat will go and mark a spot for where you need to drill the holes for the elastic loop. Do this for all 12 treat shapes, spreading them evenly across the board.
6 Using a very small drill bit, just big enough for your thread to pass through, drill 2 small holes in the board for each shape. Depending on your board shape, you may have more, or less, space around each set of holes.
7 Once you've finished drilling the holes, sand down lightly over any burrs. If you need to touch up the white paint you could do so now, but take care not to fill the holes with paint.
8 Now we put on the final colour. I wanted something bright and metallic for Christmas, so I chose gold. I find spray paint more convenient than a roller or paint brush for this kind of job. Give the board a couple of layers of paint, leaving it to dry as necessary in between coats. Once you're happy with the colour, we can add the details.
9 To decorate the board with numbers, you could simply do this by drawing them on with a marker, or buy stickers. I have a Silhouette cutting machine, so I made vinyl stickers and text, and stuck them onto the board.
10 Now for the loops. Elastic thread is best for this as it will hold the treats in place nicely. Put a knot in the end of the thread, then poke the thread from the back through to the front. Pass the thread through the 2nd hole, to the rear of the board again.
11 Bear in mind that the amount of tension you need on the thread depends on how deep your treats will be. If they are really thin, biscuit-type treats, you should keep the tension quite tight as you continue to thread from front to back for each of the numbers. A loose tension means the treats will fall out. If it is too tight, you will have to fight to slot them in place and then get them out.
12 Tie off the thread with another knot at the back of the board – you will probably have to pull the thread through a bit more to do this, so as not to lose any tension.
13 Repeat the same process for each of the numbers. You might be able to get away with not tying a knot in-between numbers. Just bear in mind that once you start to remove treats each day, if you don't knot in between numbers the tension will slacken off considerably.
14 If your board didn't have a loop on it to hang it, add one now, or put back the loop from the start that you removed to avoid painting it.
15 Slot the treats under the loops… And hang your advent calendar.
You are going to have a super happy pet! In my case, 2 super happy pets… Rather than make 2 advent calendars, I plan to squeeze 2 treats into each day – lazy dog mom or what!? Have you made an advent calendar for your pooch yet?
Postscript: Advent calendars were first used by German Lutherans in the 19th century (ref). Of course, our modern day versions are quite far removed from those of old. Do you suppose those Lutherans made advent calendars for their dogs…?
HOW WOULD I DO THIS DIFFERENTLY NEXT YEAR
I wasn't happy with the shape of the treats. Although I'd used a bone shape, the cutter was so little that the shape was lost by the time the treat was cooked. Next time I'll get a bigger board which will allow me to use a larger cutter. I'd also inject a little more colour – probably red – into the calendar. I'd match that with a coloured ribbon to hang it from.
Still, these are things that will make me happier. My mutts are happy with it as it is!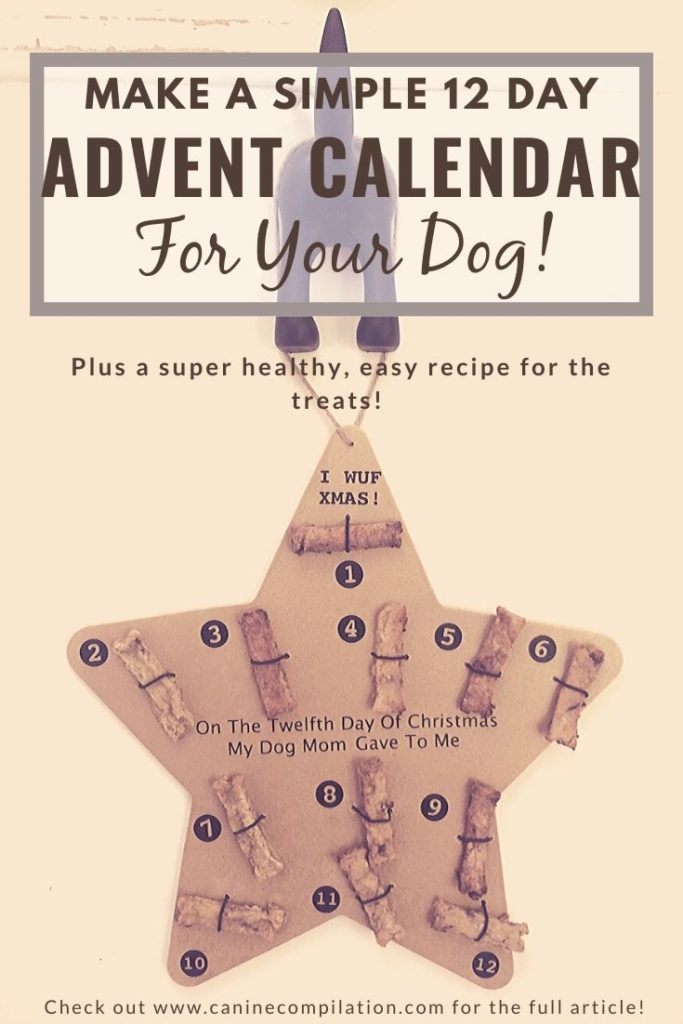 DO YOU WANT MORE DOG DIY PROJECTS?
Check out our many doggy DIY projects here and lots more dog treat recipes here.